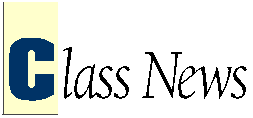 1960s
---
60 Harvey M. Flaumenhaft, AB'60, AM'62, PhD'80, see 1966, Mera Oxenhorn Flaumenhaft.

61 Stephen J. Kavka, SB'61, MD'65, see 1962. Roger W. Axford, AM'49, PhD'61, was appointed an honorary member of the advisory council of the International Biographical Centre in Cambridge, England.

62 College alumni-welcome to the first column by Myron S. ("Mike") Einisman, AB'62, MBA'63, with assistance from Judith E. Stein, AB'62, AM'64. They write: Alan S. Berger, AB'62, AM'63, PhD'68, our 35th reunion chair, reported in his July letter to you of the fun and educational events at this June's 35th reunion get-together. But we also gathered some other news about our classmates that we wanted to share with you. From these conversations, cards, and calls, we offer the following:

James M. Krivo, SB'62, MD'66, is vote-seeking as a candidate for the Nassau County (NY) legislature. Edward M. Burgh, AB'62, JD'64, who is a partner in the firm of Burgh, Balian, and Begstein, is balancing his time between law schools at Southwestern University and Loyola Marymount University, both in Los Angeles, where he serves each as an adjunct professor.

At reunion, we learned that Larry W. Bowman, AB'62, AM'65, with his son Sam, 12, is spending fall semester in Stellenbosch, South Africa, near Cape Town, where he is lecturing at Stellenbosch University and the University of the Western Cape and doing research on the Indian Ocean Rim Association. We also discovered that Dorothy Cooperman Kavka, AB'62, and Stephen J. Kavka, SB'61, MD'65, are moving from Evanston, IL, to Louisville, KY, where Steve will be a plastic surgeon for one of the Humana Corporation's flagship hospitals. Maybe we should have a mini-reunion around Derby time.

And from the southwest, we hear that Eugene M. Kadish, AB'63, JD'66, is practicing law in Tempe, AZ, and is currently developing a multi-use land project with the University of Arizona using private sector funds and expertise to help meet the university's objectives. Judith Goldstein Marks, AB'63, AM'69, found herself in conversation with actress Emma Thompson in a London bar. We guess if she had to miss our reunion, she was in good company. Marks and husband Arthur are due back to the University of North Carolina for fall semester.

And our thanks to Mary Jane Robinson, for taking Polaroid pictures at our reunion dinner, and to her husband, Charles L. Robinson, SB'62, SM'68, class gift chair, for gathering $29,577 from our class; to Barry F. Preston, AB'62, MBA'63, loyal committee member, for delaying his cycling trip in Europe to attend our festivities while his wife, Marilynn, left on schedule; and to James B. Zagel, AB'62, AM'62, a U.S. district court judge, who provided an elegant and convenient locale for our downtown committee meetings. Lastly, please send news about yourself (forget modesty) for class notes. Reach out and touch us. Wishing you all a happy, healthy autumn.

College alumni, please send your news to: Mike Einisman, AB'62, MBA'63, 477 Green Bay Road, Highland Park, IL 60035-4935. Phone: 847/433-6101 (h), 800/438-3901 (w). Fax: 847/433-5411. E-mail (Judith Stein, AB'62, AM'64): JEStein62@aol.com.

Other alumni news received by the Magazine includes: Virginia Kennick Emery, AB'62, PhD'82, was selected by New Hampshire Editions as one of New Hampshire's most powerful women for 1997. William G. Spady, AB'62, AM'64, PhD'67, completed his second book on school reform, Paradigm Lost: Leading America Past Its Fear of Educational Change, to be published by the American Association of School Administrators.

63 The 35th class reunion will be held June 5­7, 1998. Judith Goldstein Marks, AB'63, AM'69, see 1962. Elsa A. Solender, AM'63, has been elected president of the Jane Austen Society of North America and is serving a three-year term.

66 Mera Oxenhorn Flaumenhaft, AB'66, has taught at St. John's College in Annapolis, MD, since 1977. She is the author of The Civic Spectacle: Essays in Drama and Community and has translated Machiavelli's La Mandragola. In July, her husband, Harvey M. Flaumenhaft, AB'60, AM'62, PhD'80, became dean of St. John's College, where he has taught since 1969; he is the author of The Effective Republic: Administration and Constitution in the Thought of Alexander Hamilton, as well as series editor of Masterworks of Discovery: Guided Studies of Great Texts in Science. The Flaumenhafts have two sons, Daniel, 24, and Benjamin, 20. Gene B. Gragg, PhD'66, a U of C professor in linguistics, Near Eastern languages and civilizations, and the Oriental Institute, becomes the director of the OI this month.

67 College alumni-welcome to the first column by Deanna Dragunas Bennett, AB'67, who writes: Warm greetings to fellow classmates from the class of 1967. At our last reunion, in a moment of enthusiasm warmed by wine and camaraderie, I volunteered to be class correspondent. I remain enthused, but somewhat daunted by six yearly deadlines. Please help by sending me news: Have you reoriented your career, retired, recently published, started your own business, received special recognition, traveled somewhere, had a special personal event (children, grandchildren), or had a mini-reunion with classmates?

Ellen Lewin, AB'67, writes that after more than 20 years of working in "soft-money, part-time, and temporary teaching and research positions," she joins the faculty of the University of Iowa this fall as an associate professor of women's studies and anthropology. Her next book, on rituals of lesbian and gay commitment in America, will be published in 1998. Having pursued a theater career in writing, directing, producing, and academia, Andrew B. ("Andy") Harris, AB'67, reports that he is working on his second theater book, this time on the Broadway design team of William and Jean Eckart (Damn Yankees, Mame, etc.). He and his insurance-executive wife, Ann, live in the Dallas­Fort Worth area.

Using e-mail information in the class reunion book to reestablish contact after 25 years, Dorothy J. ("Dorie") Solinger, AB'67, and Diane Friedman Byrne, AB'67, coordinated a joyful reunion in Irvine, CA, where Dorie lives and where Diane had come to see Ammachi, an Indian saint. Both agreed they looked the same as before!

Lost in cyberspace: I've sent out several mass e-mailings to addresses in the reunion directory and class book. And I've received many undeliverable notifications. If you have not received an e-mail message from me, please send me a quick message (preferably with some news of yourself for an up-coming column) updating me on your e-mail address. 'Bye until December!

College alumni, please send your news to: Deanna Dragunas Bennett, AB'67, 1622 El Tair Trail, Clearwater, FL 33765. Phone: 813/796-8807 (h). E-mail: vcdr72b@prodigy.com.

68 The 30th class reunion will be held June 5­7, 1998. Felipe B. Miranda, AM'68, a professor of political science at the University of the Philippines, is president of the Philippine Political Science Association and chair of the Philippine Social Science Council. He can be reached by e-mail at fmiranda@qinet.net.

69 Horace M. Newcomb, Jr., AM'65, PhD'69, curator of Chicago's Museum of Broadcast Communications, is the F. J. Heyne centennial professor of communication at the University of Texas at Austin. Having taught at Northwestern University for 18 years, Larry A. Silver, AB'69, left to become the Farquhar professor of northern Renaissance art at the University of Pennsylvania.
---
Back to Class News - Table of Contents - Top of Page - Email Us