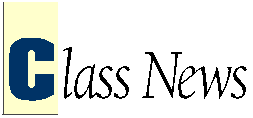 1970s
---
70 Frank H. Day, AB'70, is working on German structural reform and political issues at the U.S. Embassy in Berlin. Day, who is also "taking lots of photographs," invites his friends and classmates to visit or to contact him by e-mail at dayfh@berliwpoa.us-state.gov.
71 Mary K. Bush, MBA'71, president of the international financial advisory firm Bush & Company, was appointed a trustee of the Pioneer Group. Edward Lewis, MBA'71, writes: "As have many others, I have asked the question, What do I do when I grow up?" While pursuing a career in sales and marketing management, Lewis studies part time at the University of Dallas, in the Institute of Religious and Pastoral Studies, where he is working on a master's degree in theology. He then plans to teach high-school theology or to pursue a Ph.D. in theology, which would allow him to teach at Catholic seminaries in Texas. Growing up, writes Lewis, is "a 'life program' which is fulfilling." Veronica Sebeok Wald, AB'71, see 1972.
72 College alumni-welcome to the first column by Dorthea H. Juul, AB'72, PhD'89, who writes: Pamela Reichl Collebrusco, AB'72, AM'74, completed a master's degree in library and information science at the University of Illinois and is a library assistant at Springfield College. She enjoys watching the developing talents of her three children, ages 11, 9, and 7. Dolores B. Koenig, AB'72, an anthropologist on the faculty of American University, specializes in African development, particularly in the Sahel, where she works "with folks to try to improve their living standards in this fragile and poor environment." Veronica Sebeok Wald, AB'71, has worked for the University of Chicago since 1974 and is enjoying her current role as administrative director of the Clinical Research Center, an NIH-funded unit of the Biological Sciences Division. Wald also serves as president of the Society of Administrative Managers and is on the board of the Hyde Park­Kenwood chapter of the Lyric Opera of Chicago. After completing a Ph.D. in physics from Harvard University and postdoctoral work at the John F. Kennedy School of Government, Dean A. Wilkening, AB'72, worked for the RAND Corporation for 12 years. He and his family relocated to San Francisco, where he is now the director of the science program at Stanford University's Center for International Security and Arms Control.
College alumni, please send your news to: Dorthea H. Juul, AB'72, PhD'89, 1115 South Plymouth Court, #302, Chicago, IL 60605. Phone: 847/374-4204 (w). Fax: 847/236-4304. E-mail: djuul@abpn.com.
Other alumni news received by the Magazine includes: John Del Peschio, AB'72, contributed the opening poem to Queer Dog (Cleis Press), an anthology of 20th-century poetry written by gay men and lesbians about dogs. Deborah A. Dobish, AB'72, see 1973, Mark A. Swedlund.
73 The 25th class reunion will be held June 5­7, 1998. Robert P. Medow, AM'73, see 1992. Mark A. Swedlund, AB'73, MBA'78, lives in Sebastopol, CA, with wife Deborah A. Dobish, AB'72, and their daughters, Sasha, 5, and Ella, 7. Swedlund reports that his job as president of the HearthSong toy catalog "meets the approval" of his children and provides "great desk accessories." He adds that, after more than 25 years in Chicago, he and Dobish are "adjusting" to living "in a perfect climate."
74 Sociology professor Peter Adler, AM'74, was named the 1996 university lecturer at the University of Denver. Richard J. Schaar, SM'68, PhD'74, is president of educational and productivity solutions at Texas Instruments.
75 John W. Boyer, AM'69, PhD'75, see 1937. Jonathan L. Chenette, AB'75, PhD'84, was named the Blanche Johnson professor of music at Grinnell College in Iowa.
76 This month, Universal Press Syndicate is slated to launch WorkWise®, a weekly newspaper created by Mildred L. Culp, AM'74, PhD'76. Daphne Greene Kapolka, AM'76, recently received a second master's degree-this one from the Naval Postgraduate School, which specializes in science, management, and engineering, and is located in Monterey, CA.
77 Michael H. Zehfus, SM'77, formerly an assistant professor at Ohio State University, was named a visiting assistant professor of chemistry at Ohio Northern University.
College alumni, please send your news to: Tony P. Mayo, AB'77, MBA'78, 10915 Thanlet Lane, Reston, VA 20190-3922. Phone: 703/742-0845 (h). E-mail: themayos@erols.com.
78 The 20th class reunion will be held June 5­7, 1998. Lawrence D. Silberman, AB'78, was promoted to senior vice president of commercial real estate lending at LaSalle Bank in Chicago.
79 James M. Erlick, MBA'79, formerly a corporate marketer and now an entertainment-sponsorship broker, was featured in the New York Times and Advertising Age for brokering the sponsorships of the Really Useful Company, Trans World Airlines, and MasterCard. Andrew Koppelman, AB'79, moved back to Chicago and teaches law at Northwestern University.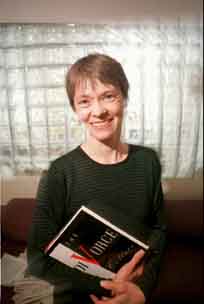 Independent social critic and historian Barbara Dafoe Whitehead, AM'71, PhD'76, is no stranger to controversy. Her 1993 Atlantic Monthly article "Dan Quayle Was Right" generated more letters than any piece the magazine has published before or since. Exploring the negative effects of divorce on children, the article won an award from the National Women's Political Caucus and provided the basis for Whitehead's recent book, The Divorce Culture (Knopf).
While arguing against the repeal of "no-fault" divorce laws and admitting that divorce is necessary in families with "high and consistent levels of conflict," Whitehead insists that excessive individualism has led to a rash of divorces in which children are socially, financially, and emotionally damaged. Our society, she writes, must "acknowledge that children are stakeholders in their parents' marriage, and deserve to have their interests represented." Whitehead maintains that mainstream society is reluctant to discuss the negative effects of divorce because it involves the middle class, making it a "we" issue as opposed to a "they" issue, such as welfare mothers. While Whitehead herself has been married for 30 years to Ralph Whitehead, Jr., a professor of journalism at the University of Massachusetts, her daughter and four of her seven siblings have been divorced, leading to her interest in the subject: "I have been pondering the whys and wherefores of American divorce for a long time."
Whitehead, who lives in Amherst, MA, has tackled other family-centered issues from sex education to the portrayal of pregnant women in American society, writing for such publications as the Washington Post, the New York Times, and Commonweal. She is currently investigating the crisis in U.S. family courts and was also inspired to begin "an inquiry into girlhood" after reading about Jessica Dubroff, the 7-year-old who died while attempting to pilot a cross-country flight.
A self-described liberal Democrat, Whitehead nevertheless draws criticism from both the right and the left. Formerly a research associate with the nonpartisan Institute for American Values in New York, she also has been a guest scholar at the Woodrow Wilson International Center for Scholars in Washington, DC. "I place myself in the tradition of progressive feminism that was concerned about the well-being of children," she told the Boston Globe. When it comes to her own children, Whitehead has a special interest in the College: Her son, John, is a first-year this fall.-A.T.
---
Back to Class News - Table of Contents - Top of Page - Email Us