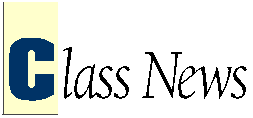 1980s
---
80 Walter W. Sloan, MBA'80, of Lake Bluff, IL, is the president of Metabolic Technologies, which manufactures a patented smoking-cessation product.
81 An associate professor of public health at Columbia University, Daniel F. Heitjan, SB'81, SM'84, PhD'85, was elected a fellow of the American Statistical Association in August, recognizing his research, teaching, and editorial service.
College alumni, please send your news to: Lonnette M. Stonitsch, AB'82, 1821 South Peoria Street, Apt. 2-R, Chicago, IL 60608. Phone: 312/226-9712 (h). E-mail: missmaam@bigfoot.com.
82 Allen R. Broyles, MBA'82, was promoted to group vice president at ABN AMRO. Mary N. Jacoby, AB'82, and Harald C. Smith, AB'82, AM'82, announce the February 11 birth of daughter Rebecca Diane. Jacoby was a senior systems analyst with Houghton Mifflin before leaving to care for Rebecca. Smith is an assistant vice president for distributed computing with Mellon Bank. Michael S. Jurkash, AB'82, and Carole Randolph Jurkash, AB'82, announce the June 20 birth of their daughter, Elizabeth Regina, who joins her brother, Michael Charles, 2.
College alumni, please send your news to: Karen Kapner Hyman, AB'82, AM'88, 2219 Shefflin Court, Baltimore, MD 21209. Phone: 410/484-3599 (h).
83 The 15th class reunion will be held June 5­7, 1998. Edward W. Laves, AM'73, PhD'80, MBA'83, is president and CEO of Illinois Superconductor Corp. Judy Weissman, AB'83, and David R. Beaglehole, MBA'87, PhD'91, announce the July 10 birth of their second child, Daniel Milgram. The family now lives on Manhattan's Upper East Side.
84 Ann Durkin Keating, AM'79, PhD'84, an associate professor of history at North Central College in Naperville, IL, was granted tenure.
85 Philip S. Kushner, JD'85, of Shaker Heights, OH, has become a principal in the law firm Messerman & Messerman. Barry G. Rabe, AM'80, PhD'85, received an award for excellence in teaching at the University of Michigan's School of Public Health, where he is an associate professor of health management and policy. Paulus W. Van Den Broek, PhD'85, a professor of educational psychology at the University of Minnesota, will serve from 1997 to 2000 as one of the university's first two Guy Bond chairs in reading.
86 Jeanne Buiter, MBA'86, an artist and teacher, gives children's cooking classes in her Oak Park, IL, studio. After working with PepsiCo in California for several years, Gary A. Graves, MBA'86, returned to Chicago, where, as president and CEO of Boston Chicken Great Lakes, he oversees 250 restaurants in the Midwest and South. He enjoys the new challenge, but misses "the beautiful California weather." The play Junk Bonds, by Lucy Wang Halpern, MBA'86, premiered on the West Coast in June and appears in the anthology But Still, Like Air, I'll Rise: New Asian American Plays.
87 College alumni-welcome to the first column by Alison L. Inafuku, AB'87, who writes: It was great to see so many members of the class of 1987 at our 10-year reunion in June. The Alumni Association reports that 107 classmates and 25 guests were in attendance and that the class gift totaled $24,255, with 32 percent of the class participating. As a member of the reunion committee, which helped to plan the class events, I very much enjoyed working with the other committee members, including Maria Margaret Del Favero, AB'87; Arthur U. Ellis, AB'87, AM'88; Christina Marie Tavares, AB'87; Stephan Kar-Chung Lau, AB'87; Trina Burek Ingebrigtsen, AB'87; Sarah Y. Smith, AB'87, and her husband, Daniel C. Moyers, AB'87; Geoffrey O. Sherry, AB'87; Faye-Marie Morgan Brownfield, AB'87; and Heidi-Anne Sandquist, AB'87. Special thanks to Maria for chairing the committee and to Arthur for the thankless but critical job of coordinating the class gift.
Helen Markey Bonds, AB'87, is happy to report the March 19 birth of Natalie Joy, who joins her sister, Cora, 5, and brother, Curtis, 4. Janine M. Lanza, AB'87, writes that she finished her Ph.D. in history and taught her first year as a professor at Appalachian State University in Boone, NC. Her e-mail address is lanzajm@appstate.edu. From Kiev, the Ukraine, Shannon E. Runyon, AB'87, writes that she has been doing management consulting for the Ukrainian Center for Post-Privatization Support, and she would love to hear from friends and classmates. She can be reached by e-mail at center@mail400.ukrpack.net. Greg Shinall, AB'87, reports that he and his wife, Robin, are on their third child, and that their son James Mosely was born on September 9, 1996. They add, "He's already walking on everything!" Greg also says that he is looking forward to our next reunion.
I too am looking forward to our next reunion, but hope that in the meantime all of you will let me know what you are doing so I can pass the news along in this column. Please write or e-mail often.
College alumni, please send your news to: Alison L. Inafuku, AB'87, Alliance Capital Management Corporation, 1345 Avenue of the Americas, New York, NY 10105. Phone: 212/969-2519 (w). Fax: 212/969-6146. E-mail: alison_inafuku@acml.com.
Other alumni news received by the Magazine includes: Heidi Cuesta, AB'87, and Doug Cipriano, AB'87, announce the December 8, 1996, birth of their son, Peter, who joins sister Gabriela. Pauline Knight Lynn, AM'87, married John Lynn in 1995. They had daughter Elizabeth in 1997 and live in Edwardsville, IL. In addition to serving as president of the Foreign Language Teachers Association of Greater St. Louis, Pauline stays at home to care for Elizabeth.
88 The 10th class reunion will be held June 5­7, 1998. Keith M. Breslauer, MBA'88, re-signed from Lehman Brothers to become a partner of the Lone Star Opportunity Fund, where he runs the European operations and investment program. Breslauer and his wife, Lauren, continue to live in London. Daniel L. Broughton, MBA'88, was appointed partner in charge of entrepreneurial advisory services for Coopers & Lybrand in Chicago.
89 Sandra B. Conaway, AB'89, works as a multimedia producer and instructional designer at Multimedia Pathways in Redwood City, CA. She's lost touch with old friends and would love to hear from them. Tej M. Singh, AB'89, MD'93, continues his cardiovascular surgery training at Stanford University Medical Center. He and his wife, Simran, are "enjoying the weather and sunshine of northern California," and in October 1996, they became first-time parents with the birth of their son, Brij. Singh invites his friends from the U of C, and especially from Hitchcock Hall, to e-mail him at akita@leland.stanford.edu. Thomas F. Tipton, AB'89, received a doctorate in English literature from Northwestern University in June, after completing a dissertation on medieval hagiographic literature. He is currently an associate professor of English at the College of DuPage. (This corrects information published in the August/97 issue.-Ed.)

---
Back to Class News - Table of Contents - Top of Page - Email Us