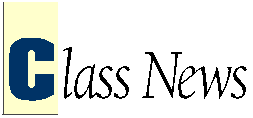 1990s
---
90 Seongsu Kim, MBA'90, is an assistant professor of human resource management at Seoul National University's college of business administration. His August move from Cleveland to Seoul came after nine years of living in the U.S. Michael I. Oberlander, AB'90, see 1992. Sima Medow Oberlander, AB'90, see 1992.
College alumni, please send your news to: Grace P. Chan, AB'90, AM'90, 5824 South Kimbark Avenue, Apt. 1323, Chicago, IL 60637. Phone: 773/702-2603 (h). Fax: 773/702-5846. E-mail: gpc1@midway.uchicago.edu.
91 Gabrielle M. Applebaum, AB'91, see 1992. David R. Beaglehole, MBA'87, PhD'91, see 1983, Judy Weissman. Raphael Licht, AB'91, see 1992. James J. P. O'Hagan, MBA'91, and his wife, Medalit, announce the June 22 birth of their first daughter, Hannah Rose, who joins brother J. P., 2. The children's maternal grandmother is Rosa Requejo of Chiclayo, Peru, and their paternal grandparents are John and Mary Alice O'Hagan of Crystal Lake, IL. James is a product manager in the personal printer division at Zebra Technologies in Vernon Hills, IL.
92 College alumni-welcome to the first column by Lesley F. Kim, AB'92, who writes: Reunion '97 has come and gone, and by all counts it was a huge success! We missed some of you at reunion; send news so we can catch up. Here are some items to get you started. Kirsten W. Albrecht, AB'92, is a litigation attorney with Kaye Scholer Fierman Hays & Handler in Los Angeles. Frank E. Arado, AB'92, is a real estate associate with the law firm of Sidley & Austin in Chicago. Keith M. Cardoza, AB'92, married Kathleen M. Henesey, AB'94, in May 1994. Keith works as an investment analyst for the Illinois State Board of Investment, and Kathleen is assistant director of public affairs at the Art Institute of Chicago. Julia E. Eckersley, AB'92, and Ian H. Morrison, AB'92, were married in 1995 and live in Chicago with their dog, Taylor. Jules is in medical school and Ian is an attorney with Seyfarth, Shaw, Fairweather & Geraldson.
Dana MacGregor Fischer, AB'92, operates a brewpub in Cornelius, NC, and is married to Janet-Marie Seger. Dana invites you to "Come on by for a beer!" Erika R. George, AB'92, AM'93, has returned to Chicago to practice law after spending time in South Africa and India. "I still have wanderlust," she reports. Douglas J. Guthrie, AB'92, is an assistant professor of sociology at New York University. Thomas B. Hafner, AB'92, married Alison R. Darnell, AB'92, in May 1995. Tom trades options at the Chicago Mercantile Exchange, and his "pursuit of good soccer has held steady." Kathleen B. Hanviriyapunt, AB'92, is assistant managing editor of the Asian Weekly. Erin Kennedy, AB'92, received a master's degree in counseling psychology from Northwestern University and makes occasional trips south to satisfy her Medici cravings. Tomoko Kizawa, AB'92, earned an M.S. in accountancy from DePaul University and is an auditor at Arthur Andersen in Chicago.
Panina Medow Licht, AB'92, and Jacob Licht, AB'93, welcomed a beautiful baby girl, Yehusit Nechama (Hudi for short) on July 15, 1996. Hudi's doting U of C relatives include aunts and uncles Michael I. Oberlander, AB'90; Sima Medow Oberlander, AB'90; Raphael Licht, AB'91; and Gabrielle M. Applebaum, AB'91, as well as grandfather Robert P. Medow, AM'73. Peter Chuan-Yi Lin, AB'92, and Patricia L. Schaus, AB'93, are married, have two kids, and-after spending time in Hawaii-are both grad students in Urbana, IL. Patty explains, "After a year of sunny days, hiking, and snorkeling, practicality seized us, and we returned to flatland central." Adrienne S. Liss, AB'92, attends the Wharton School of Business and spent her summer at Revlon as a marketing associate. Sean P. McMahon, AB'92, is deputy director for intergovernmental affairs in the office of the Secretary of the Department of the Interior, Bruce Bobbitt. Michael S. Post, SB'92, married Tammy Smith Post, AB'93, and is the proud father of Shoshanah Chaya. He invites you to check out his Web site, at http://www.westworld.com/~mpost, for pictures.
Steven J. Schmitt, AB'92, is married to Rebecca ("Becky") Broetzman Schmitt, AB'93. Nichole D. Smith, AB'92, earned her J.D. from UCLA and works for a nonprofit trade association in Los Angeles. Tina Shuwen Tang, AB'92, is a trader at Goldman Sachs in New York and recruits at the U of C for her firm. "I know we have the talent!" she says. Carol M. D. Tetrault, AB'92, recently completed a study-abroad program in Wuerzburg, Germany. She is studying for her master's in education at SUNY­Albany. Steven P. Toboroff, AB'92, lives in New York and reports, "I am grateful to the U of C for challenging me."
College alumni, please send your news to: Lesley F. Kim, AB'92, 1364 25th Avenue, San Francisco, CA 94122-1525. Phone: 415/242-0187 (h). E-mail: saltysoo@aol.com.
93 The 5th class reunion will be held June 5­7, 1998. Jacob Licht, AB'93, see 1992. Tammy Smith Post, AB'93, see 1992. Gregory C. Schultz, AB'93, and Christy Eriksen returned to the U of C, where they first met in 1990, to be married at Bond Chapel on May 24. The two hope to hear from classmates at 319/358-2843, or gschultz@blue.
weeg.uiowa.edu. Patricia L. Schaus, AB'93, see 1992. Rebecca ("Becky") Broetzman Schmitt, AB'93, see 1992. William D. Stein, MBA'93, was promoted to senior manager of business assurance for Coopers & Lybrand in Chicago.
94 Kathleen M. Henesey, AB'94, see 1992. Matthew V. Padilla, AB'94, and Donna Ton Padilla, AB'94, were married at Bond Chapel on October 12, 1996, with several alumni friends present. The couple honeymooned in Yellowstone, and they live in the Chicago area. Alchristian C. Villaruz, MD'94, a lieutenant in the U.S. Navy, has been on an expedition with the U.S. Marines this year, evacuating Americans by air and by sea from Sierra Leone-an initiative begun by the request of the State Department.
95 Scott W. Campbell, AB'95, one of 60 Americans to win a yearlong scholarship from the Congress-Bundestag youth exchange for young professionals and agriculturists, will spend this academic year studying and working in Germany. In late July, Alice Chou, AB'95, participated in a college bowl tournament in Philadelphia where many U of C alumni were present. Chou reports, "Many questions concerning Chicago-related people like Thorstein Veblen; Enrico Fermi; Saul Bellow, X'39; and Susan Sontag, AB'51, were answered, and many margaritas were consumed." During a recent rotation through the National Training Center in Fort Irwin, CA, Chunae Zoh, AB'95, received the U.S. Army's commendation medal for his service as executive officer of his tank company.
97 Charlotte H. Albinson, AB'97, works with the Human Genome Project at Washington University in St. Louis, where she makes clones for sequencing X chromosomes. When Charles W. Leary, AB'97, graduated in June, his younger brother, John Patrick, who enters the College this fall, helped celebrate. Lawson E. Whiting, MBA'97, is a business analyst for corporate development at Brown-Forman.

---
Back to Class News- Table of Contents - Top of Page - Email Us