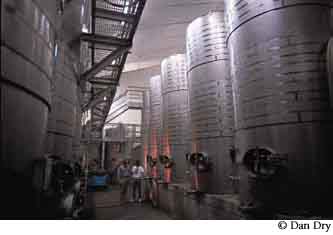 He often speaks like a scholar and philosopher (albeit an irreverent one), but Howell decided in his third year of college that he was more interested in the practical applications of things-particularly how his Ideas & Methods concentration might apply to a career. Thinking about becoming a physician, Howell headed to his hometown of Seattle to complete a second undergraduate degree, this one in chemistry at the University of Washington. While there he met his wife, Sanda Manuila Howell, then a doctoral student in comparative literature and his French instructor. The couple married in 1980; Sanda now handles public relations and comanages at Cain.
"I took my French class because I knew I wasn't going to become a chemist, either," says Howell. "There was this sort of hypothetical goal to become a physician, but in fact, I never could stand the sight of blood. I was basically still trying to figure out what the heck I was going to do."
He began by working at an environmental company, near some railroad yards where a group of Italian men, immigrants in the days of Prohibition, still came to buy wine grapes shipped up from California to make their own wine. Howell started taking breaks and lunch hours with them. When a coworker gave him some books on winemaking, Howell had an epiphany of sorts. "I thought: It's chemistry, microbiology, biochemistry, analysis," he explains. "And it's about wine. I understand all these things. I could do this." Using techniques borrowed from his noontime companions and grapes purchased at the railroad yards, Howell made his first batch. After two years of experiments, he started to think about becoming a full-time winemaker, but worried that the occupation was "marginal, to say the least." So he thought about it for another two years.
"You want to do something that you like and you feel you'd be good at," Howell explains. "I didn't make up my mind until I was 29. I can tell you, I was worried."
As was his father. "My father was a believer in great education," notes Howell, "but when I told him I was going off to become a winemaker, he thought: 'You're nuts! What is this? Who are winemakers? What's your future in that?'"
Of course, in some places, winemaking is just another job. And, as in many other professions, graduate school is a good way to break into it.
Looking for hands-on training in traditional winemaking techniques, he opted for Ecole Nationale Supérieure Agronomique de Montpellier, one of France's premier schools for viticulture and enology. The only American at the school, Howell studied there for two years, earning his diploma in 1984. He also received a winetasting degree from the University of Bordeaux, and he worked at Bordeaux's famous Château Mouton Rothschild.
Upon his return to the States, Howell spent seven years working his way up at various vineyards before joining Cain. First he worked a harvest at Clos Du Val Winery in Napa Valley, then briefly tried out Washington state vineyards. Going back to Napa, he spent three years as the enologist and assistant winemaker at Clos Pegase Winery, helping the fledgling business to set up its laboratory and record-keeping system. Next he went to Sonoma County, doing similar work for another new winery, Peter Michael Winery. Then he became winemaker and vineyard manager at the nascent Marimar Torres Estate before the vineyard was even under construction. Along the way he began consulting at Cain.
For Howell, Cain's 1991 offer of a full-time job was "closing a loop," bringing together all his experience. Like Mouton Rothschild, Cain grew the Bordeaux varietals and made a blended wine based on Cabernet Sauvignon. Working at Peter Michael had provided Howell with experience in a mountain vineyard, while Marimar Torres had given him a taste of being in charge. But Cain presented "a greater challenge still."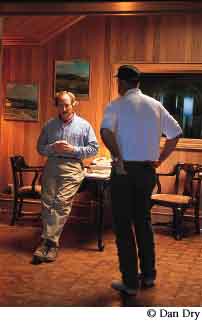 "Suddenly I was in charge of this business, and although I had lots of ideas about how to make it work, I really just needed to make it go," says Howell, now the president of the California Cabernet Society. "I needed to survive."
Founded in 1980 during one of Napa's winery booms, by the early 1990s Cain faced a national economy that didn't leave much room for luxuries like fine wine. Howell looked for ways to improve what was already being done well, assembling a crack staff of about 20, approximately half working in the vineyard and the rest divided among the wine cellar, the office, and sales. Next, he started some serious streamlining, selling several pieces of equipment.
"You could say my great accomplishment was I got rid of the giant hopper with the big old screw in it that tended to grind the fruit up before it ever hit the destemmer," Howell jokes. "I didn't think it was necessary. Winemaking isn't really based on stainless steel machines, especially at our scale."
He also chose to limit Cain's entertaining to people in the wine trade, though others can visit by appointment. Howell, Sanda, and the two sales representatives take turns giving thrice-weekly tours of the vineyard and the winery, a three-building complex that includes the cellar, laboratory, bottling facilities, offices, and kitchen, but has no formal tasting area. Visitors may be invited to have a sip in the dining room, made light and airy by several sets of French doors. Sanda cooks for special guests; her paintings on silk adorn the walls.
"We've made the place, I think, as warm and hospitable as possible without being pretentious," says Howell.
Besides making changes in the operations, he tested new ideas on the wines. Feeling that Cain's strengths didn't lend themselves to making a distinguished Chardonnay, Howell encouraged owners Jim and Nancy Meadlock to stop making it, despite the varietal's popularity. He then concentrated on the flagship red Cain Five, a blend of the five Bordeaux varietals, and added Cain Cuvée, a lighter red blend. The winery continues to produce Cain Musqué, a Sauvignon Blanc made with grapes from another vineyard. Future wines might include a Syrah; Howell has already planted 1,000 vines.
Howell's goal was to "make it go," and Cain does seem to be going. Sales of Cain wine, after dipping to 8,000 cases in 1991, have returned to around 20,000 every year. Ten to twenty percent of the bottles are purchased directly from the winery by individuals; distributors buy the majority, reselling it to restaurants and wine shops.
"This is a lesson I learned here at Cain," Howell offers. "Between us and the person who eventually pulls the cork and drinks the wine, there are a lot of people and a lot of different things that can happen. We literally have to shepherd that wine all the way to the table. We're not done until the bottle is empty."