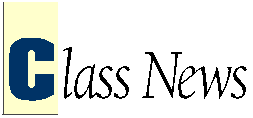 In the Clubs
Boston
Sat., Oct. 25, 5:30 p.m.: "Eerie Events" Halloween celebration. Contact John Todd, AB'94, 617/563-6018 (h) for details. Sat., Nov. 8, noon to 4:30 p.m.: Help at the Greater Boston Food Bank. Contact Rebecca Wilson, AB'93, 617/295-7818 (w). The Great Books Group of Boston meets every month on a Sunday afternoon, 5­6:30 p.m. For more information, contact Celia L. Shneider, X'72, at 617/739-1303 (h). The book group for the busy meets monthly in Cambridge to discuss short classics. The next meeting is Sun., Oct. 19, 4 p.m., for Michael Ondaatje's Coming through Slaughter. For more information, contact Michael F. Fitzgerald, AB'86, by phone, at 617/393/3850 (w) or 508/875-3524 (h); or by e-mail, at Michael_Fitzgerald@zd.com. Upcoming happy hours, held the second Wednesday of each month, 6­10 p.m., will include: Wed., Nov. 12, the Mercury Bar, 116 Boylston St.; and Wed., Dec. 10, the Black Rose, Faneuil Hall.
Chicago
Wed., Nov. 5, 12:15 p.m.: Downtown luncheon with novelist and NORC researcher Father Andrew M. Greeley, AM'61, PhD'62, on "The Belief in Life after Death." Sun., Nov. 9, 2 p.m.: Learn the ancient Scottish sport of curling at the Chicago Curling Club, 555 Dundee Rd., Northbrook. Thurs., Nov. 20, 5:30 p.m.: Cityfront Forum with astronomy, astrophysics, and physics professor Michael Turner on "The Beginning of the Universe." Fri., Nov. 14, 7­10 p.m., and Sat., Nov. 15, 9:30 a.m. to 5:30 p.m.: Chicago Weekend at the Gleacher Center with art history, cinema, and media studies professor Tom Gunning on "Film's Fourth Dimension: Time and Suspense in the Cinema." Tues., Nov. 18, 5:30 p.m.: "Orchestra Hall: Before and After (Part II)," at the Symphony Center. Sat., Dec. 6, 12:15 p.m.: Take an early peek at the new Arts Club, 201 E. Ontario, with an exhibit on sculptor and painter Louise Bourgeoise.
Detroit
Thurs., Oct. 23, 6 p.m.: Wine tasting at the Rattlesnake Club, 300 River Place. For more information, contact Frank Angileri, JD'91, 248/645-0143 (h).
Los Angeles
Wed., Nov. 5, 6 p.m.: Reception and conversation with President Hugo F. Sonnenschein at the Skirball Cultural Center.
New York
Thurs., Nov. 6, 6:30 p.m.: Russian dinner at L'Ermitage. For details, contact Leah Lehrer, PhD'68, 212/802-6081 (w). Thurs., Nov. 13, 8 p.m.: Take in the musical Chicago at the Shubert Theatre, 225 W. 44th St. For details, call Mehvish Rahman, AB'95, 212/396-2996 (h). Wed., Dec. 3, 6:30 p.m.: Dinner at Federico's, 1981 Broadway (at 67th St.), followed by a Festival Chamber Music Society concert at Merkin Concert Hall, 129 W. 67th St. Call Lisa Magnas, AB'88, 212/749-5210 (h).
Rochester Sat., Nov. 22, 7 p.m.: Night out at the Downstairs Cabaret. For details on this or other club events, contact Sherrie Negrea, AB'82, 716/394-0199 (h).
San Diego
Tues., Oct. 21, 7:30 p.m.: Reception and tour of Treasures of the Russian Imperial Court, at the San Diego Museum of Art. For details, contact Bob Pasulka, AB'76, MBA'81, 619/268-4600 (h).
San Francisco
Sat., Nov. 1, 8:45 a.m.: Habitat for Humanity outing.
United Kingdom
Thurs., Nov. 20 or Fri. Nov. 21 (TBA): GSB professor Robert Aliber, director of International Finance Studies, speaks. Details TBA. Wed., Dec. 3, 7 p.m.: Holiday party at the Museum of the Moving Image. For more information, contact Lisa Galaif, MBA'92, 44-171/500-2343 (w).
Washington, DC
Date TBA: Harris Graduate School of Public Policy faculty discussion with associate professor Susan Mayer, author of What Money Can't Buy: Family Income and Children's Life Chances. For details, contact Sara Miller-Acosta at the Harris School, 773/702-9994. The Ivy League Singles Party club now includes the U of C. Parties at 6:30 p.m. Fri., Oct. 31: Hosted by Yale University at the Capitol Hill Club; Fri., Nov. 28: Host and locale TBA; and Fri., Dec. 12: Hosted by Wellesley College at the Sulgrave Club. Sat., Nov. 8, noon: Visit the Newseum. Mon., Nov. 17, and Tues., Dec. 16, 6:30 p.m.: Modern drama dinner and discussion group. To subscribe to the on-line list, send the message join theatre to: theatre-req@jskay-consulting.com. For more information on D.C. events, contact David Sobelsohn, AB'74, 202/484-8303 (h), or the events hotline, 202/452-5590.
In your city Here's who to call if you're in...
Central New Jersey: Doreen Blanc Rockstrom, AB'64, MAT'69, 908/281-9155 (h). Denver: Gerald Forney, SM'74, 303/830-8447 (h). Houston: Nancy Parra, AM'66, PhD'73, 713/528-2678 (h). Milwaukee: Alan Levy, AB'63, JD'65, 414/273-3912 (w). Philadelphia: Amy E. Gedrich, AM'81, 215/732-7855 (h); Jonathan Fox, AB'79, PhD'85, MD'87, 610/664-3664 (h); or Jennifer Wu, MBA'93, 215/636-0192 (h). Phoenix: Joann Polk, AB'89, or Jay Polk, AB'89, 602/596-4064 (h). Portland: Myra LaVenue, AB'87, at 503/299-6176 (h).
For details, contact Marilyn Melvan, U of C Alumni Association, at 773/702-2157; at 773/702-2166 (fax); or at clubs@uchicago.edu (Internet).
Admissions, anyone? Calling all College alumni! Join more than 1,000 alumni volunteers who support the Office of College Admissions by interviewing applicants all across the country and around the world. Contact the Alumni Schools Committee, 1116 E. 59th St., Chicago, IL 60637. Phone: 773/702-8664. Fax: 773/702-4199. E-mail: asc@uchicago.edu.
---
For more detailed and complete information about club events--as well as other special services--visit the University of Chicago's alumni web site, the Alumni Gateway.
---