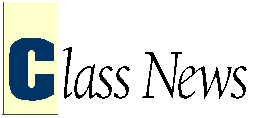 1920s and 1930s
---
29 Alice McCollum Behring, AB'29, former president of Deltho, sends greetings to her classmates and fellow Deltho members, adding, "What hardy souls we must be!" While living in Spain for the past 25 years, Melanie Loewenthal Pflaum, PhB'29, also traveled to such places as New Zealand, Japan, and the Philippines, where she and her late husband, Irving, were visiting professors at the University of Canterbury in Christchurch, Doshisha Daigakyu in Kyoto, and Silliman University in Dumaguete. Pflaum, who has written 14 novels, now does English-Spanish translations for scientific journals. Pflaum enjoys summer visits from her three sons, nine grandchildren, and several Chicago friends. She also walks, swims, reads "omnivorously," and digs near her home for Roman artifacts. "On a clear day, you can see Ibiza" from her hillside house, which looks out over the Mediterranean.
30 Paul Rudnick, SB'30, PhD'36, and Jessie Weed Rudnick, SB'35, SM'36, retirees from Los Alamos National Laboratory, are "alive and well" in Los Alamos, NM.
31 Attorney Alfred W. Israelstam, PhB'31, JD'33, of Highland Park, IL, has written a book of poems, Verses for the 21st Century: Adam and Eve on the Internet. Israelstam and his wife of 63 years, Beatrice, "delight in music drifting over the trees from Ravinia," a nearby outdoor concert arena. The couple also enjoys visits from their family and friends.
32 Jane Ensminger Clements, PhB'32, travels, volunteers, and is active in clubs and her church. She also takes courses at San Diego State University and enjoys the theater. In September, at a luncheon for purchasers of Israel bonds, the west suburban Chicago chapter of Hadassah honored Sarah Melnick Schultz, PhB'32, a past president of West Suburban Hadassah and of the West Suburban Council of Jewish Women. Schultz's daughter, concert pianist Carol Schultz Honigberg, performed for the gathering.
33 The 65th class reunion will be held June 5­7, 1998. Elizabeth Jones Borst, PhB'33, X'35, plans to spend Christmas in Egypt, visiting Chicago House in Luxor. "This will follow an October visit to the migratory polar bears on Hudson Bay," she notes, adding, "One must travel while one can-barely!" George F. Dale, SB'33, who is membership secretary for the International Naval Research Organization, is "still hale, hearty, and active at 84," and observes, "I could use some 48-hour days."
35 Jessie Weed Rudnick, SB'35, SM'36, see 1930, Paul Rudnick. Jaan Int-Hout Walther, PhB'35, describes life on her Michigan farm as "close to nature, calm, quiet, rewarding," and "full of everyday pleasures."
36 An essay by Katharine Mann Byrne, AB'36, AM'43, appeared in the Womanews section of the Chicago Tribune in September. In the essay, "Capacities May Diminish, but Life Still Brings Happy Returns," Byrne recounts "the stories of five persons still working usefully, long after their 18th birthdays." Zalmon S. Goldsmith, AB'36, JD'38, see 1938, Anne Holtzman Goldsmith.
37 John M. Beal, SB'37, MD'41, and Mary Phemister Beal, X'39, enjoyed a two-week trip to Paris and are involved in a continuing education course at their local university. As a volunteer for the Chicago Symphony Orchestra archives, Dena Polacheck Epstein, AB'37, is creating a computer catalog of the manuscripts in the Theodore Thomas Music Library, which, she notes, was "brought to Chicago in 1891 when Thomas founded the Orchestra" and "is probably the most important library of orchestral music in the country." Choosing not to run for a third term, Helen Shiffman Harshbarger, AB'37, retired in December 1996 as clerk of the 12th judicial district in Will (IL) County. She co-chairs the capital campaign for a senior center serving Will and Joliet counties.
38 The 60th class reunion will be held June 5­7, 1998. To mark the 80th birthday of Ben B. Blivaiss, SB'38, SM'40, PhD'46, as well as his 50 years of service at Finch University of Health Sciences/The Chicago Medical School, the faculty and staff in Finch's department of physiology and biophysics gathered on July 23. Blivaiss, who retired in 1987 as associate dean for undergraduate and continuing medical education, remains active as both a physiology professor and the assistant to Finch's chief academic officer. Anne Holtzman Goldsmith, AB'38, looks forward to her class's 60th reunion in June. Of herself and husband Zalmon S. Goldsmith, AB'36, JD'38, she notes, "After these many years, we still bask in the aura of Robert Maynard Hutchins and the 'new plan.'" Retha Rosenheimer Mason, AB'38, AM'45, was featured in the Iowa City Press-Citizen in September for her watercolors, displayed in Iowa City's First National Bank. Now retired, George E. Reedy, AB'38, teaches political communications and mass media at the La Farge School for senior citizens in Milwaukee. In the spring, he plans to add courses on the federal government and U.S. communications networks.
39 Mary Phemister Beal, X'39, see 1937, John M. Beal.

---
Back to Class News - Table of Contents - Top of Page -