Welcome to the on-line edition of the December 1997 issue.
Email us with your comments or reactions.
---
THE UNIVERSITY OF CHICAGO MAGAZINE
December 1997 VOLUME 90, NUMBER 2
---
Table of Contents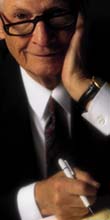 Gale force
D. Gale Johnson has long since made his mark in the world of academe-and in the world. At 81, the agricultural economist remains the authority on how national economic policies affect international trade.
WALTON R. COLLINS
Frames of mind
Shooting the City Gray in black and white, photographer Eugene Zakusilo offers a broader way of seeing the campus.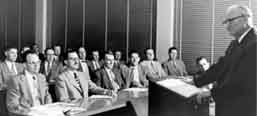 A centennial report
As the Graduate School of Business turns 100, the study of business has a new focus: learning the tools and theories of global economics.
KIMBERLY SWEET

---
DEPARTMENTS
---
Home - Top of Page - Email Us