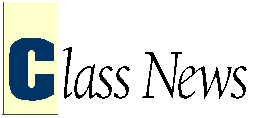 1990s
---
90 This past July, John H. Komlos, AM'72, PhD'78, PhD'90, was the local host for the third world congress of cliometrics, held in Munich. He was interviewed by a Dutch television program entitled "Welfare in Centimeters."
College alumni, please send your news to: Grace Chan, AB'90, AM'90, 5824 South Kimbark Avenue, Apt. 1323, Chicago, IL 60637. Phone: 773/702-2603 (h). E-mail: gpc1@midway.uchicago.edu.
91 Nicholas D. Clemente, AB'91, left his position as assistant vice president on the asset-backed securities trading desk at PaineWebber to pursue an M.B.A. at Harvard Business School. He lives in Cambridge, MA, and would love to hear from anyone in the area. His e-mail address is nclemente@mba1999.hbs.edu. Catherine L. Skeen, AB'91, of New York City, and Michael Brannigan of Belfast, Ireland, were married September 26 in New York City. The couple lives in Hyde Park, where Skeen is a Ph.D. candidate in English at the U of C. Daniel V. Strite, AB'91, who completed a master's degree in clinical psychology at the University of Houston in 1996, now does clinical work and research in the adult neuropsychology service at the M. D. Anderson Cancer Center in Houston. He can be reached by e-mail at dstrite@utmdacc.mdacc.tmc.edu. Cuong Vu, AB'91, is completing a medical residency at the University of Virginia.
92 College alumni-Lesley F. Kim, AB'92, writes: You never call, you never write....I don't want to sound like your parents, but we want to know what you're up to! Here's what some of your classmates have been doing. Kenneth A. Bloom, AB'92, finished his Ph.D. work in particle physics at Cornell University. He now works on the research staff at Johns Hopkins with David W. Gerdes, PhD'92. Ken welcomes your e-mail at bloom@jhu.edu. Robbi A. Burch, AB'92, married Tracy L. Perry, X'93, in Anniston, AL. Robbi and Tracy live in Georgia. Another wedding: Mark S. Jeffreys, AB'92, married Renee A. Minges in Washington, DC. Derek S. Jeffreys, AB'87; Michael F. Stoer, AB'93; and Solan B. Schwab, AB'92, were members of the wedding party. Happy holidays to everyone. Keep those e-mails and cards coming!
College alumni, please send your news to: Lesley F. Kim, AB'92, 1364 25th Avenue, San Francisco, CA 94122-1525. Phone: 415/242-0187 (h). E-mail: lesley@statonhughes.com.
93 The 5th class reunion will be held June 5­7, 1998. As the regional director of a USAID­funded health-care reform project throughout Central Asia, Michael J. Borowitz, AM'88, PhD'93, has lived in Kazakhstan for the past three years. His wife, Ruth E. Mandel, AM'80, PhD'88, does research in Central Asia when not teaching at University College in London. Dana A. Mitroff, AM'93, has a new job as educational site producer and webmaster at the Computer Curriculum Corporation in Sunnyvale, CA. Her job "will have little to do with art history," she concedes, but she looks forward to applying what she learned working in the education department of the Smart Museum. Eriko Ohta Miyahara, PhD'93, became an assistant professor in psychology at the Rochester Institute of Technology in September. In a joint Ph.D. program between Northwestern University and Garrett Evangelical Seminary, Dorothy Valin Osgood, MDV'93, won a university scholar award. Osgood studies religion and personality.
College alumni, please send your news to: Norman Yung, AB'93, 1725 Orrington Avenue, Apt. 0125-1, Evanston, IL 60201. Phone: 847/332-8352 (h). E-mail: nyung@iohk.com.
94 Morgan L. Hammerbeck, AB'94, married Holly Anne Hughs at the American Cathedral in Paris on August 9. Edward Han, AB'94, see 1995, James D. Kim. Joseph C. Jastrzembski, AM'84, PhD'94, is an assistant history professor at Minot State University in Minot, ND. Christopher R. Lavoie, AB'94, who recently graduated from Suffolk University's law school, now works in the litigation department of the firm Dunn and Rogers in Boston. Sanjay Nath, AB'94, is working toward a Ph.D. in psychology at Temple University.
Gwendolyn C. Payton, AB'94, graduated from the University of Michigan's law school in December 1996 and is now practicing with Lane Powell Spears Lubersky in Seattle. Her e-mail address is paytong@
lanepowell.com. Loukia K. Sarroub, AB'94, and James D. Le Sueur, AM'90, PhD'96, were married in July 1995. An assistant history professor at California's University of La Verne, Le Sueur is working on a book on France and the Algerian War, and meanwhile is editing two other books. Sarroub, who is pursuing an education Ph.D. at Michigan State University, was awarded a two-year Spencer Foundation research grant. Sarroub and Le Sueur ask their friends from the U of C to keep in touch. Keith Sawyer, AM'92, PhD'94, is in his second year as an education and psychology professor at Washington University in St. Louis. His first book, Pretend Play as Improvisation, was published earlier this year, and he is finishing his second book, Creating Conversations. Arthur C. Schmidt III, AB'94, is working toward an international securities and investment banking M.Sc. degree at the University of Reading in England. He visited campus over the summer. In April 1996, after more than four years in the U.S., Roberto M. Zacarias, Jr., LLM'94, returned to his home country, the Honduras, where he established Zacarias, Melgar & Asociados in San Pedro Sula.
95 First Lieutenant Sourna A. Daneshvar, AB'95, AM'97, is a U.S. Marines infantry platoon commander at Camp Lejeune in North Carolina. Jon E. Ellison, AB'95, has enjoyed recent travels to Africa, northern India, and Hong Kong. Katherine S. ("Kate") Fichter, AB'95, left her job at the Department of Justice to work in the legislative branch, studying environmental and transportation issues for the National Conference of State Legislatures. Still enjoying Washington, DC, she writes that she is "beginning to think about graduate school." Robert E. Frederick, AB'95, and Donna L. Scheidt, AB'95, were married on August 16 in Omaha, NE. Among alumni in attendance were bridesmaid Gina M. DeGiovanni, AB'95; groomsmen Dale Andrew ("Andy") Curtis, AB'95, and Brian T. Riley, AB'95; and Cornelia C. Stanton, AB'94, who read a poem during the ceremony. The couple honeymooned at Lake Louise and Banff, and they live in Cambridge, MA, where Scheidt is in law school at Harvard, while Frederick is an editor with McDougal Littell­Houghton Mifflin.
Rajan A. Kadakia, AB'95, and Nancy A. Pandhi, AB'95, are students at the Medical College of Virginia. James D. Kim, AB'95, and Edward Han, AB'94, founded KarePak & Co., a national care package service offering 12 types of care packages, available by Internet or telephone. Peter H. Kipp, MAT'95, is an ESL instructor at the University of Suwon in Korea. Peggy Mok, AB'95, is pursuing a master's degree in molecular microbiology and immunology at Johns Hopkins University. T. Kim Vu, AB'95, is studying at the University of Maryland at Baltimore. While in Chicago for a few weeks in November, Hawke Yoon, AB'95, stopped by the Magazine offices to let us know he'd just completed two years as a community health extensionist in the Peace Corps. On a typical day in Cove and John, a village in the county of East Coast Demerara in Guyana, South America, Yoon would work at a health center in the morning and teach life skills and health at local secondary schools in the afternoon. Now back in the U.S., Yoon lives in Idaho Falls, ID.
96 James D. Le Sueur, AM'90, PhD'96, see 1994, Loukia K. Sarroub. Clint M. Patterson, X'96, see 1997, Shay E. Feilen.
College alumni, please send your news to: Asha Banker, AB'96, 140 West 69th Street, Apt. 102A, New York, NY 10023. Phone: 212/724-6844 (h). E-mail: asha.banker@gs.com.
97 Shay E. Feilen, AB'97, and Clint M. Patterson, X'96, were married on July 27 in Lake Tahoe, NV. Adam L. Scheffler, AM'97, joined the American Medical Association as a research associate in the health science division's alcohol and drug abuse office. After traveling to Prague, Budapest, Vienna, and Munich, Patrick Stoy, SB'97, accepted a research job in Bristol-Myers Squibb's Pharmaceutical Research Institute in Lawrenceville, NJ, where he will develop new drug candidates and analogs to current drugs.
---
Back to Class News - Table of Contents - Top of Page -