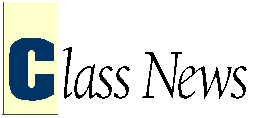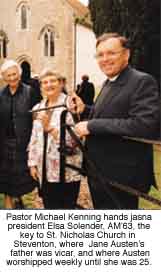 What do U of C professor emeritus Gwin J. Kolb, AM'46, PhD'49; syndicated political columnist Mary McGrory; and Canadian novelist Carol Shields (The Stone Diaries) all have in common? Fascination with a 19th-century writer, that's what.
Along with nearly 4,000 other "Janeites," the three belong to the Jane Austen Society of North America, JASNA, whose mission is to foster appreciation for Jane Austen's work, life, and genius. Of the society's 52 chapters, the largest is in New York City, where JASNA president Elsa Solender, AM'63, lives. Solender, who coordinated the Baltimore group from 1980 to 1986 and the New York City chapter until 1993, became JASNA's president on December 16, 1996-the 221st anniversary of Austen's birth.
At the invitation of a friend-one of JASNA's cofounders, Henry Burke-Solender was among the 100 people at JASNA's inaugural 1979 dinner at the Gramercy Park Hotel in New York City. The following year, Solender and Burke organized the society's second annual general meeting, held in Baltimore.
Cornerstones of JASNA activities, these conferences attract some 500 people, five plenary speakers, and as many as 20 breakout session speakers. Often the speakers are Austen scholars, of whom JASNA attracts "a considerable number," Solender says, though she stresses that JASNA is a literary, not an academic, society. One such scholar is U of C professor emeritus Stuart Tave, an authority on Austen. Solender's adviser while she was a U of C student, he now sits on the editorial board of JASNA's literary journal, Persuasions, where JASNA publishes its conference papers. Persuasions-co-edited by JASNA cofounder Joan Austen-Leigh, a great-great-great-grand-niece of Jane Austen-"has gone from about an eight- or 12-page pamphlet to a 208-page journal," notes Solender. It's only one sign of the organization's growth in recent years.
While traditionally "an all-volunteer, hands-on organization," JASNA has ballooned since 1995 from "a steady 2,200 members" to nearly 4,000. As a result, says Solender, whose JASNA work is full time, "I'm going to be the last person who's going to be able to manage this job as a volunteer." She hopes that eventually the society will instead have an executive director with at least a part-time appointment, which is one aspect of her overall plan to professionalize JASNA as much as she can.
Toward that end, she says, "We have made enormous strides." Under Solender's guidance, the society has changed the editorial leadership of its newsletter and its journal; redesigned its newsletter; established a Web site; hosted a leadership retreat, laying out a plan for the next two years; planned a regional coordinators' training institute; and adopted a logo. In outsourcing administrative tasks, the president has also worked to help volunteers, some with histories of 16­17 years of hands-on service to JASNA-"stuffing the envelopes and licking the stamps," says Solender-to find new ways to contribute to the organization.
To stay in touch with the local chapters, Solender travels widely. A former instructor at both the U of C and Goucher College's extension school, Solender often visits regional meetings, occasionally speaking to small groups on Austen. This past June, she traveled with JASNA on its first tour of Jane Austen's England; her future JASNA plans include a May tour through Canada and a summer return to England.
Solender says the upsurge in popular enthusiasm for Austen's 19th-century writings, and therefore for JASNA, comes from a 20th-century industry: film. Named an Entertainer of the Year by Entertainment Weekly in 1995, Jane Austen that year had four novels adapted for the screen, including Emma, with Gwyneth Paltrow; Sense and Sensibility, with Emma Thompson and Hugh Grant; the art-house hit Persuasion; and the TV version of Pride and Prejudice, which aired on Arts and Entertainment and the BBC. Also in 1995, Alicia Silverstone charmed audiences as Cher in Clueless, a Beverly Hills version of Emma. "The upsurge in interest in Austen did come from the films," says Solender. "There's no question about it....We call it 'Jane mania.'" She adds that the people who joined the society by way of the films "had always loved Jane Austen, but just hadn't found kindred spirits before."
This December 16 marks the beginning of Solender's second term as JASNA president, and she will likely serve a third. After that, she looks forward to returning to her own writing. The award-winning journalist, a former associate editor for the Baltimore Jewish Times, writes poetry, has finished one novel, and intends to write another. "Writing fiction is what I've always wanted to do," she says. "If I had the time, I would be doing it now." Even so, Solender plans to remain an active JASNA member past her presidency, noting, "I, too, like to sit around and talk about Jane Austen." -C.M.
---
Back to Class News - Table of Contents - Top of Page -