In the 511th Convocation address, sociologist Stephen W. Raudenbush calls for a deeper merging of social action with the life of the mind.

---


Processed and confectionery (and, sadly, delicious) foods common in Western diets disrupt the delicate balance of intestinal bacteria.

---


The University's new Washington Park Arts Incubator, a neighborhood-revitalization effort opening this fall, gets a boost with a $400,000 grant.



The Atlantic (June 16, 2012)

Army veteran Eric McMillan, AM'10, searches for answers to the questions that he knows his son will someday ask.

---

New York Times (June 13, 2012)

Chicago Booth professor Luigi Zingales argues that investors should finance students' educations with equity rather than debt.

---

Huffington Post (June 12, 2012)

Legal scholar Geoffrey Stone, JD'71, says the Supreme Court decision intended to protect freedom of speech actually damages the political system.

---

Bloomberg Businessweek (June 7, 2012)
Scholars reboot the relationship the University invented between law and economics.

---

WBEZ (June 6, 2012)
Political scientist Gerald Rosenberg identifies the effect of public opinion on state judicial decisions on same-sex marriage.

PERSPECTIVE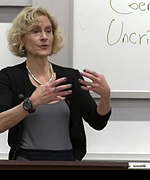 Lincoln, King, Gandhi, and Nehru shape philosopher Martha Nussbaum's view of a patriotic education that protects freedom of conscience and dissent.
Watch the video.
---
CALL FOR ENTRIES

Are you a College student or alum? Do you compose, design, draw, paint, sculpt, write, or make any other kind of art? Then enter our Logan Center art competition.
Learn more.
---
FROM THE EDITORS

In which we watch from the quads as Venus plods across the face of the sun.
Read the story.