Top Stories
| | |
| --- | --- |
| Children who use gestures to convey meaning at 14 months are likely to have larger vocabularies at 54 months—and thus are better prepared for school. Chicago's Meredith Rowe and Susan Goldin-Meadow report their findings in the February 13 Science. | |
---
A recent Law School conference examined the phenomenon of Internet gossip—particularly the harassment of women on the Web—and discussed possible remedies.

Listen to Law School Dean Saul Levmore discuss the Internet's anonymity problem.

After six years in the post, University Board of Trustees Chair James S. Crown will step down in March. Crown, who also chairs the Medical Center Board of Trustees, will remain a University Trustee.
---
Chicago in the News
---
From the Editors
The editors of the CORE, the College supplement to the U of C Magazine, have a theory: the T-shirt is a very Chicago form of expression. Now we'd like you to prove it in practice. Send us your favorite U of C T-shirt phrases and stories for an upcoming article. Photos are welcome too. E-mail uchicago-magazine@uchicago.edu (with "T-shirts" in the subject line) by March 2.
CONNECT
Thursday, Mar. 5
Why Laura isnít CEO
Global Leadership Series Event with Chicago Booth Professor Marianne Bertrand
7 p.m.
London
Sunday, Mar. 8
Race, Religion, and Obamaís America
Harper Lecture with Professor Dwight Hopkins
2 p.m.
Tempe, Arizona
---
PERSPECTIVE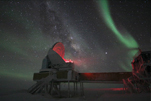 Primordial light
Using the South Pole Telescope, Chicago cosmologist John Carlstrom studies cosmic background radiation, the afterglow of the big bang. Carlstrom and fellow researchers discuss their work and answer questions in a Scientific American podcast recorded at this year's AAAS meeting.