Top Stories
| | |
| --- | --- |
| | Undergraduate public-policy researchers help the University and the City of Chicago identify a possible "Promise Neighborhood" modeled after a successful program in Harlem. |
---
| | |
| --- | --- |
| | Philosopher and Chicago professor Leszek Kolakowski, who helped inspire the Solidarity movement in his native Poland, died July 17 at age 81. |
| | Architect Jackie Koo, AB'86, put her "swerve" on a new Chicago hotel—a chartreuse lightning bolt on the facade. |
| | John Granger, AB'83, believes the Harry Potter series deserves consideration alongside the Great Books. |
---
Chicago in the News
Washington Post: If not the emergency room, then what? The University's Urban Health Initiative tries to find "medical homes" for people in underserved communities on the South Side. (July 25, 2009)
Chicago Tribune: The Baffler returns. Author and Wall Street Journal columnist Thomas Frank, AM'89, PhD'94, plans to revive the journal he cofounded at the University of Chicago. (July 27, 2009)
Chicago Tribune: Harry Potter's Hogwarts right here in Hyde Park? University of Chicago named 1 of 5 American universities most like the School of Witchcraft and Wizardry. (July 20, 2009)
Washington Post: Little for liberals in confirmation hearings. Law professor Geoffrey R. Stone, JD'71, says the Sonia Sotomayor confirmation hearings "did serious damage to the cause of progressive thought in constitutional law." (July 19, 2009)
Chicago Tribune: Chicago-based Project Exploration wins a presidential award for science education. University paleontologist Paul Sereno and his wife, Gabrielle Lyon, AB'94, AM'94, help kids discover an interest in science. (July 17, 2009)
PBS: Tavis Smiley Show. Olufunmilayo Olopade, director of the Center for Clinical Cancer Genetics, discusses how breast cancer affects different demographic groups, including an aggressive form more common to black women. (July 10, 2009)
---
From the Editors
Get a clue. Kevin Wald, SM'94, PhD'99, has crafted a puzzling view of campus in a cryptic crossword. Try to follow him all the way to the satisfying solution.
CONNECT
August and September
As the school year nears, incoming and returning College students, parents, and alumni are invited to send-off parties.
September 24–25
Phoenixphest
Events around the country and abroad welcome the Class of 2009 into the alumni community.
Saturday, August 8
Cubs vs. Rockies
6:10 p.m.
Coors Field, Denver
---
PERSPECTIVE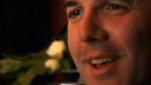 New direction
David Auburn, AB'91, the Tony Award and Pulitzer Prize–winning playwright of Proof (2000), discusses his debut as a film director with The Girl in the Park.