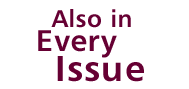 Letters
...why not boast about Leopold and Loeb?
ALUMNI BOARD NOMINATIONS
The University of Chicago Alumni Association is seeking nominations of alumni to serve on its Board of Governors, a 25-member group that sets policy relating to alumni and advises the University on matters of interest and concern to alumni.
We are looking for candidates with a record of involvement in, support for, and commitment to the University. Members are chosen from the whole alumni body. The board's composition ideally reflects the diversity of Chicago alumni with respect to age, gender, ethnicity, geographic location, and degree(s). For more information, please go to www.alumni.uchicago.edu/bog.html.
Members attend meetings twice a year in Chicago, serve on board committees and task forces, and act as representatives of the University in their home communities. New members, who will be elected at the board's April meeting, will serve a three-year term beginning July 1, 2005.
Serving on the Alumni Association's Board of Governors is a great way to give back to, and stay connected with, the University. If you know some alumni who could make a difference and would like to nominate them for membership, please send us one or two paragraphs summarizing each nominee's involvement with the University and indicating special talents or expertise the person would bring to the Alumni Association leadership. Please be sure to comment on each nominee's breadth and/or depth of involvement, and how that involvement has benefited the University and its alumni. For more detailed criteria, please see our Web site.
The deadline for board nominations is January 15. Nominations may be submitted online or sent to: Nominating Committee, The University of Chicago Alumni Association, 5555 South Woodlawn Avenue, Chicago, IL 60637: fax: 773/702-2166; e-mail: alumni-gateway@uchicago.edu.
Linda Lu, AB'91
Chair, Nominating Committee
U of C Alumni Board of Governors
Chicago
---
The University of Chicago Magazine welcomes letters. Letters for publication must be signed and may be edited for space and clarity. To ensure the widest range of views, we encourage letters of fewer than 300 words. Write: Editor, University of Chicago Magazine, 5801 S. Ellis Avenue, Chicago, IL60637. Or e-mail: uchicago-magazine@uchicago.edu.