Return to Magazine Home Page
The University goes Downtown
City lights. A few steps off Michigan Avenue, the U of C is part of the picture.
Photography by Dan Dry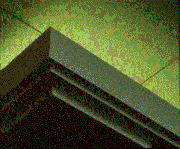 Though it's been open since March, the University of Chicago Downtown Center hasn't lost its new-building smell or shine. The wood-paneled walls and terrazzo floors of its entrance lobby, the larger-than-life murals of Hyde Park scenes in its branch of the University Bookstore, and the red-leather sofas in the glass-walled student lounges all gleam pristinely.
That doesn't mean that the eight-level, limestone-colored concrete building-which juts out toward the Chicago River on a pie-shaped property known as 450 North Cityfront Plaza-isn't being used. In its prime location east of the Equitable building and west of the NBC Tower, the Downtown Center is busily giving the University what it was long without: a gateway into the hub of the city.
With 217,000 square feet of space, the $44-million Downtown Center brings together activities once parceled out around Chicago: the evening, weekend, and executive M.B.A. programs; Continuing Studies courses; and the University's investment office. Then there are new functions, like the University of Chicago Conference Center. Run by the Graduate School of Business, the center rents out the building's many board rooms and interactive classrooms for corporate training programs when they're not being used for U of C events.
Already, life at the Downtown Center has developed its own set of rhythms. The sunrise bustle of corporate employees arriving for their rounds of training sessions yields to a midday calm that's broken only by the hourly entrances of those arriving for Continuing Studies classes or committee meetings. Early evenings are peak hours, as hundreds converge on the student lounges, hoping to grab a quick bite-or a quick review of their assignments-before the evening's classes begin.-M.R.Y.
Night life: As the tempo slows for its Michigan Avenue neighbors, the University of Chicago Downtown Center welcomes the evening's influx of students.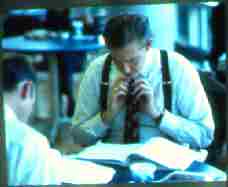 In a second-floor lounge, a would-be M.B.A. hits the books before his 6 p.m. class.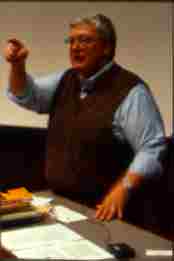 "She fell in love with a fly." Movie critic Roger Ebert, X'70, begins his film-studies course with a clue. "Geena Davis" is the answer, a laser disc of Angie is the prize. Ebert has taught in the Continuing Studies program since 1969.
After a morning of training meetings, employees from Sandoz Quality break for lunch. The building's top floor functions as a conference center-with boardrooms, a large meeting room that converts to a banquet hall, and floor-to-ceiling views of Chicago. The conference center maintains the University's mission, booking corporate meetings and seminars with an educational twist. The building's location, computer lab, and built-in audio-visual equipment are selling points.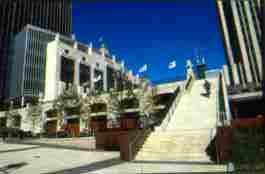 Well-connected: The Downtown Center has a Gothic-inspired facade-and the Chicago River for its front yard. A two-level esplanade, running five blocks east from Michigan Avenue, provides benches, greenery, and a traffic-free walk for riverside strollers.
---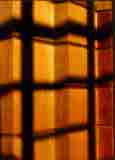 Though the high-tech classrooms lack windows, there's no dearth of city views.
---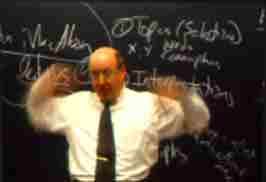 "Oedipus leaves the stage intending to murder Jocasta." Elliott Krick, AB'64, AM'73, teaches Sophocles' Antigone in Continuing Studies' Basic Program, a noncredit course sequence that builds a foundation in liberal learning.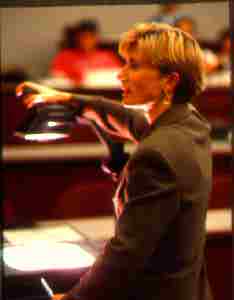 In Christie Nordhielm's (AB'81, MBA'84) Advertising and Promotions class )-one of 60 GSB courses offered at the Downtown Center during autumn quarter-students learn to analyze the ads they see on TV and billboards every day.
---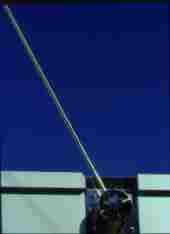 The Big Bang to dinosaurs to Sophocles: It's all in a day's work.
---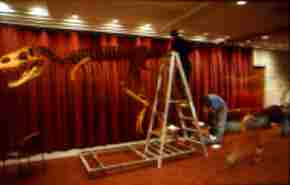 U of C paleontologist Paul Sereno readies a model of an African therapod for a news conference announcing the dinosaur's discovery.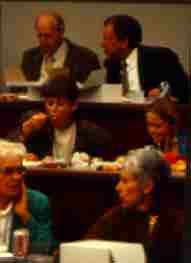 Participants in the lunchtime Cityfront Forums hear U of C astrophysicist Rocky Kolb explain the "first gazillionth-second of the universe."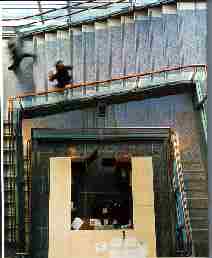 Stairway at the Downtown Center.
---
Go to feature, "Virtual TV," about a campus theater group that blends improv and situation comedy.
---
Go to feature, "Doctor, Lawyer, Agency Chief," a profile of FDA Head David Kessler, JD'78
---
Go to feature, "Will the real McKeon please stand up," about philosopher Richard McKeon.
---
Go to CLASS NEWS
---
Return to Magazine Home Page