The University of Chicago Magazine October 1995
---
Return to October 1995 Table of Contents
---
Legends of the Fall
---
Local hero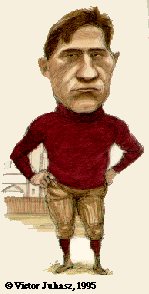 When Maroon quarterback Walter Eckersall took the field with his teammates in their sensational 1905 defeat of Michigan, he was hailed as football's purest example of heroic manhood. If the player whom Americans fondly nicknamed "Eckie" held a dark side--as Robin Lester suggests in Stagg's University--it was a side shielded from public scrutiny.
As a scruffy youngster growing up in the Woodlawn neighborhood just south of the University, Eckersall lived his football fantasies watching Coach Stagg's daily practices. His special talent emerged at Hyde Park High School, where he dashed 100 yards in ten seconds flat (an Illinois record for 25 years) and ran rings around opponents on the football field.
Stagg wanted the high schooler for his Maroons so badly that he resorted to desperate measures, snatching Eckersall off a train platform to keep him from attending a recruitment rendezvous arranged by Michigan coaches in Ann Arbor.
In Eckersall, Stagg saw the promise of "a selfless performer," Lester writes, "marked by complete dedication" to victory. At the same time, "Eckie" maintained a firm sense of self-preservation, as can be seen in his refusal to call a Stagg-designed play that had the Maroons, within five yards of their end zone, hurl the 136-pound quarterback goalward.
Just as he shone on the gridiron, "Eckie" struggled in the classroom. That he didn't flunk out entirely can be partly credited to the kindness of some of his professors who were also noted friends of Stagg's athletic program. When Eckersall's eligibility to play expired in 1906, such generosity was abruptly withdrawn. His official transcript bluntly states, "Mr. Eckersall is not to be permitted to register in the Univ. again--for cause."
Not much information exists on this "cause" for Eckersall's termination, but Lester quotes a letter to U of C President Harry Pratt Judson from an alumnus and older friend of Eckersall's, George Buckley, where the issue is at least circuitously discussed. Buckley admits that his friend "has been a grafter as well as a monumental liar" (more precise charges aren't specified) but vows that he and other alumni would be willing to undertake Eckersall's moral rehabilitation. In the end, the University apparently decided the former campus hero was beyond reform and severed its ties with him entirely.
Not left out in the cold for long, Eckersall parlayed his stardom into a successful sportswriting career with the Chicago Tribune. He also worked as a game official and freelanced as a team publicist--indeed, Eckersall was said to have engaged occasionally in the questionable practice of "triple-dipping," working as paid publicist, official, and reporter all in the same game.
That Eckersall's behavior often contradicted Stagg's prescription of football as a surefire builder of moral character was not lost on the Old Man, who gradually distanced himself from his greatest player, especially when Eckersall reneged on a $20 debt and was later featured in a national ad campaign for cigarettes--a habit Stagg regarded as sinful. But when the aging star was hospitalized for illnesses associated with his hard living, Stagg came to his bedside with the firm advice to "turn over a new leaf." "Eckie" promised his old coach that he would.
Of his private sins, the public did not know or perhaps want to know. "Walter Eckersall received his apotheosis soon after his early death in 1930," writes Lester. A "poetic remembrance" of "the quarterback" by one Matthew S. Kelley imagines not the "Eckie" of flesh, blood, and moral frailty but rather a heroic spirit, crossing fearlessly "o'er the Styx" and leaving behind the tearful "old time grads" who "will say they were lads, when young Eckersall played...."--T.A.O.
"Saint Amos": The innovations that Amos Alonzo Stagg--and the University of Chicago--brought to the game of football.
Return to opening of "Legends of the Fall."
---
Go to: Return to October 1995 Table of Contents