For the Record

From research to treatment
Thomas Gajewski, AB'84, PhD'89, MD'91, an assistant professor in medicine and pathology, received a Clinical Scientist Award from the Burroughs Wellcome Fund. Gajewski will use the five-year, $750,000 grant to research vaccines for melanoma, the most deadly form of skin cancer.
Rockin' symposium
A special symposium in honor of Ole Kleppa, professor emeritus in chemistry and geophysical sciences, was held in March at the national meeting of the Minerals, Metals and Materials Society. Kleppa's former students, postdoctoral collaborators, and international colleagues attended the symposium, the proceedings of which will be published in a special issue of the Journal of Alloys and Compounds.
Leave it to Levitt
Economics professor Steven Levitt was one of 20 National Science Foundation--supported researchers to receive the 1999 Presidential Early Career Award for scientists and engineers, the U.S. government's highest honor for outstanding young scientists and engineers. Levitt studies the economic aspects of crime.
No monkey business
Dario Maestripieri, an assistant professor in the Committee on Human Development, has received the American Psychological Association's Distinguished Scientific Award for early career contribution to psychology for his work comparing primate and human behavior.
Rankings are in...
In its 2000 survey of top U.S. graduate schools, U.S. News & World Report ranked both the Graduate School of Business and the Law School sixth and the Pritzker School of Medicine 18th--just like last year.
French connections
The U of C received a $1 million challenge grant from France's Ministry of Foreign Affairs to establish an on-campus France--Chicago Center to promote scholarly exchanges between the U of C and French researchers. The center will sponsor visiting scholars and joint research, provide fellowships for graduate students, and offer lectures, seminars, and conferences.
Impressive
On August 1, Paula Barker Duffy becomes the new director of the University of Chicago Press. She was previously publisher of the Free Press and vice president of Simon and Schuster. A former head of the Harvard Business School Press, Duffy will be the first woman to assume leadership of a major American university press.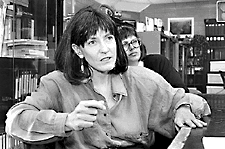 Goldin-Meadow
Getting Guggenheims
Four U of C faculty members were among the 182 recipients of the 2000 Guggenheim fellowships. Art historian Michael Camille will research a book on medieval European sculpture, while art historian Ingrid Rowland will study Italian philosopher Giordano Bruno. Psychology professor Susan Goldin-Meadow will write a book on gestures and the mind, and Laura Letinsky, an assistant professor in the Committee on Visual Arts, will photograph domestic still lifes in Italy.
Advanced placement
Five U of C professors earned Alfred P. Sloan research fellowships: Fernando Alvarez, assistant professor in economics; Sean Carroll, assistant professor in physics; GSB associate professors Austan Goolsbee and Owen Lamont; and Milan Mrksich, assistant professor in chemistry.
Thinking greatly
Paul Ricoeur, the John Nuveen professor emeritus in the Divinity School, received the U of C Press's 1999 Gordon J. Laing Award. The prize recognizes a faculty-written, -edited, or -translated book that has added the greatest distinction to the Press. Ricoeur was honored for Thinking Biblically, which he co-authored with biblical scholar André LaCocque. Ricoeur is the second faculty member to win the award twice.