Even though it's Friday at 5 p.m., Classics Room 10 remains bustling. Tonight, April 7, is the opening event of PanAsia, a series of lectures, performances, panels, and culinary experiences designed to educate everyone on campus, Asian heritage or no, about the vast diversity of Asian and Asian-American cultures. This evening features Korean-American drum troupe Loose Roots and tables full of savory and spicy Korean, Filipino, and Chinese food.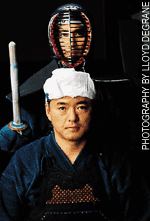 Kendo instructors Erick Huang, AB'96, with helmet, and Hyonggun Choi, a Regenstein librarian, prepare to face off.
History professor James E. Ketelaar, AM'82, PhD'87, speaks first. The director of the Center for East Asian Studies, he notes the U of C's long history of scholarship on East Asia--but also a lack of contact among Asian student groups at the University. That disconnect, he explains, prompted him to suggest to some of his students the idea for PanAsia, based on a similar project at Stanford.
One of those students is PanAsia chair Jay Monteverde. A fourth-year whose ethnicity is Chinese but whose parents were born and raised in the Philippines (he himself was born and raised in Chicago), Monteverde introduces Loose Roots, which he says will be playing Korean celebratory music--in American terms, "old-school block party music." Besides playing in the group, he also serves as its bu-soe, or second leader. Wearing soft white trousers and tunics, blue vests, and red or yellow sashes, Monteverde and four other players take seats on the floor next to Julian Berke, a Caucasian third-year who is the group's leader, or sang-soe. After 15 minutes of glorious thunder from drums and gongs, the music ends abruptly to much applause.
"Everybody, let's eat!" Monteverde urges. If there is a truism of campus life, it is this: Free food draws a crowd. Tonight, about 70 people queue for Korean japchae and hot squid, Filipino pansit, and Chinese dumplings, fried rice, lo mein, and cashew chicken.
Exhausted by the performance, Monteverde takes a moment to wipe his brow and to explain why, in a senior year full of exams, and soul-searching about his future, he's devoted several months to the event: "PanAsia is so big you can't ignore it." He has a story to tell, about a friend who heard some "Caucasian jocks," U of C students, walk by the Asian Students Union film festival a year ago and dismiss it as "just another Asian event." Monteverde wants to make clear that the University community not only can't ignore the event called PanAsia, but also can't ignore the ever-growing number of students who are Pan-Asian.
Karen Kim, of Loose Roots, takes a breather.
As recently as 1980, Asian students made up just 6.4 percent of the undergraduate student body, a number that grew to 15.35 percent in 1990. These days, according to autumn 1999 enrollment statistics from the University registrar, the undergraduate student body is 20.63 percent Asian-American, about 808 students. Nationwide, the U.S. Census Bureau estimates that as of March 1, Asians and Pacific Islanders made up just 4 percent of the population. While this clearly makes those groups minorities in the U.S. as a whole, the situation on campus is a bit different. The U of C's Coordinating Council on Minority Issues focuses most of its efforts on African-American, Hispanic, and Latin-American students. Among Asian-American students, there are differing views on whether they are minorities in a sense beyond the statistical.
"Part of the reason Asians are not really considered a minority on campus is because we are pretty visually prominent," says Monteverde. "But the fact is we are still a minority, and face similar minority issues such as racism, prejudice, and poverty." He cites white supremacist Benjamin Smith's 1999 rampage through Illinois and Indiana, in which Smith shot at Orthodox Jews, Asians, and African Americans, killing a Korean man and an African-American man. Less tragic but still disturbing, Monteverde says that on campus he has heard both racial epithets directed at Asians and stereotypical remarks about Asians.
Student Government President Andrew Hong has a different perspective. Though his ethnic background is Taiwanese, he considers himself "more American than Asian-American if I had to choose." Whereas Monteverde credits faculty and fellow students at the U of C with helping him to "connect with an ancestry halfway around the world," Hong says that when he arrived at Chicago, "some of that need to associate with Asian/Asian-American culture disappeared." He doesn't really see Asian or Asian-American students as a minority on campus, adding, "What makes the U of C so great is that any student can rise to the top no matter what."
Despite the wide range of opinions on what it means and how it feels to be Asian, Asian-American, or American--even whether to take pride in those identifiers or to see them as labels--students agree that you can't lump all things--and people--Asian into one group. Says Monteverde, "There is as much diversity and sometimes conflict in the Asian-American community as there is in America itself."
Visitors to the PanAsian Teahouse sample a variety of treats.
Highlighting Asian-American culture, politics, and expression, PanAsia was designed to be accessible yet rich in information about the history and struggles of Asian peoples in Asia and in the United States. It also provided students with a place to share their own thoughts and feelings--and to have some fun.
The program, which stretched over nine days and included more than a score of events, required the efforts of some 15 Asian-related student groups, led by a coordinating committee of Monteverde, events coordinator Marissa Graciosa, and financial chair Rolando Capinpin. Each participating recognized student organization contributed ideas and time, with most of the funding coming from the Center for East Asian Studies, Student Government, and a quartet of dot-coms: Indogrocer.com, Namaste.com, Bigwords.com, and Asianavenue.com. The best-attended PanAsia events drew audiences of 200-plus. "I believe we accomplished our main goal, which was to present, teach, and share the various Asian cultures without resorting to stereotypes," says Capinpin, a fourth-year who has participated in campus Chinese, Korean, and Japanese clubs, as well as Samahan, the Filipino group that represents his own ethnicity. "There was a good mix of Asian and non-Asian at many of the events."