Virtual Chicago
In the past, it has not been easy to speculate about the nutritional (or non-nutritional) values of the food served to the U of C's future Nobel laureates. The dining hall meals fell prey to the universal college stereotype: mysterious entrees with thick sauces containing who-knew-how-many calories.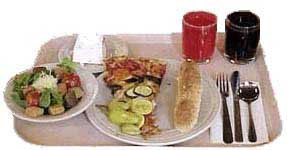 However, such uncertainty has now vanished with a simple click of a mouse. You can discover exactly what's in that salmon and cream cheese pizza (468 calories) or the vegan Santa Fe potato (999 mg sodium) by visiting the nutrition section of the Dining Services Web site. There you can select any item served in the University's dining halls and uncover the deep-and sometimes dark-truths about what U of C students actually eat.
Food items are grouped into categories by meal or type, from breakfast to dinner, breads to condiments. Going down the list in each group-Sloppy Joe, smoked turkey sub, or Southern fried catfish-practically every dining hall offering can be located. Each dish is then reduced to an individual serving size and divided into its nutritional values, giving the U of C diners confidence in knowing that they do in fact ingest 22 grams of protein in a bowl of minestrone soup.
Just because the mystery is gone from the calorie count in the double chocolate cake (270) doesn't mean the dining halls will see any fewer number of perplexed faces. Although the Web site reveals the number of grams of fat and sodium in each dish, it does omit a listing of ingredients, still allowing for a meal of mystery and intrigue.
- J.G.
World Wide Web location:
www.rh.uchicago.edu/ARA/nutrition
---