Endowments, arts center, and south campus are Boyer's priorities for third term as dean

John W. Boyer, AM'69, PhD'75, the Martin A. Ryerson distinguished service professor in history, will begin his third five-year term as dean of the College on July 1.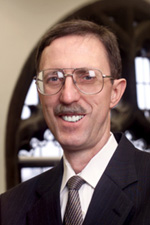 Since becoming dean in 1992, Boyer has worked to strengthen the College curriculum, admissions, foreign-study programs, internships, and foreign-language instruction. Looking forward, he'd like to "finish what we've started-though, of course, one never finishes what one starts in this field. The efforts have begun well, and I want to be here to ensure they continue to take root and flourish."
Roots and flourishing, Boyer notes, require financial support. A goal for his next term is to create endowments for the summer internships offered by Career and Placement Services, Foreign Language Acquisition Grants, international and research fellowships, and undergraduate programs at the Paris Center, scheduled to open in 2003.
Enlivening the southern end of campus is another goal. "I am eager to support efforts to build the new arts center on the south side of the Midway," he says (see "Chicago Journal"). As the College reaches its 4,500-student goal, a new residence hall also might go south of the Midway. "A fourth residence hall to augment the three new [Max Palevsky Residential Commons] dorms would create synergy with a new arts center, and they, along with BJ, SSA, and the Law School, would help to bring a vibrancy and critical mass of graduate and undergraduate students to make the south campus come alive."
The faculty committee that recommended Boyer's reappointment cited his energy, forward- looking vision, and dedication to undergraduates.
Before becoming dean, Boyer served as master of the Social Sciences Collegiate Division and deputy dean of the Social Sciences Division. He has also chaired the Committee on European Studies, the Western Civilization teaching staff, and the Council on Advanced Studies in the Humanities and Social Sciences.
As dean, Boyer has turned his historian's eye to the College, producing a series of papers on seminal events, including Robert Maynard Hutchins's presidency and student unrest in the 1960s. He hopes to write on the role of religion at Chicago and the University's relationship to the neighborhood and the city in the 20th century.
- S.A.S.
---