Interview - Finessing lab space and course sections for physical sciences
>>Master of the Physical Sciences Collegiate Division since July 2000, Simon Swordy is a professor in physics, astronomy & astrophysics, the Enrico Fermi Institute, and the College. He came to Chicago in 1979 "with a suitcase and 60 bucks in my pocket" (and a research position) after earning his doctorate from Britain's University of Bristol. When not donning his administrator's or teacher's caps, the former Londoner conducts high-energy astrophysics research at the Smithsonian Institution's Whipple Observatory near Tucson and studies astronomical particles using high-altitude balloons.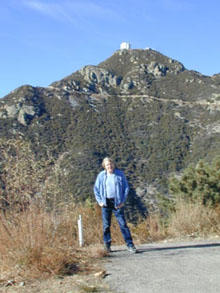 What does the master of the Physical Sciences Collegiate Division do?
Just as doing experimental research in physics and astrophysics involves organizing groups, working out how to get things done, making sure the work done is the best possible, to some extent the master has similar tasks: figuring out what classes we need to run, getting the right people to run them, making sure the education in the Physical Sciences Collegiate Division is as good as it should be. Why did I take the job? I'm interested in making sure the education in the physical sciences is valuable not just to students in physical sciences but to those outside the field as well. There are 338 undergraduate concentrators in all the physical sciences-compared to 488 economics concentrators alone in the social sciences. So we must run classes with a general feeling for nonmajors.
As the College expands, we're also having to deal with the issue of resources. We've gone from 3,600 to 4,000 students, and that's taken up whatever slack we had in the system. Now we're adding another 500 students [by 2005], and that presents the problems of teaching space and availability of labs. You can't just stick the extra people in the same classroom without somehow hurting the educational experience.
Over the top of all this is an extremely important question: what is the role of science in the lives of people who have no intention whatsoever of doing science in their future lives? They do not need to know how to do it, but they should understand how it works. It's one thing to understand how to calculate the probability of, say, being hit by a bus. It's another to understand what it means when someone says you have an X percent chance of being hit by a bus. People need to understand how we've arrived at that number and what it means in their lives. It's the same with courses on evolution and geology-our role is to get people understanding how our systems of thinking about problems work.
So that's the grand philosophical scheme behind this office's work, but the reality is, How can I get a classroom for 120 students? How can I get this faculty member to teach this class? We spend a lot of time making sure there are enough sections of a course so that the increasing class size won't dilute the educational experience.

One of your goals is to connect more undergraduates to research labs. How are you doing that?
You could say we're still full of ideas but haven't hit on a way to implement them yet. The reason the goal is important is that it gives undergraduates a connection to some larger purpose beyond the classroom. When people feel unhappy here, it's often because they feel isolated, particularly from the faculty. If we can get them into a lab, give them some mundane but essential task, suddenly they're part of something.
It's not easy to do, in part because of resources. In the long term I'd like to establish a program to fund students' work in labs with awards from the College.

Is there a particular change for which you'd like to be a catalyst?
I'd like to get better information out on course evaluations in the physical sciences. The College has established an internal Web site for this, but there are gaps in the physical-sciences evaluations. This is because of the effort it requires to take 120 evaluations for one course and read and abstract them into a short summary. We're working on two fronts: getting the manpower to digest current evaluations, and changing the form to increase multiple-choice options, which are easier to summarize. These evaluations are useful for students and also for faculty. If, for example,` I don't know what people think of the classes I'm teaching, how can I know I'm succeeding?
---