Refuge for the wary job hunter
>> All signs point toward a tightening job market for college graduates. How is CAPS easing the stress?
Times have changed yet again in campus recruiting. After a five-year hiring upswing, many firms-particularly in consulting and financial services-have edged away from their storm-the-campus-in-fall, sign-new-hires-by-winter-break recruiting strategy, notes Mark Gasche, associate director of recruiting in Career and Placement Services. "Students whose hands I'd ordinarily be shaking in December, wishing them luck in their new jobs, are still in our offices this January," he says.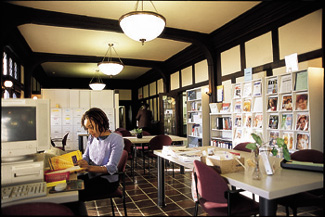 Chicago undergrads are not immune to the economic downturn that began in January 2001, only to be hastened by September 11. But, says Marlene Richman, associate director of career counseling, "I'm not feeling a sense of panic. I'm feeling a sense of purposefulness. Students aren't shaken. They realize they need to look more broadly and think about what is available to them."
CAPS staff emphasize that plenty of options exist beyond the now "nonexistent" consulting or I-banking route, says Richman. Job sectors such as teaching, nonprofits, government, biotechnology, and health services are in a hiring boom. Both the CIA and the National Security Agency have ramped up recruiting.
Meanwhile, attendance has been high at CAPS seminars on short-term options, including Americorps, Teach for America, several conservation programs, and the Peace Corps. "These are all good ways to spend some time and then come back into the job market, where companies respect these experiences," Richman notes.
Perhaps students' most important lesson, says Gasche, is that preparation is more important now than ever. For the second year running CAPS held an October "kickoff" for fourth-years, where over 500 students learned job-hunting strategies. Programs on the "nitty gritty" of job searches-writing cover letters and résumés, video-taping mock interviews for critiques by CAPS staff, participating in interview practice clinics with other job seekers, preparing for second interviews and job offers-are in increasing demand, says Richman. CAPS also asks recruiters to submit feedback forms on candidates, so students can learn from mistakes.
An inaugural autumn job fair featured 45 employers, and upcoming months will bring the annual on-campus winter job fair, as well as two, month-long virtual job fairs: the Ivy Plus and Hire Big Ten Plus for both full-time jobs and internships. The virtual fairs attract small- to medium-sized employers that may not have the budget to send recruiters to campuses. And April will bring the first University-wide nonprofit job fair.
In some ways, says Gasche, the tightening job market is a blessing in disguise. Landing a high-paying job in consulting or I-banking has almost been too easy, so "it became something people headed toward without giving a whole lot of thought to why. Now our students really have a sense that those are just two small options in the workforce."
- S.A.S.
---