Q & A: To market, to market

Where does all the research the
Magazine
covers in "Investigations" go? Some ends up in the hands of Alan Thomas, MBA'91, director of UCTech, a.k.a., the University's Office of Technology & Intellectual Property. He figures out whether the work is something the University should patent and market to investors.
Since the office's 1987 founding as a University affiliate called ARCH Development Corporation, it has seen some 1,500 inventions. Revenues from patents on those discoveries-about $3 million in royalties per year-are growing at an annual rate of 15 percent. When ARCH's senior management spun off from the University in July 2001 to form their own private venture-capital firm, the provost reconfigured ARCH as UCTech, an internal University office, naming Thomas, ARCH's licensing director, its head.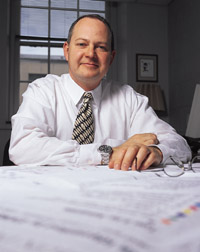 Alan Thomas of UCTech shepards U of C inventions to market.
Under Thomas, a former chemical engineer who interned at ARCH in the late 1980s while earning his MBA, the office has increased "invention disclosures" -the forms faculty complete when they think their work has market potential-from a one-time high of 60 in 1998 to the current average of 120 per year, three- quarters in biological-sciences research.
How do you find inventions?
When you have been on campus awhile, you get to know the labs. You have a group of "usual suspects" who have invented in the past and whose research you understand, and they know you. We also track the press, keep in touch with other administrators-the provost's office, deans, development folks-and keep our ears to the ground. The longer we're around, the more of a reputation we build and the better we cultivate those feeder networks.
How can you tell if something has market potential?
We ask three sets of questions. First we address what we call "hygiene" or "encumbrances." For instance, patent law has fairly strict rules regarding public disclosure of research. If you publish, present your work at a conference, put it on a Web site, submit it as an abstract-that constitutes an absolute bar on ever getting foreign patent protection and gives you 12 months to get patent protection in the U.S. Loss of the ability to get good patent protection can severely circumscribe an invention's commercial potential.
Second are the compared-to-what questions. Not, What is it?, but, How does it stack up against what's out there? For example, if someone invents a car that can go 200 miles per hour, you have to compare that to other fast cars. It's not the 200 m.p.h., it's the difference between it and the one that goes 198 m.p.h.
Third: "Who cares?" A car that can go 200 m.p.h. backwards is novel but not useful. Will someone pay for an invention's distinctive advantage?
At the end of the day, alongside the analysis, it's about risk management, hunch, and intuition.
How do you reconcile the need to publish with the patent rules?
We recognize publishing as an imperative, but we spend a lot of time raising the faculty's awareness. The message we try to convey is, Call us early and call us anytime. Don't think you have to wait until something is about to be published or meets your standards as worthy of publishing to disclose.
In fact, commercialization can be the most effective way of disseminating inventions and discoveries. Here's a classic example: if someone in the BSD were to discover a life-saving drug and wanted to be altruistic by publishing it and giving the recipe away, the odds are it would never be developed. The average cost to develop and test a drug is $800 million. No one will invest that if, after they bring it to market, all the generic manufacturers can step in and make it too.
An example from Chicago is a computer-aided diagnosis tool for reading mammograms developed by our radiologists since the 1980s. On average, mammographers miss 15 percent of early-stage breast cancers. Working with a correctly trained computer, they only miss 5 percent.
The researchers, led by Kunio Doi and Maryellen Giger, PhD'85, could have dedicated those algorithms to the public. But that would likely have delayed development. Instead, the research was patented and licensed to R2 Technology, which has raised some $100 million in venture capital to productize those algorithms, conducted extensive clinical trials, and received FDA approval in 1999. Sales have exploded, and over 3.5 million women have now been screened with the tool.
Is it difficult to find investors far from the venture-capital hubs?
It's not easy. But a growing number of people in Chicago work with early-stage technology.
Part of what makes this job enjoyable is building relationships with investors in the city and region so they're there when deals come along. We do it in dialogue, not trying to create the perfect investment package. Instead, I'm constantly asking, Is this something you're interested in or do you have ideas about potential partners for development?
What are some sleepers that you think hold big promise?
SmartSignal, a company we founded, is based on technology that came out of Argonne. It's a computer-software platform that anticipates a machine's failure long before it happens. SmartSignal's technology was first disclosed in 1988. Now its customers include Delta Air Lines, for jet-engine monitoring; Archer Daniels Midland, for chemical plants; and Sun Microsystems, for computer hardware and software reliability.
In the physical sciences, David Grier's holographic optical tweezers licensed to Arryx, a company we cofounded, are going to be the internal combustion engine of nanotechnology.
But I hate to leave anyone out. This business is similar to Hollywood's blockbuster-based economy. You make all your money on one film-and sometimes it's not the one you expected.
---
UCTech's current list of inventions ranges from surgeon John Alverdy's device for "laparoscopic gastric volume reduction" and linguist John Goldsmith's software for "unsupervised learning of the morphology of a natural language." Learn about these and other discoveries at http://uctech.uchicago.edu.