Did you answer "mama"? Then you must be up on your Italian news-and you may be on your way to winning "the most exciting prize in public radio": the voice of Carl Kasell, newscaster for National Public Radio's Morning Edition, on your answering machine. But to win this coveted prize, you also must be a contestant on NPR's Wait Wait… Don't Tell Me!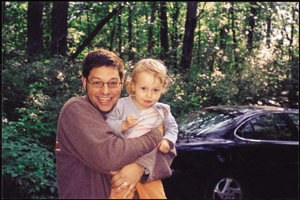 Goedicke, with daughter Madeleine, of who he writes:
In your stroller you helped me sate fate.
Steady anapests paced our gait's rate.
For clickety-clacks
On Hyde Park's sidewalk cracks
Helped me pace my first rhymes for Wait Wait.
An hour-long comedy quiz show, Wait Wait tests contestants' knowledge of the week's news. Its host, Peter Sagal, along with "sidekick, scorekeeper, all-around genius/ funny guy" Carl Kasell, and three panelists from the news and entertainment world, present an irreverent look at current events-poking fun at the more serious stories and showcasing the wacky and absurd. Listeners from around the country call to play Wait Wait's games.
Among the most popular is the Listener Limerick Challenge. To win, contestants listen to Carl Kasell read limericks based on the week's news stories, and they complete the verses with the correct words. Since July 2000 the job of writing these limericks each week has fallen to Goedicke, who studies in the U of C's music department.
Goedicke learned of the opportunity to write for Wait Wait while listening to the show one Saturday morning on Chicago's public radio station, WBEZ-FM. "Their previous limerick writer had left her position with NPR," he recalls, "and they announced on the air that they would accept entries from listeners. That evening I started messing around with limericks for the first time in my life, and the following week I submitted three a day." His command of the verse form so impressed the show's staff that they used some of his limericks that week, offering him the "limericist" position soon after.
Limerick writing for Wait Wait is a fast-paced job. Every Wednesday Goedicke consults with the production team as to which news stories will form the limericks' subject matter. That evening he lists words that rhyme with each story's key word and begins to think through how each limerick will sound. "I get very zoned-out. Sometimes my wife, Julie, recognizes a look I get in my eyes when thinking about these things and asks, 'Are you limericking again?'" On Thursday morning he sits down to write and submits the final product by 3:00 p.m.
Goedicke's initial muse was his dissertation, which focuses on early 20th-century German cabaret music. "Most of the musical texts I study are comic and written in verse-form. In reading through this material, I began to think, 'Hey! I can do that.'" He derives inspiration from modern satirical literature. "I've been reading a lot of comedic books and plays by authors like Roy Blount Jr., Neil Simon, and David Sedaris-stuff I have always loved but used to feel guilty about reading. Now I approach this literature from an educational perspective. Instead of reading simply for enjoyment, I try to get behind the comedy, to figure out what makes a particular word or passage funny."
His Wait Wait position has led to other opportunities to write for NPR shows. He's contributed to On the Media, Prairie Home Companion, and The Writer's Almanac (writing birthday bios), and he hopes to continue writing for these and other programs well into the future. "I have the best job," he says. "I couldn't dream up a better way to make money."
-Hilary Poriss, AM'93, PhD'00