Center Stage
Outside In: Self-Taught Artists and Chicago, July 11-September 15. Chicago has been home to numerous artists with no formal art training who work outside the world of galleries, collectors, and museums. This exhibit, which examines the shifting and controversial definitions of outsider art and its impact on the city, includes works by Henry Darger, Bonnie Harris, Aldobrando Piacenza, Pauline Simon, and Joseph Yoakum. Smart Museum; call 773/702-0200.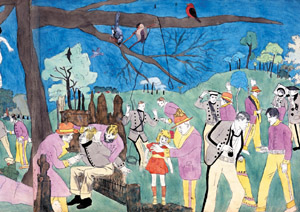 Carillonathon, Sundays, June 23-August 25, 6 p.m. A series of ten free recitals features University Carillonneur Wylie Crawford and guest artists from around the U.S. and Europe. Free tours of the carillon are offered at 5:30 p.m. Rockefeller Chapel; call 773/702-7059.
Midweek at the Midway, Wednesdays, June 5-August 28. The Chicago Parks District sponsors concerts and movie screenings on the Midway. Musical performances include a gospel choir, a reggae show, and a big band. Family movie screenings include Harry Potter and the Sorcerer's Stone, Willy Wonka and the Chocolate Factory, and Jurassic Park. Pre-event activities, such as candy making and dance lessons, start at 6 p.m.; movies and concerts begin at dusk, approximately 7:45 p.m. For a complete schedule, call the Chicago Park District at 312/742-PLAY.
Andreas Gursky, June 22-September 22. The first major U.S. retrospective of Gursky's work presents his large color photographs from 1984 to 2000. Focusing on the relationship between the personal and the documentary, Gursky's subjects include factories, rave concerts, and stock exchanges. Museum of Contemporary Art; call 312/280-2660.