Interview

>>
Rachel Cole on living and learning in the Dominican Republic
For fourth-year Rachel Cole, community service doesn't mean a few hours when she can spare the time; she's spent nearly three of her 23 years as a full-time volunteer. Last academic year she taught at the Lechería migrant-worker camp, or a batey, in the Dominican Republic, then stayed to help establish the community's first library. Now Cole is at work on an honors anthropology paper about the racism directed at the migrant sugarcane workers in bateyes. Cole has a second concentration in economics.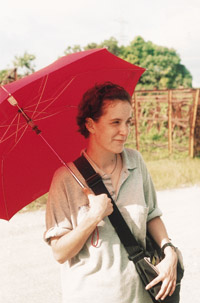 Rachel Cole, an umbrella as her sunblock, in a Dominican batey.
What was it like to live in the Dominican Republic?
I went with a volunteer program called Response-Ability, run by the Society of the Holy Child Jesus, a Catholic order of nuns, and received room and board and about $100 a month stipend. That was a lot more than my neighbors had. I lived in Los Alcarrizos, a huge sprawling slum on the outskirts of Santo Domingo, and my neighbors were Dominicans. We hitched rides to the batey about two miles away. From September to June there were three of us volunteers and two nuns. During the summer I stayed on alone.
We took turns cooking, so we ate a lot of standard U.S. cuisine. We also had a lot of rice and beans, tostones (sort of like french fries made from plantains), and mangu (mashed yucca). We almost never had meat because we didn't trust our weak gringo immune systems with the local meat, but I'm a vegetarian anyways. Tropical fruit-pineapple, papaya, mango, tamarind, avocados-was better and fresher than I'd ever had; vegetables were fewer. The DR has the best beer in the world, I think: Presidente. Because there were frequent power outages the corner store kept some frozen so they would always have unas frias (some cold ones) to sell.
There's incredible unemployment and underemployment in the Dominican Republic, and it's a really stratified society. In sugarcane production, for five months of the year the work is very intense, so companies import workers from Haiti to cut the sugarcane; they live in the batey. The rest of the year is tiempo muerto-dead time. There's no work. Some go back to Haiti, but many stay and build families.
Did the children you taught have any access to books at all?
It was a really print-poor environment. Beyond not having books in their houses-if anyone had a book, it would be the Bible-there weren't newspapers or signs, because no one can read.
We taught only nursery school and first grade. We wanted to encourage individual learning, to get kids to love to read. It's a completely different idea of learning than they'll encounter in the public schools, which use phonics devoid of meaning. The kids get bored right away. I made sure all my students were enrolled in the public school before I left, but the classes had 60 to 70 students in them. Can you imagine teaching 70 seven-year-olds, half of them sharing chairs, to read in an echo-y concrete room?
Over the summer I ran a library. It was absolutely perplexing to the kids that I would let them come in and not tell them what to do. By the end of the summer, I thought they were getting it. You have to change the culture, the kids' attitude toward learning.
What will the library be like?
Our school had a lot of books, but we wanted a separate building in the batey. After I left they brought in an old shipping container and renovated it into a library, putting in windows and a door and a cement patio with tables and benches in the back. It will be a lot sturdier than my students' houses. As long as the kids can keep it straight that this is a biblioteca and not a discoteca, everything should be okay.
What form does the racism you describe in your B.A. paper take?
Dominicans are all colors, but on average they're lighter than Haitians. Lighter people tend to be richer, darker people tend to be poorer. One argument is that Dominican racism against darker people is largely in response to trying to keep sovereignty. Haiti is seen as a savage place, much more densely populated and much poorer, but at the same time the DR and Haiti are one island, and there's incredible intermixing.
The bateyes are perfect places to study the racism, because they're so isolated from the rest of Dominican society. Some bateyes have their own police forces to keep workers from running away. The Haitians' situation in the DR has been compared to modern slavery.