| | |
| --- | --- |
| | In a tribute to the 1960's, Kerry James Marshall's new body of work memorializes that era's African-Amer-ican leaders and considers possibilities yet to be. |
Born in 1955 in Birmingham, Alabama, artist Kerry James Marshall moved with his family to Los Angeles at age 8, living in a public-housing project in Watts and growing up near the Black Panthers' headquarters.
"There's almost no way you can come through the kinds of historical events I was witness to and not have that affect you," he says. "Some of the directions I was going to move in with my artwork were already determined."
Marshall earned a B.F.A. from L.A.'s Otis Art Institute in 1978, was a resident at the Studio Museum in Harlem in 1985–86, and moved to Chicago in 1987. He made his reputation with large, richly colored, figurative paintings about African-American life, most recently portraying the commingled hope and despair of urban housing projects. Now an associate professor at the University of Illinois at Chicago, he has also dabbled in film, serving as production designer on the independent films Daughters of the Dust and Sankofa.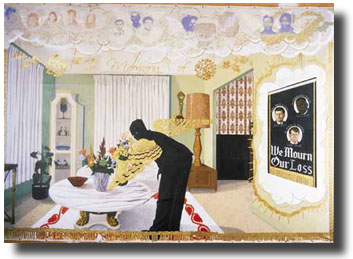 Stripping the color from Souvenir IV, says Marshall, makes the painting feel more like reportage. The freize in Souvenir commemorates civil rights leaders and figures from Medgar Evers to Malcom X.
Mementos, a solo exhibition of Marshall's new work, comes to the Renaissance Society at the University of Chicago May 5–June 28, after which it travels to the Brooklyn Museum, the San Francisco Museum of Modern Art, and the Virginia Museum of Fine Arts in Richmond. The Chicago Tribune heralded the exhibition as "an eagerly awaited show for the only contemporary painter based in Chicago who has received substantial national and international recognition." Last year alone, Marshall received a Mac-Arthur Foundation "genius" grant, won the visual-arts award from the Herb Alpert Foundation, and exhibited work in both the Whitney Biennial and the international Documenta X show in Germany.
The show organized by the Renaissance Society features a sculpture, an installation, a video, and three paintings from Marshall's "Souvenir" series. The sculpture presents a hollow, plastic cross filled with a 5-foot-high spray of silk flowers. Based on the sign on the Sixteenth Street Baptist Church in Birmingham where four girls were killed by a bomb on September 15, 1963, the cross represents, Marshall says, the loss of innocence, youth, and potential, as well as the bombing's impact as a catalyst. In the installation, five large rubber stamps and their corresponding prints read "Black is Beautiful," "We Shall Overcome," "Burn Baby Burn," "Black Power," and "By Any Means Necessary."
| | |
| --- | --- |
| | The video, Laid to Rest, is shown as a triptych projected into a makeshift room and viewed through eyeholes cut in the walls. Organ music plays as a golliwog doll lies in a black coffin and other stereotypical images—mammies, skin whiteners, and guns—move by. These stereotypes, explains Marshall, are being laid to rest. |
The "Souvenir" paintings represent less of a departure in form for Marshall, who has used his familiar combination of acrylic and collage on unstretched canvas. He began the paintings shortly after his father's death, as he thought about loss and change, and "the loss of individuals who were dedicated to guaranteeing a certain kind of social change." Female angels modeled on his wife stand or sit in 1960s living rooms. In each work, the phrases "In Memory Of" and "We Mourn Our Loss," appear with a frieze of angel heads depicting African-American civil-rights leaders (Souvenir); writers, actors, and intellectuals (Souvenir III); and musicians (Souvenir IV).
"The paintings represent the death of a generation," says Suzanne Ghez, director of the Renaissance Society. "We now have to fashion a whole new set of ideals. But we have to look back in order to look forward."—K.S.