On May 6 the 600-strong Chicago supporters and alumni who'd gathered for Chicago Convenes, an annual showcase of the institution's best ideas, received good news about the Chicago Initiative, the University's $2 billion capital campaign. They also received a challenge.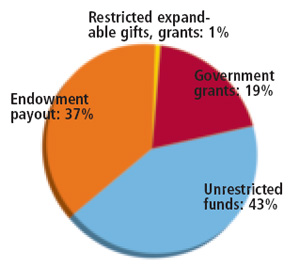 How $100 million in new scholarship funds would change the financial-aid pie.
The crowd in Max Palevsky Cinema learned from Life Trustee and Initiative chair Edgar D. Jannotta, LLD'03, that the campaign had reached the $1.25 billion mark—a sum that has transformed the campus landscape, adding the Ratner Athletics Center, the GSB Hyde Park Center, and the Comer Children's Hospital. Now, Jannotta emphasized, the campaign must meet its human-capital goals.
Enter the $17 million Trustee Scholarship Challenge. Five trustees—Jannotta; Board of Trustees Chair James S. Crown and his family; Andrew M. Alper, AB'80, MBA'81; Robert M. Halperin, PhB'47; and Peter W. May, AB'64, MBA'65—have committed up to $17 million to the cause, agreeing to contribute $1 for every $2 contributed to undergraduate scholarship endowment. The result could be $51 million in new College funding for financial aid.
Why the challenge? The facts, the trustee group says, speak for themselves. In 2003– 04 the University's total bill for College aid reached $38.2 million, as almost half (47 percent) of undergraduates received need-based aid, for an average need-based scholarship award of $18,533.
But the portion of that $38.2 million from endowed, named scholarships totaled only 22 percent—at least two-thirds lower than such aid at Harvard, Yale, Princeton, and Stanford. The disparity hurts Chicago undergraduates, who as a group are needier than those at many peer institutions: more than 40 percent come from families with household incomes of $59,000 or less. But its lower endowment means that Chicago awards smaller need-based grants to its undergraduates than do its wealthier peers. So students must borrow and work more than their counterparts at most peer schools. In 2004–05, for example, U of C undergrads were asked, on average, to provide $1,700 more (via loans, work-study, and summer jobs) than at comparable institutions. This extra burden makes a Chicago education more of a struggle for them and their families.
Not only does the University's relatively small aid endowment hurt its ability to match the need-based packages offered by many of its peers and thus to attract the best students, but it also has budget implications. To free more unrestricted funds for other University needs, the Initiative has set a $100 million goal for new scholarship endowment funds—growing endowment payout to around 37 percent of the total undergraduate aid budget.
Progress toward the goal had reached $31 million this winter when, as Jannotta told his Max Palevsky audience, "a group of trustees asked ourselves, How do we meet our objective?" Their answer: Challenge themselves to challenge others.