Serious business
In seventh grade Karan Goel, AB'04, made money by hiking the price of chewing gum he'd bought at Sam's Club and selling it to his Ohio classmates. When he advanced to offering alternative lunches—pizza and soda—administrators cut him off. So in eighth grade he launched an Internet site, a news filter for teens. Entrepreneurship is in his blood.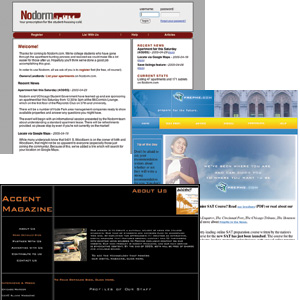 PrepMe.com, Nodorm.com, and Accent Media were started by College students.
Which is probably why Goel started the International Leadership Council in 2001, as a College first-year. A Registered Student Organization, the ILC is an umbrella outfit for students interested in launching business ventures. With an e-mail list of 120 and about 40 active members, the ILC provides undergrads with funding, office space, and networking opportunities. Once a week, if not more, Goel sends e-mail notices about campus events and speakers. Individual ventures meet regularly.
"I started ILC to be a place for entrepreneurs," Goel says. "When I was a first-year, I looked around for other entrepreneurial people and didn't find any. I wanted to set up an RSO in order to network."
The students take their businesses seriously, often working on them like full-time jobs. "I haven't worked exactly 40 hours every week," says Michael Dworecki, '08. But every day he puts in time at Nodorm.com, a Web site offering students apartment listings. Last fall Dworecki began ILC Real Estate when he established Nodorm. Meant as a complement to the University's system, Nodorm lists Hyde Park's apartments for free while charging building managers to post units. It includes detailed descriptions, floorplans, and an e-mail system to contact renters. Dworecki is developing a roommate-matching service and an apartment-rating system. After launching in late December 2004, the site is already profitable. "We have not made thousands of dollars," he says, "just enough to cover costs and pay for services."
Like Goel, Dworecki began business ventures long before he got to Chicago. He opened an Internet café for students as a Rockford, Illinois, high schooler. It was so lucrative it paid for his first year of college. Also in high school he created United Charities, a nonprofit that encourages youth community service. He paired lonely World War II veterans with high-school kids, and some of those friendships are still strong.
Goel's venture, PrepMe.com, also offers aid—helping students ace college-entrance exams. He teamed up with computer-whiz Stanford student Avichal Garg to write an online course that not only teaches students how to test well but also helps fill in gaps in their knowledge. Using an adaptive learning model, the program begins with a diagnostic test to identify the academic areas where a student needs help.
This year PrepMe launched an SAT-preparation course that addresses the new writing component. For writing expertise he contacted recent California Institute of Technology graduate Joe Jewell, who had published a test-taking guide. U of C College students serve as tutors. "This is a far better product [than other courses on the market]," says Goel. "We teach subjects and test-taking." And his business takes advantage of the Internet's appeal to college-bound students.
The Internet also attracted Kai Wright when he first envisioned his business, Accent Media. A 20-year-old second-year, Wright got the idea for an "e-zine," an Internet newsletter, when he realized "how passive today's generation is about news, having a voice, and participating in society," he says. "I wanted to create a medium where young people could get the things people need to know as young adults."
After much market research and many business-plan versions, Accent morphed from an e-zine to an "i-zine" (interactive Internet magazine) to a print publication and news syndicate. Now Wright is finalizing the design, generating ad sales, and forming partnerships with outlets such as the Chronicle of Higher Education, Forbes.com, Inc.com, and FastCompany.com. He's established in-kind agreements with Myspace.com and has listed 175 companies that target his 18–24-year-old demographic. His goal is to contact them all by June 1. With a staff of eight U of C students working over the summer, Wright hopes to take Accent online in August, with the first print issue available by September 1.
Such initiative, it seems, has gotten each venture off the ground. After graduating in three years, Goel is now completing his first year in the Graduate School of Business. "For the first time," he says, he feels "seriously overwhelmed." Planning to work on PrepMe full time in the future, he figures his Chicago education will aid him in the business world. "The experience here teaches how to problem solve, and entrepreneurship is solving problems. Chicago has kept me from being happy with just a great idea."
* This article was corrected 3/31/06