As science forges ahead, it may be time for the University to leave Yerkes Observatory behind.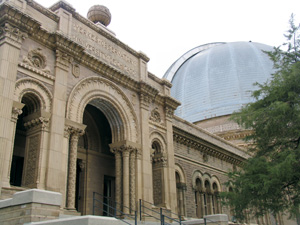 Yerkes–U of C ties no longer in the stars? Photo by Amy M. Braverman
When completed in 1897, Yerkes Observatory in Williams Bay, Wisconsin, was a world-class facility, holding a 40-inch refractor telescope, the largest of its kind. Albert Einstein visited the instrument, housed in a 90-foot-diameter dome at the west end of an ornate, terra cotta and brick building, in 1921. Edwin Hubble, SB'10, PhD'17, studied at Yerkes. Nobelist Subrahmanyan Chandrasekhar conducted research there for 59 years.
Yet soon after Yerkes opened, astronomers began switching to reflector telescopes, which use curved mirrors instead of glass lenses and can be built much larger. Researchers also preferred instruments atop mountain peaks, where the atmosphere is steadier, to those at sea level. Meanwhile the once rural Williams Bay, in the Geneva Lake vacation area, sprouted houses, shops—and light pollution. Though still the largest of its kind, the telescope seemed obsolete. For decades, especially since the astronomy department moved to Hyde Park in the 1960s, the University has considered selling Yerkes and almost 80 acres of lawn, forest, and lakefront property.
Now a sale appears imminent. Last summer an East Coast developer sent an unsolicited offer for the land, aiming to build large homes and a spa. After learning about the bid, rumored to be $10 million, a local-resident group, fearing overdevelopment in the small town, asked to submit a counteroffer to keep more green space than they believe the developer would retain. The University agreed and in late May was still awaiting both formal proposals.
Since at least January, southern Wisconsin newspapers have bemoaned the possible sale, and soon Chicago papers joined the chorus. "The hope here is that all these players will be careful with the observatory and its grounds," the Tribune editorialized March 30, "despite the lure of big profits. There is no way that mansionettes and a spa can eclipse the images of Edwin, Albert and other great minds visiting Yerkes to muse about white dwarfs and other wonders most of us can't begin to understand."
Henry Webber, the University's vice president for community and government affairs, responded to the print parade in a May 9 Tribune letter to the editor, laying out three goals for Yerkes's redevelopment. "First," he wrote, "is to preserve the historic observatory building and land immediately around it, preferably as a center for astronomy education." The second goal is to generate revenue for future U of C astronomy research. Third, he wrote, is to ensure that plans for the grounds remain "consistent with the historic landscape and an asset to the greater Lake Geneva community."
Achieving all three objectives, Webber acknowledged, "will not be easy." The University spends $100,000–$150,000 a year, after grant support and revenues, to maintain Yerkes, says manager James Gee, MBA'81. One full-time faculty member, astronomer Kyle Cudworth, conducts research there, comparing his recent celestial photos to those taken with the same telescope a century ago. Gee manages the building and heads a group of engineers, at work on a NASA project: an infrared camera that will mount to a telescope aboard a jet, where scientists will study celestial objects from 40,000 feet. "The work here has strayed enough," Gee says from his office overlooking the manicured lawn, "that it falls outside the mission of the U of C." Rather than a research center, he says, Yerkes today focuses on youth education and outreach.
Indeed, at 1 p.m. on a Friday in April, a local junior-high–school group awaits a tour and a build-your-own-telescope class with public-affairs officer Richard Dreiser. They walk to the west end and up two flights, where the telescope's mammoth blue base, 60-foot tube, and history—it was first displayed at the 1893 World's Columbian Exposition—inspire awe. It's cold inside the brick-faced dome. "The temperature must be the same as outside," Gee explains later, or heat would distort the light waves.
Dreiser takes the students to a dim room, where they sit on an old solar optical bench. They hold up their thumbs toward a poster of the moon: "If you cover the moon with your finger," he says, "and you know the size of your finger" and the angle, you can figure out the moon's size. The students end their trip with a walk around the gargoyle- and zodiac-sign–enhanced building, cardboard telescopes in hand.
Any sale, Webber says, would keep some land around Yerkes undisturbed, though the exact amount is debatable: 30 acres, Webber says, "is the most it would need," while Gee prefers 30–40 acres for telescope use and lawn activities. Whether the local residents or the East Coast developer get the land, the observatory's management would likely remain with an astronomy institution: nearby Aurora University, Chicago's Adler Planetarium, and a consortium of several groups have expressed interest. "It would be wonderful if Yerkes were a center for public education," Webber says. Yet "the structure of how the observatory is managed and financed is the hardest piece of this puzzle."
After working at Yerkes for 15 years, Gee's found the place "has a way of endearing itself to people." On the front steps he points out carvings in the columns. Local lore, he explains, says one caricature is "William Rainey Harper in a good mood." A figure believed to be John D. Rockefeller, originally with a bee on his nose, may have been "the architect's way of saying the U of C was stinging Rockefeller" for the money to launch the University. Chicago, it's clear, has made its mark on Yerkes.