Novelist Saul Bellow, who died April 5 at age 89, took the world around him and made it his own—and ours.
What everyone noticed about Saul Bellow was that he noticed everything. Noticed, remembered, used, and transformed. The 1976 Nobel laureate in literature, Bellow, X'39, taught in the Committee on Social Thought from 1962 until 1993 (from Herzog through Humboldt's Gift and The Dean's December to Something to Remember Me By). In person the novelist "was surprisingly tiny, given his Olympian reputation," recalled New York Times editorial writer Brent Staples, AM'76, PhD'82. "But his eyes—hungry, saucerlike—were large enough for any three people. They swept over and seemed to vacuum in the people who came near."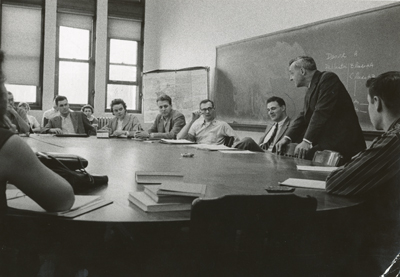 Saul Bellow returned to campus in 1957 to meet with aspiring student writers. Courtesy: Archival Photofiles, [asas-00538], Special Collections Research Center, University of Chicago Library.
Bellow's eyes were not his only larger-than-life aspect. "His mind from the get-go was larger than our minds; his energy and courage and sensitivity were larger," eulogized U of C English professor emeritus Richard Stern in the Chicago Tribune. "He could be tenderer, he could be tougher than you or I. He was there not to report the world but to put into words the world his special gifts allowed him to see, hear, taste, and smell more acutely than the rest of us. The great thing is that after he performed this assignment, that world became ours as well."
That world was often Chicago. After a bit part in Bellow's first published novel, Dangling Man, the city got its breakthrough role in 1953 with The Adventures of Augie March: "I am an American," the narrator famously begins, "Chicago born—Chicago, that somber city...." It was a portrait drawn from memory (he began Augie March in Paris and finished in Princeton, New Jersey), but as the novelist later proclaimed, "Memory is life." In drawing his free-style portrait, argued Philip Roth, AM'55, in a New Yorker essay, Bellow came to "fully apprehend Chicago as that valuable hunk of literary property, that tangible, engrossing American place that was his to claim as commandingly as Sicily was monopolized by Verga, London by Dickens, and the Mississippi River by Mark Twain."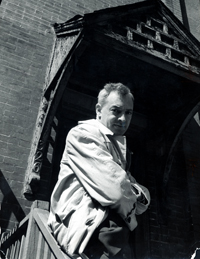 In early 1957 Saul Bellow revisited Goff House, 1325 E. 57th Street, one of several rooming houses he lived in as a student. Courtesy: Archival Photofiles, [asas-00536], Special Collections Research Center, University of Chicago Library.
What Bellow did for Chicago also has been compared with what Joyce did for Dublin (by biographer James Atlas) and Balzac for Paris (by Allan Bloom, PhB'49, AM'53, PhD'55, Bellow's longtime colleague in the Committee on Social Thought and the model for Ravelstein's title character). Even those who narrowed Bellow's fictional territory to specific neighborhoods—writing in Slate critic A. O. Scott once called him "the Trollope of Hyde Park and, in Augie March, the Proust of the Northwest Side"—agreed on his descriptive power, his ability to put what he saw into words that made others see too.
Bellow's eyes are already missed, mourned Leon Wieseltier, literary critic for The New Republic. As Wieseltier was leaving the Vermont cemetery where Bellow was buried, "I glanced back, and suddenly I needed him. Three shovels stood rudely in the remains of the dirt pile. Like stubbed cigarettes, I thought—but that was no good. I needed Saul for his mighty power of metaphor, so that he could tell me what his own grave looked like, what unexpected word, what unimagined element of the universe, could unlock its meaning."
To see Hyde Park as Bellow saw it—as an undergraduate, as a struggling writer, and as a celebrity professor—readers can turn to Augie March, where Augie flirts with academic life; to Herzog (1964), where the protagonist is a cuckolded University professor of intellectual history; and to Ravelstein (2000), in which Hyde Park's legendary colonies of transplanted tropical parrots assume metaphoric meaning. What his readers will find in all of these books, Bellow noted in a 1983 essay, is a neighborhood that "no longer exists. It is to be found only in memory and fiction." Then again, fiction, like memory, is life.—M.R.Y.
---
In "The Jefferson Lectures" in IT ALL ADDS UP: From the Dim Past to the Uncertain Future (Penguin, 1995), Saul Bellow remembered the Hyde Park of his youth. To receive a copy of the excerpt that appeared in the print edition of the June/05 Magazine, write uchicago-magazine@uchicago.edu.
Other Chicagoans' memories of Bellow can be found below.
---
In a special to the Chicago Tribune, Bellow's friend and colleague, Richard G. Stern, the Helen A. Regenstein professor emeritus of English and American Language and Literature, recalled a writer who expressed "what had not been expressed before, no matter how prickly, how offbeat it was."
http://www-news.uchicago.edu/citations/05/050408.bellow-ct1.html
Writing an appreciation for the New York Times, Brent Staples, a AM'76, PhD'82, a member of the Times editorial board since 1990, described Bellow as "the first writer to appear to me in flesh and blood."
http://www-news.uchicago.edu/citations/05/050407.bellow-nyt.html
Michael C. Kotzin, AB'62, an executive vice president of the Jewish United Fund/Jewish Federation of Metropolitan Chicago, found that Bellow's death "opened the floodgates of memory," taking him back to a U of C class on the modern novel.
http://www.juf.org/news_public_affairs/article.asp?key=5964

Christian Sheppard, AB'91, AM'97, PhD'02, of Chicago, recalls a series of encounters—could they all have been coincidental?—with the writer.