After dark Comer's glass-walled, northeast stairwell glows a rainbow of colors. As in the elevators, the stairway's LED lights turn red, orange, yellow, green, blue, purple. "It was designed as a beacon of hope for people coming in," says Mary Beth Williams, director of the new facility's arts program. It's one example of the level of thought that went into the building's aesthetics.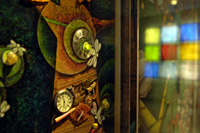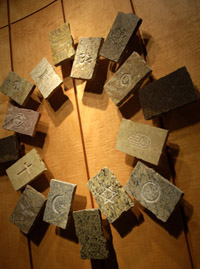 Art in the first-floor chapel consoles.
Williams planned the art as an integral element, conveying the hospital's "overall vision to create a bright future for all children." In Wyler, the old kids' hospital, the art was "a hodgepodge" collected over 40 years. Comer's, she believed, should be based on a model of patient care. At first "no one knew what I meant." Now that the results are up, she says, she's getting calls from adult medical departments asking, "How can we do this?"
For instance, sliding cabinets that hide clinical-looking medical-gas equipment above patient beds, are decorated with one of eight paintings by artist Bryan Haynes. Each image reflects a patient-care need identified in the American Association of Critical Care Nurses' synergy model: advocacy, caring practices, clinical inquiry or exploration, clinical judgment, collaboration, diversity, family, and learning. In the Exploration painting a cowboy lassos the planets. Diversity depicts a Mariachi band, a jazz player, a flutist, and Peruvian steel drummers in Millennium Park. In Advocacy a girl of indeterminate race and ethnicity opens a jar of fireflies, an urban streetlight behind her. "The girl being so universal, creating a bright light," Williams says, "that's what we're about."
Poetry was her main inspiration for the 400 or so pieces, each philanthropy supported. "Poetry is a form of expressing emotion," she says, "and a hospital is filled with emotion." Langston Hughes's "The Dream Keeper," for example, is inscribed on a mural of a sleeping child. HarperCollins and Shel Silverstein's family donated 11 posters, each representing a Silverstein poem, that hang on the patient floors. His verses also decorate tiles in patient bathrooms, along with poem-themed drawings by children at the Hyde Park Arts Center and the Mexican Fine Arts Museum.
Each work's location was carefully considered. On every floor a large piece welcomes visitors exiting the elevator, whether a mural, a kinetic sculpture, or the fiberglass Eleanor the Elephant. Radiology's ceiling is covered with words and images for the benefit of patients lying down for X-rays. The consult rooms, where parents may hear difficult news, contain photographs not of children, which might be upsetting, but of calming water—the Chicago lakefront, for example.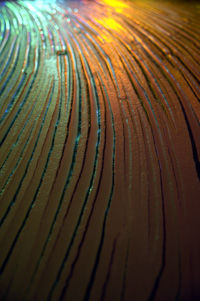 Glowing donor squares reflect off the glass of Seasons of Love's summer panel (left). In the NICU, a child's hand holds a blanket inscribed with Langston Hughes's "The Dream Keeper."

Anecdotal evidence already shows that the art pleases hospital workers, patients, and their families. A maintenance staff member tells Williams, "I just keep walking around and absorbing it." A mother says her daughter walks the floor between chemotherapy treatments, reading the Silverstein poems. Still, Williams wants quantitative proof: just as she used a clinical model to choose the artwork, she plans to study its effects. "With patient care you're always collecting data, asking, 'What was the outcome?'" Looking into "methods to document and research our approach," she's hoping to contribute to existing literature and help determine if the art "is a critical element of care." Comer, it seems, is a fortunate test subject.—A.M.B.