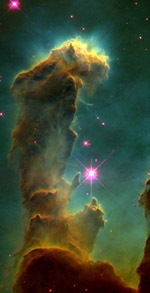 Photo credit: NASA, ESA, STScI, Jeff Hester, and Paul Scowen
Artistic astronomy
When Elizabeth Kessler looks at photographs of outer space, she thinks art, not science. In fact, Kessler, a doctoral student in the Committee on the History of Culture, sees resemblances to Romantic landscape paintings, specifically of the American West. For her dissertation she has turned a critic's eye to images from the Hubble Space Telescope, arguing that the photos convey nature's greatness akin to works by Albert Bierstadt or Thomas Moran.
Take Hubble's view of the Eagle Nebula (at left). To Kessler, the scene recalls desert buttes. The effect, she believes, is deliberate. There are "a lot of steps between gathering data and this final image." When preparing Hubble's electronic pictures for public consumption, astronomers have "aesthetic goals."
They make decisions about contrast, composition, and color. The resulting images, she says, "are intended to invoke that sense of awe, that sense of grandeur in the viewer."
Kessler, who hopes to finish her dissertation fall or winter quarter, presented her research at the annual meeting of the American Association for the Advancement of Science earlier this year. An honor typically reserved for established PhDs, it allowed her to paint a picture of Hubble's artistry for the scientific set.