Erin Derstine, AB'00, has landed her dream job as a professional dancer with a Chicago company.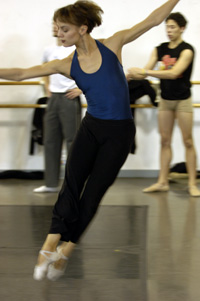 Erin Derstine, AB'00, practices with Hubbard Street Dance Chicago.
This spring Erin Derstine, AB'00, worked the stage in a red feather boa, kicking up her muscular legs in the local premiere of Christopher Bruce's Rooster, a Rolling Stones tribute. The Hubbard Street Dance Chicago (HSDC) performance—including Derstine's duet with fellow company member Jay Franke—won rave reviews. HSDC presented the ensemble piece during its "Superstar Season," March 30 through April 17, at the Harris Theater for Music and Dance in Millennium Park. "This is the dream job," she later says of getting paid to boogie down.
Derstine, 29, chose dancing as her profession early on. Growing up in Darien, Illinois, she began taking ballet lessons at age 5. Tap and jazz followed. "Gradually I became more and more serious," she says. "I had to keep choosing" between dance and other activities, "and I kept choosing dance." In junior high school she dropped her last sport, swimming. Derstine figured she could earn a living as a professional dancer but not as an athlete. "Thinking about it now that makes no sense," she laughs, "because athletes make so much more money."
Her teenage mind set, dance took over. Derstine continued her training at Illinois's School of the Salt Creek Ballet, joining the company and practicing five to six days a week. "In high school it got pretty intense," she recalls. "It was sort of like a part-time job in terms of hours. I did not have a big social life because I was not involved in a lot of activities. And I didn't get a lot of sleep."
Despite her demanding schedule, Derstine didn't give academics short shrift. When it came time for college applications, she says, "I didn't know if I wanted to keep dancing or not." Both her parents have PhDs and her siblings—Jennifer, AB'01, and Brian, AB'04—were college-bound. When Chicago offered her a scholarship, she deferred for a year, opting instead to work for River North Chicago Dance Company as a performing apprentice. Only paid when she made it onstage, apprenticing was a difficult way to foot the bills.
"So I went to college and quit dance," Derstine says. "I thought, OK, I tried it, and that didn't work so I'm going to school." But it wasn't easy to trade ballet for books. She found herself going to Bartlett Gym, stretching and practicing on her own. Without dance, she says, "I was lost." After her first year, she took time off to perform with Cerqua Rivera Art Experience and the Ruth Page Nutcracker in Chicago. "I was ready to take it on again"—and to try making a career out of it.
Derstine wanted to earn her degree and returned to Chicago in the summer of 1997. Hoping "to get done with school as soon as possible," she studied year-round, spending the next summer in Paris taking classes. "I wanted dance to have nothing to do with my schoolwork. I just picked classes I liked... If I wasn't in classes or doing homework, I was dancing."
The following summer she got into Hubbard Street 2 (HS2), a company of six dancers between the ages of 17 and 25. While working full time with HS2, she picked up evening classes in fall quarter. "I felt like it was my first real professional experience. I was earning a living. It was just enough to cover my bills. I had a contract and a salary." The timing was good. She graduated in June 2000 and stayed with HS2 until age 24. She then joined the main company, HSDC, as an apprentice and went on to become a full member.
Hubbard Street's contemporary bent has proved a good fit. "I don't really have a ballet body," says Derstine, whose compact build and bob haircut recall a gymnast. "I consider myself a versatile dancer," she adds. "I like a lot of challenges." The Rooster piece, for example, has different dancing demands than Nacho Duato's sensual Gnawa and William Forsythe's dark Enemy in the Figure, also part of the company's spring show. For her, each has its draw. "I just feel really alive, alive in the sense that I feel very aware—the air against my skin, how I'm moving, really connected to my environment, the floor, the people around me."
Achieving that feeling means hard work. Derstine rehearses five days a week and is on the road about six months a year. Yet she has managed to squeeze in a new type of lesson—ballroom dance—to prepare for her June wedding. "I know I'm not going to be able to dance forever," she laments. "Your body only lasts so long."