Photographer Nina Berman profiles the Iraq war's wounded.
Dissatisfied with the limited press coverage of injured soldiers in Iraq, freelance photojournalist Nina Berman, AB'82, sought out such servicemen and women, hoping to bring their stories to a wider audience. Berman expected some reticence but found her subjects willing to share their wounds, both physical and psychological. Purple Hearts (Trolly, 2004), an artful collection of photographs and quotes, has won her critical acclaim and positive feedback from other Iraq veterans. This spring her images earned a World Press Photo prize for portraiture. Work by Berman, who graduated from Columbia University's Graduate School of Journalism, has appeared in Time, National Geographic, Harper's, and the New York Times Magazine.—A.L.M.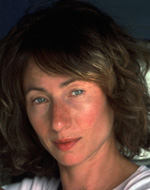 I wasn't seeing any images of the wounded or killed in the mainstream press. I felt as a photographer I needed to do something to cover this war in a more realistic fashion, and so I started looking for these wounded soldiers.
As I continued through the project I realized it was becoming more than just a series of portraits and interviews of soldiers who had been wounded. A lot of issues raised by the soldiers—about recruitment, about their reasons for joining, about their image of war before they joined—spoke to greater issues affecting all of us in American life today. I'm hoping that when people look through the book, they will start to consider what kind of future we are offering our young people: Why is it that so many of them are desperate to leave their hometowns? Why is it that so many of them only feel important once they return as a soldier? How come they didn't feel important before? And why is it that we're teaching them to think that war is jumping out of airplanes, or that freedom is about being able to play with your PlayStation?
I expected bitter soldiers, but I didn't sense bitterness. I expected a soldier to say, "Oh my God! What did I do? I fought in this war and now I'm wounded. What was this war about?" Not too many soldiers were thinking along those lines, and I've since realized that when you come back from a war and you're really wounded, the last thing you're thinking about is, "Maybe this wasn't worth it."
I'm continuing with this book in many different ways. I go to high schools. One of the soldiers in the book that I've become really close to and I have done many events together. I see myself and this project as a way of introducing a dose of reality into the public about the war. I'm really interested in showing high-school students these pictures because the recruiters never show pictures like this.