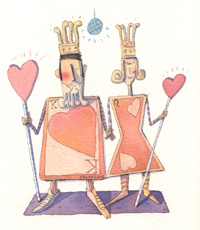 Dancing queen (and king). See 1955.
1910 In an October 5 speech before "old and new men," Dean George E. Vincent "advanced a frank, sound theory of the proper life for a college man," according to the November issue. "First," Vincent advised, "be loyal to your home and family; be loyal to your religion; be loyal to your work; and be loyal to the community of which you are a member." Likewise, he instructed, "Don't be disloyal to yourself. If you outwardly exhibit yourself as more than you inwardly and truthfully know you are, you will be set down as a 'prig,' and everyone detests such a creature."
1955 "Such costumes, such gaiety and good humor," gushed Dean of Students Robert M. Strozier in a June issue essay about the first annual Festival of the Arts, marveling at the festival's masquerade ball. Strozier and his wife attended the dance as the King and Queen of Hearts, well met by a troupe of fellow administrators disguised as Wonderland émigrés. Other festival activities included a shadow play, an outdoor concert, and a concours d'elegance, among other exhibits. While the events were ultimately successful, initial student interest was lackluster, prompting Strozier and the planning committee to worry, "Students at Chicago were perhaps after all nothing but book worms! They were anti-social! They were unappreciative!"
1980 American Blind Skiing Foundation cofounder Stephen Skobel, AB'83, was featured in the June issue. A former skier on the international racing circuit, Skobel trained his blind father (and fellow ABSF cofounder) to handle the slopes. "Positive mental attitude," explained the young Skobel, "is the key to our success. We're not only giving blind people a chance to enjoy the winter months...but we're giving them a chance to show what they can do." The ABSF system paired blind skiers with a guide, who called out directions and warnings. Both guides and students wore bright orange bibs.
1995 In a nine-inning June article economist Allen Sanderson debunked baseball's money myths after a 1994 labor-management dispute. Despite management's dire warnings, Sanderson wrote, an increase in players' salaries would not inflate ticket prices; in fact, he said, the converse is true. Likewise, ballplayers receive "outrageous" salaries compared to schoolteachers' "pittances" not because society's values are flawed, he argued, but because "it is simply easier—and less expensive—to find one more person who can teach high-school history well than it is to find someone who can hit .300." Indeed, with the United States spending $2 billion on baseball in 1993, compared to $400 billion on elementary and secondary education, "our values are quite respectable, thank you very much."