A Neo-Futurist vision of America.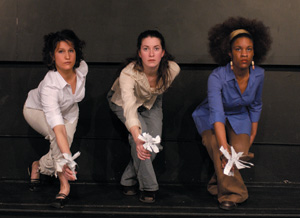 A scene from Chloë Johnston's Patriots.
Walt Whitman and Strom Thurmond, an unlikely duo, hang out together in Patriots, a play by Chloë Johnston, AB'99. Johnston—a member of Chicago's experimental Neo-Futurists theater company for more than four years—uses the pair to explore nationalism in America, channeling the past to get at the present in the play, which ended its run at Andersonville's "Neo-Futurarium" May 14.
Johnston, a lecturer in the humanities collegiate division, once considered herself both a patriot and a liberal. Then, following the September 11, 2001, terrorist attacks, she began feeling that U.S. patriotism had been "co-opted by the Right," creating a "weird binary system" that redefined the term as "with us" or "against us."
Patriots, which Johnston also directed, emerged from those observations. Though the title alludes to her concerns about the current political situation, she didn't want to create "a play about 9/11 and George Bush." Instead, it's about two historical American patriots—Whitman and Thurmond—who, she believes, share an "emotional" connection. She uses speech, song, dance, and a great deal of construction paper to build her case.
The main characters complement each other, the play contends, because 19th-century Whitman, though pro-Union and by contemporary liberal standards a good guy, nevertheless had a racist side, while 20th-century segregationist Thurmond maintained contact with his biracial daughter.
Introduced by a cast member as presenting "romance as a metaphor for patriotism," the production begins with the seven-person ensemble on a bare stage: four women and three men ask one another, "Do you love me?" and "Are you a patriot?" They receive a variety of sometimes ambiguous answers, including "I love you like a peach" and "If I had a country, I would be a patriot."
Then cast members use thick tape to attach a large piece of brown construction paper—shaped like the continental United States—to a solid green backdrop. Stage set, they recount the nation's history by quickly and quietly placing sketches of everything from the Mayflower to a horse and buggy to a sheet of paper bearing the phrase "Manifest Destiny." A sign reading "Closed for Reconstruction," placed over the White House after the Civil War, draws a laugh.
The audience next learns that the United States is "a country of poets and politicians," a pronouncement that segues to profiles of Whitman and Thurmond. Whitman is first portrayed—indicated via a picture frame placed over her head—by a female, Asian American cast member. Johnston explains this choice by noting Whitman's famous line, "I contain multitudes." Thurmond, on the other hand, is played mainly by a male, African American actor—a "shocking and interesting" choice, Johnston says, but also because "this idea of empathy is really important to me."
Johnston tried to place the actors in situations that would force them, and thus the audience, to confront "such different experiences of what it means to be an American," so they might "see the country from another person's perspective." It's a challenge—she guesses it takes 24 hours to fully digest the play—but by most accounts a success. Cast members, Chicago Sun-Times critic Hedy Weiss wrote, "turn the discussion into something at once intensely personal and reassuringly generic, cleverly playing with ethnic and gender stereotypes, often to surprisingly powerful emotional effect." The play also helped Johnston, who begins a Northwestern doctoral program in performance studies this fall, to define her own patriotic status: "I embrace the ideal but reject the reality."