International Assyriological Meetings
July 18–22. Oriental Institute, 773/702-9514.
To celebrate the completion of the Chicago Assyrian Dictionary, an 84-year project, the Rencontre Assyriologique Internationale will hold its 51st annual conference, Classifications of Knowledge in the Ancient Near East: Lexicography, Iconography, Stratigraphy, in Chicago.
Centers and Edges:
Modern Ceramic Design and Sculpture: 1880–1980
June 2–September 18. Smart Museum of Art, 773/702-0200.
Exploring the influence of studio potters, industrial designers, and fine-arts sculptors on modern design, this exhibition follows the evolution of style from Arts and Crafts potteries in America and Europe to late-1900s West Coast funk art.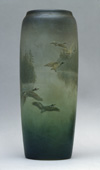 Photo: Smart Museum of Art
Carillonathon
June 19–August 21. Rockefeller Chapel Lawn, 773/702-7059.
Bring a picnic to this series of free Sunday recitals featuring University Carillonneur Wylie Crawford, MAT'70, along with guest artists from Europe and the United States. Tours of the carillon are offered before each concert.
Summer Lab
June 20–July 29. University of Chicago Laboratory Schools, 773/834-7766.
This six-week program for kids K–12 offers summer school, day camp, sports camps, field trips, and Summer Lab on Stage, which culminates in a July 28 Court Theatre production. Visit www.summerlab.org for more information.
Photo: Courtesy University of Chicago Laboratory Schools