Beyond chic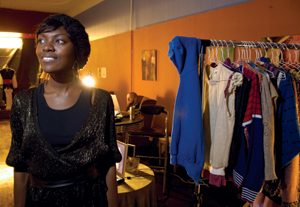 Avant Gaudy founder Deborah Umunnabuike at her late-night February vintage show.

The cabdriver pulls up to 1505 West Chicago Avenue about half past midnight and asks, "This is the right place?" A sign proclaiming "Mercury Café Now Open!" marks what looks like an abandoned storefront. Only upon exiting the cab does the throbbing music, pushing insistently through the closed door, signal the event inside: the DIY (Do It Yourself) SMASHUP, featuring Chicago artists and vintage craftspeople showing and selling their work.
In the dark, smoky café, a deejay spins the tunes as a disco ball flashes. Artwork lines the walls, where four vendors have arranged their wares on tables, stands, or racks. Attendees, wearing vintage clothing, jeans, or khakis, browse the items, watch artists paint or draw, drink Goose Island beers and mixed drinks from red plastic cups, or recline on couches.
It's a relaxed scene, but for co-organizer and political-science major Deborah Umunnabuike, '07, the event was "really stressful," she says four days later. Still, she's planning a similar affair in April, hoping for an "even more overwhelming turnout" than the 150 to 200 who made it to the February 10 gala.
This series of events, beginning with a January vintage showcase and rock performance in Umunnabuike's Hyde Park apartment, grew out of AvantGaudy.com, the online vintage-clothing business she and her sister launched last summer when they were both "jobless and bored" at home in Ohio. A seasoned thrift shopper and vintage-clothing aficionada, she noticed while trolling through online stores that most were started by women in their 20s. She decided to try it herself.
Coming up with the name, which implies a "one-of-a-kind," "avant-garde" fashion and describes her "just-before-it's-too-gaudy" products, was the easy part. Getting the business up and running was harder. Umunnabuike and her sister Jessica, a Hofstra University freshman, used a point-and-click Yahoo Web hosting program to post their site. To establish Avant Gaudy in the online vintage community, Umunnabuike says, "we made friends with some of the more major online stores" by swapping links. They marketed the site through "places young people intensely migrate to," including Facebook, myspace.com, livejournal.com, and fashion forums.
"I'm definitely targeting that 20-something, self-professed or otherwise hipster," she says. Young women from New York, Los Angeles, and San Francisco make up her main client base. The items that sell best, she says, are "the ones I'm especially good at finding," such as dresses and shoes, in addition to "trendy" items like cowboy boots and leather jackets.
Avant Gaudy's products, which Umunnabuike handpicks at thrift stores, fall into two categories: "Vintage Finds," still in their original form, and "One of a Kinds," pieces she has "repurposed," taking in a shirt a few inches or remaking a dress into a sweater. The main requirement for posting an item is that she'd wear it herself. "It can be painful to part with things," she says, but she has put business before pleasure, keeping only a pair of particularly well-fitting cowboy boots.
So far Avant Gaudy has been "pretty successful," she says, though she declines to disclose the bottom line. "If it wasn't worth doing, I wouldn't do it," she points out. "It's really easy money if you have a good eye for vintage clothes." Since her sister left for the East Coast, where vintage pickings are slim, Avant Gaudy has become a one-woman team. Though Umunnabuike admits to being something of a "perfectionist" and "control freak," she still hopes to add buyers in Chicago and Ohio as well as a Web master. She also aims to create a more cohesive young artist community in Chicago. Participating in Moda's fall trunk show, Avant Gaudy's first offline appearance, sparked a desire to do more such events. "Working with other people really helps your own craft. It pushes you to challenge yourself."
At times, the challenges leave her feeling "overstretched." Besides Avant Gaudy, she is in the editing stages of a documentary, The Black and White of Rock'n'Roll. The project, now nearing its two-year mark, was born during another summer of boredom and explores the question of why African Americans don't like rock music. It features interviews with bands such as the Shins, the Killers, Interpol, and the Walkmen; Jamillah James, an African American woman in the rock industry; and Chicago professor and Nobel laureate Gary S. Becker, AM'53, PhD'55.
Living in Chicago's "intense intellectual environment," Umunnabuike says, where "every conversation is tinged with Freud or Marx or class or cold weather," can be exhausting. "To break away from that, to make art," and to meet people on nonacademic paths has been "really refreshing."
After graduation she plans to make a documentary on Nigeria (where she lived until she was three) as a case study of Africa's petroleum industry. Then she wants to travel, perhaps work for the UN. She may pass Avant Gaudy on to someone else. It may someday merge with a store on the East or West Coast, move into an uptown storefront, become a buyer for a store in vintage-crazed Japan, or continue to be what it is. "I don't know," she says. "It started out almost as a joke," a way to make the summer days go faster. But in the months since, "it's definitely taken on a life of its own."