Joe Block, AB'02, always considered himself more nerd than geek.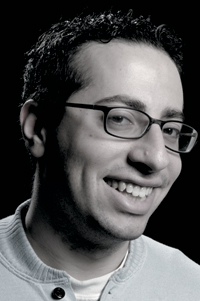 "A nerd is more scholastic, into books and school learning," says Block, who made it to the final round of the eight-episode season of the WB's Beauty and the Geek. "A geek is more into material things, like a film geek or a computer geek." For the show, however—where beauty-partner Brittany helped tone down his geekiness while he taught her that men "are not predators but can be helpful"—he was happy to wear the label. The second U of C Joe to land on the series (Joe Hanson, AB'05, lasted two episodes last season), Block says it was a transforming experience.
His geek factor: There are two major aspects the producers look at: one, getting to know what sort of character or story you have. They liked that I was a speed-chess champion. I was the U of C Chess Club president for a year, and I play at North Avenue Beach all the time in the summer.
The second part was what makes you a geek. I graduated in three years, with a degree in philosophy, and also was a Howard Hughes fellow in computational neuroscience. I went on to Northwestern, where I'm in my fourth year of getting a PhD in mechanical engineering.
Going for glitz: One of my favorite episodes was the designing-a-room challenge—I won. It was a bedroom with a bed, dresser, and nightstand, and we had $1,500 to spend at Bed Bath & Beyond. I picked an off-white paint with a tint of purple because light colors tend to make the room look larger. Since the girls were the judges I opted for purple and used a lot of shiny objects. Knowing your audience worked.
Extreme makeover: The show helped me a great deal in becoming more confident. Brittany would offer all sorts of tidbits—how to do my hair, to wear my contacts. She'd say, "I really like how that looks on you." She'd involve me with what she should wear, how she should wear her hair. When you're around girls 24 hours a day you start picking up on things. In some respects it's more helpful than dating—a girl to point things out without the pressure. A lot of us on the show like to joke around all the time, and she told us that people would assume we're immature and can't be serious. The moral is finding some sort of balance between always being jovial and serious—taking pride in being well-rounded.
What the geek taught the beauty: Brittany was different from some of the other girls. She has sisters and sorority sisters but not many guys in her life. My goal on the show was to make her more comfortable around guys. In the first show she wanted to get to know all the girls really well but was intimidated by the guys. I made sure she knew she could come talk to me, could be open with me, talk about things.
Post-doc plans: While I was on the show it never felt like work. Should another television opportunity arise I'd have to consider it. Another option would be continue playing drums in my band, Gnome Attic. I'd also consider teaching chess to kids or becoming an inventor. I come up with stuff all the time. One I used in my audition tape—pads for football players that have an icing mechanism in them, so they could ice their shoulders while they practice.
Drummers need not apply? I played drums in a bunch of bands in Hyde Park while I was a student. I think the highlight was playing Summer Breeze with my band Phinny's Secrets. We got to open up for Mos Def, Fuel, and Run DMC.
I had to downplay the whole drumming thing in my interviews because it's often seen as too cool. For me music is an emotional and creative outlet, one that I've never really leveraged for women. Now Gnome Attic is working on its next album, and we should be touring again soon. We've done the Midwest a couple times, the East Coast once. I call it melodic rock. The two bands we sound somewhat like are Muse and a more energetic Radiohead.