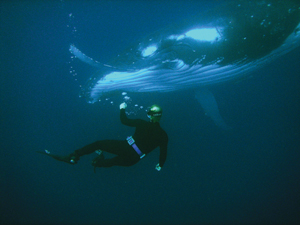 Humpback whale and diver, photographed underwater by Warmus in Tonga (2005).
Glass historian and critic William Warmus, AB'75, was pumped when environmental artist Catherine Rahn invited him on a 1989 trip to the remote Fiji Islands. While Rahn and her crew installed glass sea stars deep in the coral reef below, Warmus figured he could relax on the boat, puff cigars, and pen his assigned essay about ocean realm aesthetics as dolphins swam in tandem.
But there was a catch, and not of the gilled kind. "Catherine said, 'No, you can't go with us unless you learn to scuba dive.'" Rahn—whom he'd met while teaching a history of glass course at the Pilchuck Glass School in Seattle— "felt there was no way to truly experience the underwater world without scuba diving." So, at age 44, he learned, taking lessons in upstate New York's cold, dark Cayuga Lake.
With its clear water, Fiji was a breeze. It's probably the furthest Warmus has traveled to write about glass, but hardly his only voyage. The former curator of the Corning Museum of Glass has authored ten books on glass art and accompanied rock-star glass artist Dale Chihuly to Venice and Jerusalem for installations. He also served as an art consultant for the 2004 documentary Sensational Seas filmed in Tonga.
The son of a Corning Inc. glassblower, Warmus majored in art history at Chicago. But as a classical modernist he found himself drawn to studio glass, a burgeoning medium that began with the 1962 invention of a desktop-sized melting furnace, a far cry from the tractor-trailer-sized furnaces used by industrial glassmakers. Unlike more conceptual art of the decade, glass in the 1970s still aimed for beauty over political statements. "What turned me off in the postwar era was art became more like philosophy," Warmus says, noting that the art world had started emphasizing the production of ideas rather than the creation of beauty. "I wasn't interested in that."
After a year in graduate school at the U of C, he got a job at a New York gallery. He soon landed a coveted position—curator of 20th-century glass at Corning (NY) Museum, a post he held from 1978 to 1984. "It was easier at that time, to get such a job right out of school," he admits, noting that studio glass was still coming into its own in the larger art world. He figures his "good solid foundation in art history from University of Chicago" also helped—and the fact that his father worked for Corning.
At the museum, he increased the modern glass collection by 1,200 objects, acquiring major works by the new breed of sculptural glass artists—Chihuly, Christopher Wilmarth, Tom Patti. In 1984 poet John Ashbery described a Warmus-curated show on glass artist Émile Gallé for Newsweek: "Almost all the works on display are masterpieces," making a visit "obligatory for anyone interested in the delirious excesses of fin-de-siècle France."
In the mid-1980s Warmus went on to edit Glass Magazine. Since then he's written over 100 essays for magazines and exhibition catalogs, as well as The Essential Dale Chihuly (2000), Louis Comfort Tiffany (2001) and The Essential Rene Lalique (2003). In the late 1990s, he became interested in glass as installation art, traveling with Chihuly to chronicle "Chihuly in the Light of Jerusalem 2000," a $1 million, 100-person undertaking, which they built amid the fortress walls of the Tower of David. Chihuly's team erected the pink-glass Crystal Mountain, as well as a Melting Ice Wall constructed from 80 tons of desk-sized Alaskan ice blocks. In a place where typically "you kick over a stone and there's a footprint of a saint," Warmus says, the now-ness of the installation was refreshing.
"Interested in looking at aesthetically beautiful objects," he calls the ice melting "a beautiful minimalist work of art." Warmus is "always looking for the perfect object for the moment—not the most expensive or ostentatious, but something that's correct and right. It could be an anonymous glass tumbler for drinking water—or (the reconstructed) 7 World Trade Center, whose facade (by artist James Carpenter), has a very sophisticated minimalist glass design; it's like a beautiful minimalist sculpture."
The trip with Rahn to Fiji, then later to Hawaii, exploring the reefs there, got Warmus thinking in a 19th-century, anti-modernist vein. "My claim is that nature can be considered a work of art in itself, without artists. It all comes down to the viewer deciding what is a work of art," he says. "It's the opposite of Duchamp, who gave the power to the artist and at the same time made a little opening for the opposite point of view. If artists can turn anything into a work of art, including a urinal, why can't the viewer turn anything into a work of art, a coral reef, for instance."
Now an avid scuba diver and a long way from his Cayuga Lake days, Warmus is surveying Oceania's coral reefs with undersea explorer Cat Hollaway. "I want to popularize the aesthetics of the ocean," he says, noting that the work deliberately won't mention the importance of saving the environment. "We need to celebrate beauty for its own sake."