GRAPHIKÉ: Writing/Drawing in the Ancient World
Through June 11. Smart Museum of Art, 773/702-0200. In Greek, the word graphiké does double duty as the art of painting and the art of writing. GRAPHIKÉ capitalizes on both, exploring the link between works of art and the words integrated into them in antiquity—for example, an artist's signature. The exhibition includes an assortment of Greco-Roman objects from the Smart Museum collection spanning ten centuries and much of the Eastern Mediterranean region, as well as comparative items from the Oriental Institute Museum.
All-Mozart
April 23, 3 p.m. Mandel Hall, 773/702-8068. Mozart died never having heard his last three symphonies, No. 39, 40, and 41 ("Jupiter"), performed. Now, 250 years after his birth, the Saint Paul Chamber Orchestra closes its first season of a three-year University residency with a rendition of these final works, led by Italian conductor Roberto Abbado.
China and the Future of the World: A Spring Colloquium
April 28–29. International House, 773-753-2274. Academics, journalists, writers, and politicians from the United States and China convene in this two-day conference presented by Chicago Society, a group founded in 2001 to foster student, faculty, and community engagement with domestic and international issues. The conference examines China's role in the world and the challenges it faces as an up-and-coming economic, social, and political powerhouse.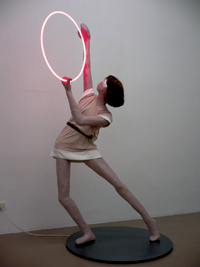 Courtesy the Renaissance Society.
Mai-Thu Perret
April 30–June 11. Renaissance Society, 773/702-8670. Posters, ceramics, and an organic rabbit farm are among the objects Berlin-based artist and writer Perret uses in her first Midwest exhibit. Based on The Crystal Frontier, her ongoing story project about a group of women who launch a desert utopian commune, the installation examines 1960s and 1970s activist movements in Chicago. Perret imagines alternate histories of these communities.
Pacifica Quartet
May 7, 3 p.m. Mandel Hall, 773/702-8068. Artist-in-Residence chamber music group Pacifica Quartet performs the Mozart Quartet in C Major, K. 465, the Elgar Quartet in E Minor, Op. 83, and Beethoven's Quartet in B-flat Major, Op. 130.
Lettice and Lovage
May 11–June 11. Court Theatre, 773/753-4472. Opposites attract in this lighthearted comedy by British playwright Peter Schaffer (Equus, Amadeus). Lettice Duffet and Charlotte Schoen, two middle-aged women with little in common beyond a love of history, meet when stern Preservation Trust employee Charlotte fires Lettice from a tour guide position after she is caught spinning lies on the job. From these inauspicious beginnings comes a blossoming friendship.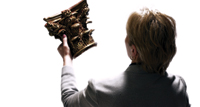 Courtesy Court Theatre.
Poem Present Series: Reading and Lecture by Lyn Hejinian
May 10, 5 p.m., and May 11, 5:30 p.m. Rosenwald 405 and Social Sciences 122, 773/834-8524. Poet, essayist, editor, translator, and University of California, Berkeley instructor Lyn Hejinian delivers a lecture, "The Return of Interruption," on May 10, and gives a reading, cosponsored by the Renaissance Society, on May 11.