Conductor Bruce Tammen and the Chicago Chorale tackle masterpiece monsters.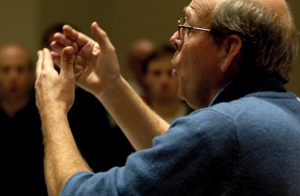 Tammen kicks off Wednesday night rehearsal.

It is 6:55 p.m. at Hyde Park's Lutheran School of Theology—almost rehearsal time. Wearing khakis, sneakers, and a fatherly smile, conductor Bruce Tammen, AM'74, chats about the professional choir he recently toured with in Israel. "They started like you," he says to the singers seated before him, "paying their way." On this February night, as snow falls in torrents outside the floor-to-ceiling windows, his comment rings particularly true. Many of the Chicago Chorale—50 volunteer vocalists who pay $100 in annual dues—braved traffic snarls from distant suburbs like Saint Charles and Downers Grove to arrive on time. Neighborhood locals trudged through freezing wind.
At one minute after 7, above quiet conversation and the shuffling of a few latecomers, Tammen purses his lips and emits a melodic "o." The group before him—some in jeans and T-shirts, others in button-downs and slacks, with ages ranging from early 20s to mid-50s—launches into a 20-minute vocal warm-up. For the remainder of the evening, they prepare for what may be the most demanding piece they have ever performed—J. S. Bach's Mass in B Minor.
"Incredible, incredible composition," says Tammen, shaking his head after an especially challenging bass section. "It's ridiculously hard." Everyone laughs, but it's no joke. Teeming with ultra-fast 32nd notes, sudden minor-major key switches, and other obstacles, the Bach score trips up even the best-trained professionals. The entire "monstrous production," as Tammen calls it, is two-and-a-half hours long. On April 8—less than two months from tonight's rehearsal—the amateur singers will perform it at Rockefeller Chapel.
Their conductor isn't worried. "People will work themselves till they're bloody at the University of Chicago," Tammen says. As director of the University's Motet and Rockefeller Chapel choirs from 1984-1996, he witnessed U of C students' desire to wrestle with choral masterpieces. "That's part of the ethos of this greater University family," he says. "It's the Great Books thing. People want to do it well or not do it at all." In 1996 Tammen left Chicago for five years to serve as a choral conductor and voice teacher at the University of Virginia, but returned to Hyde Park when his wife, Old Testament scholar Esther Menn, AM'85, PhD'95, joined the Lutheran School of Theology faculty. His plan was simple: he would sing, teach voice lessons, and "just do what came up."
What came up was a chance meeting with alto Heather Ahrenholz, AB'95. A singer in both the Motet and Rockefeller Chapel choirs under Tammen in the '90s, she'd fallen into a "singing dry spell" after quitting a church choir where "we sang beautiful music very badly." Her plight wasn't uncommon. Unless one sings professionally, explains Tammen, the opportunity for post-graduation choral singing is relatively "low level." Ahrenholz urged him to fill the gap. Sure enough, as word of his return got around, more of Tammen's old charges came calling. The Chicago Chorale was born.
Twenty singers showed up at the first rehearsal. "It wasn't all that balanced," chuckles Tammen. "There were only three tenors." Today the group boasts 50 vocalists; 37 are University alumni, staff, or students. Made up of classic pieces from the 16th century to the present, the Chorale's repertoire also attracts non-University performers seeking an alternative to the church circuit. Asked about the musical selection, Tammen admits it's not for everyone. "You have to have a group that is talented, trained, and committed enough to do this hard stuff."
Check, check, and check. Chorale vocalists, many of whom have years of training, must prepare a piece from the classical repertoire, demonstrate sight-reading skills, and prove pitch memory to be admitted. Passing muster means committing to Wednesday night rehearsals, weekly homework assignments, and five to six performances per year. Members also handle publicity, bookkeeping, and other day-to-day responsibilities. One singer brings cookies for rehearsal breaks. "Little stuff like that," says tenor Stephen Baker, AM'93, PhD'06, "makes it feel special and adds an important social dimension."
Chocolate chips may get them through the door on a snowy night, but what they stay for is the choral classroom. Peppering his direction with historical background, Tammen strives to give singers more than what's written in the score. "Bruce is never less than 100 percent engaged when conducting," says Ahrenholz, "physically and intellectually." Rehearsals, Baker says, are a bargain: More than two hours of weekly instruction for $100 per year—far less than his wife's $30-per-half-hour piano lessons.
A human metronome with a poet's sensibility, Tammen is famous for the creative images he uses to elicit particular vocal responses. Alto Kirsten Mallik catalogs some classics: "Your pianissimo must be a living, passionate thing, a furry animal inside you." "Behold! He is coming to save you! You can't believe it! Be more incredulously joyful!" "You are bouncing on a celestial trampoline!"
There is no celestial bouncing tonight. When the tenors start getting too emotive, Tammen reins them in. "There's nothing romantic about crucifixion," he says. "You can't get sentimental about it." That's the emotional insight his singers crave, whether they're being too dramatic or not dramatic enough. "Being mostly U of C alums," admits tenor Will Bouvel, AB'04, we can be a little too introverted sometimes." With Tammen at the helm, understanding passion is no problem.