Ted's auditing adventure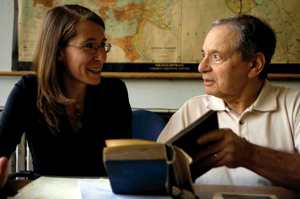 Ted Asner, JD'49, talks with doctoral student Francesca Sardi, AB'02, a fellow student in a workshop on The "New Sappho" as Whole and as Fragment.

On Tuesday and Thursday afternoons during winter quarter, a gray-haired man in jeans, sweater, and a flat cap sat in Cobb 119 among a sea of young faces, listening to his fellow students discuss Chaucer. He said nothing, though he sometimes approached the professor after class to chat. Over chips and homemade guacamole in his Hyde Park apartment, where he and wife Barbara have lived for 35 years, he explains why.
"If there's a class where the students are very active and there's a lot of interaction between students and the instructor, generally I keep quiet," he says. "I don't want to take up time" when students must already compete to get a word in. Only in smaller, quieter classes does he speak up.
Theodore Asner, JD'49, is an unofficial auditor—the Office of the Registrar's term for those who sit in on courses without registering, paying no tuition and receiving no grade or credit. He's also 82 years old. When he retired 18 years ago as a partner in the accounting, tax, and business firm Grant Thornton, taking courses seemed a natural move. He wanted to explore his interests in art and literature, and he had no desire to leave Chicago for warmer climates. "I don't play golf. I'm not interested in going to the Sun Belt," he says. "I don't want to go somewhere where there's no opera, theater, symphony orchestra."
He started with art classes at Harold Washington College. For a couple of years he sat in on Greek language and civilization courses at the University of Illinois at Chicago. Eight or nine years ago he switched to the U of C, where he'd long attended lectures, workshops, dissertation defenses, Doc Films screenings, Court Theatre and University Theater productions, and musical performances.
"Surprisingly enough, they welcomed me," he says. "I guess they liked having an old-timer in their classes"—perhaps, he suggests, because his life experience affords a different perspective on texts. Since then he's sat in on 40 to 50 College classes, taking one or two a quarter (if he has other commitments—like vacationing in Italy—he sometimes skips a quarter).
Is Asner the College's oldest unofficial auditor? Who knows? The Registrar doesn't keep track, says Senior Associate University Registrar Andrew Hannah, leaving the decision to let someone sit in up to the individual instructor. Official audits—assigned a transcript mark of R, for "registered"—are largely an option for doctoral students in their first four years of residence.
The 500 or so official auditors per quarter "are assessed a flat, full-time tuition rate," explains Hannah, "regardless of how many courses they take, for official audit or otherwise." The Graham School's Returning Scholar program, which enrolls 20 to 30 students in a typical quarter, also uses official audits. Undergrads, meanwhile, must pay the same per-course fee whether officially auditing or taking a course for credit—which means a lot of unofficial auditing goes on.
During his own undergraduate days, Asner didn't have time to audit, officially or otherwise. Enrolling at the University of Miami in 1941, he was drafted for World War II and did work at the University of North Carolina–Chapel Hill and Chicago as part of his Army training as a meteorologist, a job he held for three months before being sent "into artillery." Discharged in 1946, he attended the Law School for "no reason—I had a friend who went," and then was recalled for the Korean War. Back in Chicago, he says, finding a job as a lawyer proved "almost impossible." Married with children, he took "the best job available," at Grant Thornton.
Nowadays, most of the classes Asner audits are in the English and classics departments; although he reads science articles and the Law School's mailings, he's less interested in taking courses on such topics. He "really couldn't pick" a favorite class, but some of "the most fun, the most sparkling" courses he's taken include History and Theory of Drama I and II, a two-part sequence taught by David Bevington and Nick Rudall, which he's taken twice, and Chaucer: The Canterbury Tales, with Christina von Nolcken.
Most of his fellow students, he says, "ignore me." Still, "they're all very civil" in the classroom. "Being a student is hard work." Though he doesn't take exams or write papers, keeping up with the reading can be a challenge. He doesn't know how students handle a full course load. Of course, he adds, they can focus on school—"they don't have a lot of things impinging on them," like paying bills or health issues.
Despite the challenges, Asner intends to remain a student as long as he can. "I can see myself not taking classes," he says, "but not voluntarily."