Tucked in a residential neighborhood just south of Chicago, Calumet City's Faith Bailey Health Center is easy to miss. Except for a large window sign offering medical services, the clinic's brick exterior blends into the one-story homes lining the street. Locals regularly visit for blood-pressure tests, immunizations, eye exams, and other screenings, but this April morning the reception area sits empty. Faint echoes of Spanish come from a conference room in back.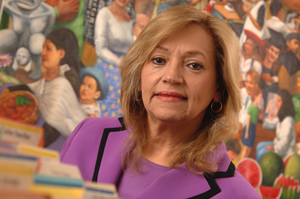 Aida Giachello sees community as critical to fighting Latino health disparities.
"Dos tortillas por día," says instructor Ada Caranton to four middle-aged Hispanic women before her. They nod and laugh. A placard on the table where they are seated echoes the two-tortillas-a-day rule: "Move more. Eat less." Untouched fruit and juice languish on a corner table. Caranton quickly stops laughing. Of the four women in the group, two already have been diagnosed with Type 2 diabetes and another's mother died from it. The fourth is just plain frightened.
She has good reason to be. While poor dietary habits are hardly exclusive to minorities—roughly 64 percent of all U.S. adults over age 20 are overweight and at risk for the disease—Latinos (in this article "Latino" and "Hispanic" are used interchangeably) more often die of its complications than do white Americans. The same is true of a host of other illnesses such as hypertension, asthma, and cancer. Mexican Americans, the largest Hispanic subgroup, are 1.7 times as likely to have diabetes as non-Hispanic whites. In 2003 the U.S. Department of Health and Human Services estimated that if current trends continue half of all Hispanic children born in 2000 will develop the disease. Marked by an inability to process insulin, diabetes inhibits proper cell function. Left untreated, it ravages the body, bringing on blindness, kidney and heart disease, and amputation, most commonly of the foot.
Aida Luz Maisonet Giachello, AM'71, PhD'88, has spent the past 30 years trying to curb the damage. Last year Time magazine recognized the Puerto Rican native as one of America's 25 most influential Hispanics, citing her pioneering programs to combat aliments that disproportionately strike Latinos. Founder of the Midwest Latino Health Research, Training, and Policy Center at the University of Illinois at Chicago (UIC), Giachello, 60, has redefined health-disparities research by drawing on the Latino community for answers. "The best way we can do justice in studying problems is by getting the people directly involved to articulate them," says the medical sociologist and former social worker. "They may not use the jargon that experts use, but they are able to say it better."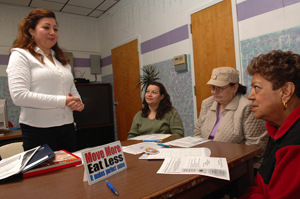 Instructor Ada Caranton leads a diabetes class at Calumet City's Faith Bailey Health Center.
Giachello admits she falls into the jargon trap. "Even though I'm Latina," says Giachello, seated at a large conference table in her UIC office, her back to the West Side's smokestacked skyline and a windowsill graced with awards, "I'm not the same Latina who lives in the barrio." Raised in a working-class family, she learned the value of education from her mother. "Every time she would have an argument with my father," recalls Giachello, "she would say to me, 'You see, if I would have had more education, I would not have to tolerate this.'" She followed her mother's advice, acing her college-entrance exams and earning a bachelor's in psychology and sociology at the University of Puerto Rico. A research position with a Northwestern University–sponsored project in San Juan landed her a data-analysis job on campus in 1968. "I'm going to Chicago," she recalls telling her husband Stelvio (who died in 2004) after accepting the offer. "You're welcome to come if you want." He agreed.
In Evanston Giachello heard about a Latino scholarship program at the University of Chicago's School of Social Service Administration. Age 24 and pregnant with her first child, at first she was not interested. "I said, 'No, I'm going to learn how to cook and sew and be a mom.'" Nonetheless, her mother's words ringing in her ears, she applied. A few months later she arrived home from the hospital with her newborn son to find an acceptance letter in the mailbox. For the next two years, during the era of Vietnam and antiwar protests, Stelvio cooked while Giachello, one of about ten Latino students in the program, commuted to Hyde Park. "This group of 30 students took over SSA," she says of her classmates in the community-work concentration. They boycotted campus after the 1970 Kent State shootings and protested "irrelevant" classroom textbooks. Such activism made a deep impression on Giachello—and taught her how to mobilize support.
After earning her master's degree, a psychiatric social-work job at the Pilsen–Little Village Mental Health Center clarified her desire to effect large-scale community change. "Helping one family or two was not enough," she says. Day after day recent immigrants, primarily Mexican, came to the center for help with unemployment, social isolation, and other cultural-adaptation difficulties. After four years back in San Juan, working in city health and juvenile delinquency—and having two more children—Giachello returned to Chicago with her family in 1977, revisiting the same plights as she pursued a sociology doctorate at the U of C. "Aida always had a strong commitment to the Latino community and really was an advocate," recalls Ron Andersen, chair of her dissertation committee and former head of the University's Center for Health Administration Studies. Putting herself through school as a social worker at an 18th Street clinic, Giachello grew incensed as she watched Latinos and other poor minority patients struggle to get medical care.
Take the appointment system. "If you missed an appointment and wanted to come in as a walk-in," she says, "the nurse would at times be very arrogant and make you feel little." Staffers often encouraged women who called about a missed period not to schedule an appointment until they missed a second one. At that point, says Giachello, the women would know they were pregnant and, especially if they already had children, were less likely to come in for the prenatal care known to reduce infant mortality. Women reporting symptoms of chronic conditions like diabetes and asthma were routinely treated as if "it were just in their mind" and rerouted to social workers.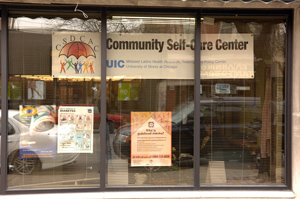 One of Giachello's South Chicago self-care clinics.
Giachello's dissertation, "Self-care Behavior Among Hispanics, Blacks, and Whites in the United States: Analyses of National Data," investigated patient and physician behavior and cataloged a range of minority disadvantages. More than a decade later, those problems persist. According to a 2002 Pew Hispanic Center and Kaiser Family survey, one in seven Hispanics, many of whom are uninsured, failed to get needed medical care for themselves or a member of their household during the year. And those who did often faced providers unfamiliar with clinical guidelines on long-term disease management. The result: higher mortality rates for preventable conditions.
Giachello has set out to reverse the statistics. A break from her dissertation to organize minority groups working on Harold Washington's 1983 mayoral campaign evolved into a position as the city's special assistant for Latino health, working to create a system more responsive to Latino needs. Government-funded clinics in predominantly Hispanic areas added Spanish-speaking staff; some locations extended hours to include evenings and weekends. But logistical changes were only the start. Combatting a lack of cultural awareness within the Chicago Department of Health, she campaigned to get qualified minorities into policy-level positions and sought community input on the emerging Latino HIV/AIDS crisis.
Still, as the only Latino in upper management at the 3,000-employee health department, Giachello chafed at the pace and resistance she faced. "I'm very task-oriented and move fast and get things done," she says. "A lot of people didn't like that. They were saying, 'Latinos are taking over.' But it was only me." After two-and-a-half years, she left. "I was like Don Quixote," she says with a laugh, "working and doing what you think is right but kind of a dreamer without understanding the system. ... It got me into trouble because I was impatient to some degree." As the AIDS epidemic worsened, Giachello heard the clock ticking. "I just felt that we didn't have time when people were dying."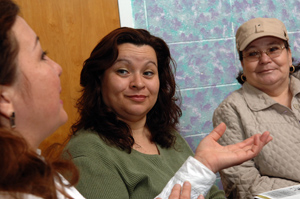 Diabetes class participants, some of whom have the disease and others who are at risk, share experiences.
When the Centers for Disease Control convened the first national conference on AIDS and minority communities in 1987, Giachello and the handful of other minority researchers in attendance urged that HIV-prevention funds go directly to community organizations. After their recommendations were ignored, the group boycotted the next year's conference, prompting the CDC's director to establish a series of five-year grants for regional HIV-prevention organizations. Giachello submitted a proposal, and two months later the Midwest Hispanic AIDS Coalition was born.
Then a faculty member at UIC's Jane Addams College of Social Work, she spent the next several years getting the coalition on its feet. The organization, which encompassed Illinois, Indiana, Michigan, Minnesota, Ohio, and Wisconsin, needed volunteers to gather data and plan community HIV-prevention education. More than 15 years later the coalition, since renamed Salud Latina (Latino Health), has spurred research throughout the Midwest and expanded to address issues beyond HIV and AIDS. "If you do a good job," says Giachello, who left in 1993 to establish her current center, "the project doesn't have to depend on you as a person. If it doesn't survive, then you've created too much dependency on yourself and you were not instrumental in developing leadership."
Leadership development is a primary goal of Giachello's Midwest Latino Research, Training, and Policy Center. Founded with a grant from the U.S. Department of Health and Human Services' Agency for Healthcare, Policy, and Research, the center evaluates Midwest health services for minorities and has built a cadre of Latino and minority researchers. Gone are the days, says Giachello, when Latino scholars would joke before a conference, "Make sure we don't take the same plane. If it goes down, we'll wipe out the research community." During its 13 years the center has trained more than 300 Midwest students, junior faculty, and fellows in health-care research methods.
That number doesn't include the dozens of community members who become part of the research efforts. In 1996, for example, Giachello's center worked with the nonprofit Good Neighbor Committee of South Cook County to determine if Blue Island residents' asthma and other respiratory illnesses were caused by air pollution from a nearby Clark Oil refinery. Receiving training from the center, community volunteers conducted 500 face-to-face interviews with residents to document symptoms. With center oversight, they analyzed the data and found that individuals who lived closer to the refinery suffered higher incidences of eye irritation, nausea, and headaches. Residents alerted local media and met with EPA representatives. The U.S. Department of Justice subsequently found the refinery in violation of five federal environmental statues, including the Clean Water Act.
"People were skeptical," says Giachello of her initial forays into community participation. Funding bodies such as the National Institutes of Health (NIH) often resisted the methodology, questioning whether people without formal training could produce good research. Critics worried about a lack of objectivity and rigor. But the absence of such training was exactly what Giachello wanted. Directly affected by the problem at hand, be it diabetes, air pollution, or subpar medical care, community members, she explains, understand the environment better than an academic outsider. "They are able to come up with a research question in a better way," she says, "and able to think about how we can be successful in reaching out and collecting data while minimizing inconveniences and obstacles."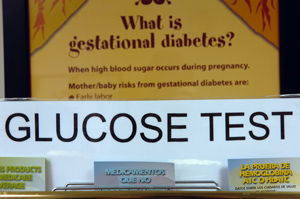 Diabetes students get blood-glucose tests.
"She has told us for years, before the government actually heard, that if you listen to community voices, you'll inform your research and be much more likely to come up with results that make sense," says Sarah Gehlert, SSA associate professor and director of the University's Center for Interdisciplinary Health Disparities Research. In 2003, acknowledging it had not made enough progress fighting complex diseases, the NIH finally tuned in, making community partnerships a key part of its ten-year research road map. Giachello's work, says Gehlert, who uses community participation in South Chicago to study breast-cancer disparities between black and white women, helped set the stage for such collaboration. "She's done a lot to take away people's natural fears of research and of thinking of it as foreign and potentially harmful."
Balancing community needs with research requirements is not always easy, says Amparo del Socorro Castillo-Richmond, head of diabetes research at Giachello's center. Teaching research methods to people without a long history of using them, she explains, requires center researchers to keep tight surveillance and make sure volunteers understand the logic behind the process. Otherwise, she notes, data may be incomplete, diminishing its weight. At the same time, says Gehlert, researchers must "be sensitive enough to let it work," exercising patience with their community counterparts as they learn the research process.
For Giachello, "letting it work" also means combining research with advocacy. "How can I use the research to enhance the quality of life of the community?" she asks. One answer is the Chicago Southeast Diabetes Community Action Coalition, managed by the center. Formed in 1999 as part of a CDC grant to educate communities about diabetes prevention and proper health, the coalition now includes some two dozen hospitals, research institutions, and social-services facilities working to reduce diabetes disparities in six "at-risk" Southeast Chicago neighborhoods. Telephone surveys, focus groups, and community meetings confirmed the extent of the problem—in one target community, 40 out of every 100,000 deaths between 1995 and 1997 were due to diabetes, compared to 18 out of 100,000 in Chicago as a whole. In response, the coalition established three diabetes self-care centers to provide free courses with nutrition training, blood-glucose testing, and exercise instruction. One of the self-care sites is a partnership with Centro Comunitario Juan Diego, a community center at 88th Street and Commercial Avenue that caters primarily to recent immigrants. A second site, at 105th Street and South Ewing Avenue, is headed by diabetes educator Caranton. The third is being developed in the South Shore neighborhood.
The free self-care classes, based on an eight- to ten-week curriculum, are generally taught by trained community members. Many have diabetes themselves. "When we recruit for our classes," says Caranton, "we always identify people who are ready to be leaders." Data from class participants—ethnicity, languages spoken, and pre- and post-class blood-glucose levels—feed back into the center's research and are used to measure the program's effectiveness. A recent analysis showed significant post-class improvement in hemoglobin A1c scores (a measure of blood-sugar control), dietary habits, and exercise frequency. The centers offer other social services as well. "You cannot talk to people about healthy eating if they have no food on the table," says Giachello. The instructors learn how to recognize individuals in crisis—domestic abuse, child neglect, mental illness—and how to get them to agencies that can help. They also provide referrals to medical clinics, churches, and other resources.

Class participants learn how Type 2 diabetes affects the body.
Despite the need and the free services, says Caranton, filling classes and workshops can be challenging. Potential students—many undocumented immigrants—stay away, concerned they will be questioned about their legal status. (The self-care centers, stresses Giachello, who has participated in recent pro-immigrant rallies, have an open-door policy, and personal information is used strictly for research purposes.) To offset this reluctance, staff members like Caranton often give presentations at churches, schools, and health fairs. Giachello's center has partnered with Chicago's Mexican Consulate, offering health education while people wait long hours for passports.
The center increasingly shares its knowledge with other groups, such as the domestic-violence organization Mujeres Latinas en Acción (Latin Women in Action), that don't offer health education. Like visiting churches and the consulate, says Giachello, "it's another way of getting to people at different points." The coalition also works with local businesses to promote healthy lifestyles, advising South Side restaurants to develop healthy menus and mom-and-pop stores to carry more fresh produce.
Giachello's efforts are far from complete. "We're still in diapers," she says, concerned that the visibility from her Time magazine honor last year has led people to think the center is fully evolved. "It takes a long time to build something right, nurture it, and have all the elements to achieve your complete vision." She is constantly seeking state and federal grants to augment CDC funding and realize that vision. Foremost on the to-do list: strengthening the center's policy component. "Legislators in Springfield keep asking us why we are not there every day" advocating policies that would improve Latino health. "But we can only do so much," she says. Plans are underway to create a policy group to advise Illinois legislators not only on health but also other immigrant issues. "Part of being a social worker is being on top of what's going on with policy," Giachello says. "If we don't speak out for the people we represent, who will?" Debates over immigration reform—one proposed bill would criminalize social-service workers like herself who do not report those in the United States illegally—further fuel her resolve.
At Calumet City's Faith Bailey health clinic, meanwhile, the four women stand and push up their sleeves for neck rolls, arm circles, and leg lifts. "Usually we have music," explains Caranton, but today's session, intended to recruit participants for the full course, "is more informal." Informal or not, the exercise benefit kicks in right away. "Did you hear that?" one woman, who has had diabetes for ten years, asks the group when her knee cracks during leg bends. They laugh and nod. From each small stretch (and creak), believes Giachello, comes the momentum and change needed for a healthier Latino community.