What was life like as Chicago's 12th president? Don Michael Randel and his wife, Carol, talk about being part of an institution with a well-defined mission.
Settling into an armchair to discuss his time as the University's president, Don Michael Randel looked very much at home—even though the armchair was on a dais, his interviewer was veteran Chicago broadcast journalist John Callaway, and the conversation took place during an April 5 program sponsored by the University's Women's Board.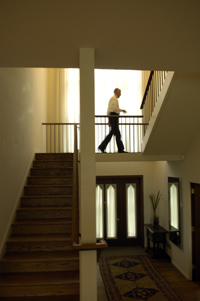 Callaway mixed easy pitches—"Why did you take the job?"—with curve balls—"You encountered a college the governance of which had had a vigorous conversation about the curriculum and growth. ... How has that been resolved?" And Randel, a Princeton-educated musicologist and erstwhile Cornell "lifer" (32 years, from assistant professor to provost), hit them all. Why Chicago? "It's a one-of-a-kind place." Has curricular change been good for the College? "The Chicago undergraduate education has always been more nearly a method than it was a closed body of knowledge to be carried away."
In his responses Randel—who took office July 1, 2000, and on July 1 becomes president of the New York City–based Andrew W. Mellon Foundation, while Brown University provost Robert J. Zimmer takes over as Chicago's 13th president—also made it plain that he sees his presidency as moments in the institutional continuum. Still, as moments go, they were busy. The quadrangles underwent an extreme makeover, with six major buildings opening from January 2001 (the Max Palevsky Residential Commons) to April 2006 (the Gordon Center for Integrative Sciences); more facilities, from biomedicine to performing arts, are under construction or on the drawing board. Fund-raising also moved at a record pace: this April the $2 billion Chicago Initiative, launched in April 2002 as the University's largest capital campaign, passed the $1.5 billion mark.
Other milestones—neighborhood charter schools and new partnerships with local public schools and surrounding communities—marked the University's reconnection with the city, which, Randel told Callaway, has not been such a new thing: "It is really only to recover an important part of the University's history that had gotten lost for a while. Our founding president was somebody who believed in extending the University to a broader public. We are again in a moment in the city of Chicago, comparable to the 19th century, committed to trying to lick the problems that affect American cities. This is a crucial moment in the history of Chicago, and the University has a responsibility to be part of it."
Although, Randel noted, he had focused much of his time on biomedicine, the sciences, and Chicago's bid to retain the Department of Energy contract to manage Argonne National Laboratory, "at the same time," he emphasized, "the humanities are more important than they have ever been." Each increase in longevity that medical discoveries produce, he pointed out, raises the same question: "'Why should we want to live longer?' That's the kind of question people in the humanities are answering. We can't help it that biomedical science is more expensive than medieval music, but we shouldn't resent that fact either."
When Callaway signaled the interview's end, inquiring if any questions had gone unasked, Randel returned the focus to the University: "It may sound corny, but this great institution is about its underlying values. The challenge is to remain true to those values. We don't have a mission statement that you can look up on the Web. But the fact of the matter is, we have the clearest mission statement of any institution."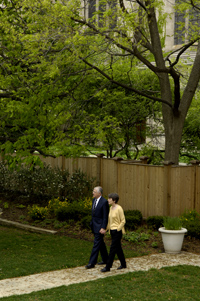 Walkabouts: The Randels built their routes around building sites and bookstores.
A few weeks later the Magazine continued the armchair conversation with Randel and his wife Carol, stopping by the President's House at 5855 South University Avenue on a Monday morning in early May. As they talked in the library, the dining room was being readied for the evening's dinner party, where the topic would be urban education improvement. Between entertaining or attending University-related events six nights a week and making quick trips to their home in Ithaca, New York, or to see daughters and grandchildren, the Randels have compiled an ever-growing stack of books and magazines in their upstairs den. Carol Randel gave up taping the Doc Films poster to her study door because knowing what she was missing "got to be too distressing." And Don Randel laughed when asked if he gets to sit down in his music room "at least once a week." But they're not complaining, Carol Randel said: "It's been the most astonishing time of our lives."
As fans of contemporary architecture, how have you liked living in the Henry Ives Cobb, Gothic-inspired President's House?
DMR: The simple fact is, on the inside there is nothing left of the Gothic house. Henry Ives Cobb is great, but the inside has been utterly transformed.
CR: We spend a lot of time entertaining in the dining room. It is really quite wonderful because of its table. It will seat six or expand to seat 23, or we can put in three tables and seat 36, all with the beautiful garden view.
DMR: And the view of Rockefeller Chapel next door. I've always said that the reason they put the President's House next door to the chapel is so that the president can ask for guidance on the way to work and for forgiveness on the way home. We're in steady communication with Rockefeller Chapel.
Living almost in the center of the quads, have you had any close—or unexpected—encounters with students?
DMR: Rarely. We thought Halloween was going to be a big event, and hardly anybody shows up for Halloween—sometimes nobody. The house is supplied by the generosity of the Gordons [Ellen and Melvin, for whom the new Gordon Center for Integrative Science is named] with quantities of Tootsie Roll products and so we were all set, but in fact no little kids—or big kids—showed up at the door. So we give it away in the office.
A couple of times during Scavenger Hunt people have appeared at the door. One year some young women wished me to come with them to a meeting room on campus so that they could report that they had captured me—which I was glad do. A few years we haven't been on the Scavenger Hunt list at all, and I told some students not long ago that I felt left out when that happens.
Do you have a favorite spot on campus?
CR: We walk the gardens. We do Botany Pond. Or we start right out here and go up to the Fountain of Time and down to that glorious circle garden.
DMR: It's what we like to do Saturday and Sunday afternoons in nice weather. Another circle is up through the quads past Botany Pond and then up north and west to whatever building project is going on. And the circle usually includes the Seminary Co-op Bookstore or its 57th Street branch.
In your first interview with the Magazine, you mentioned the armload of books you'd just picked up on a Sunday afternoon trip to the Seminary Co-op. What books are you reading now?
CR: We go to the Seminary Co-op, and he focuses on the table they have set out in the main room, and I turn my back on the table and shop those two columns of contemporary fiction. So we can go in there, never get out of the main room, and leave with two shopping bags.
DMR: She reads voraciously. She goes through books at a very great rate—mostly fiction. I almost never finish a book. They are mostly nonfiction with a certain amount of poetry thrown in. I never give up on a book either. So at any time I'm reading hundreds of books, some of them I started ten or 20 years ago. There's a bookmark where I left off, and I'm going to finish every one of them.
At the moment I'm reading somewhat obsessively several books about Iraq—I've about finished The Assassin's Gate by George Packer, and I have Michael Gordon's Cobra II and Anthony Shadid's Night Draws Near. The other day in the Seminary Co-op I bought the complete poems of William Carlos Williams, which I'm taking great pleasure in reading—partly because I imagine a deep connection between him and my favorite poet, A. R. Ammons.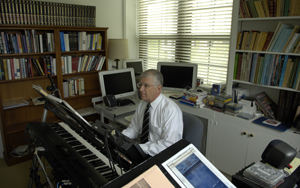 On the second floor of the President's House, Randel has a music room with computers he also uses for photography projects. He likes "fooling around" on his MIDI controller keyboard synthesizer, he jokes, "because when I play with those guys I can say, 'Play faster,' and they play faster. I say, 'Slower,' and they play slower."
What part of being the president didn't you expect?
DMR: It was hard to imagine precisely what life would be like in terms of the demands on one's time and attention—not that it's a bad thing necessarily. But you have to work at it very hard to have any privacy whatsoever. There's no hour of the day or night that a certain number of people don't know exactly where I am and what I'm doing. And there's no place in the city of Chicago where I can go without the possibility of being stopped on the street or recognized. Chicago is the biggest city for Chicago alumni—there are more alumni in Chicago than anywhere else, and that creates a kind of public life. I'm also amazed at the frequency with which I get stopped on the streets of New York. That's very nice—I'm delighted that somebody, whether it's a student or whoever, stops me on the street or says hello—but you do have to get used to it, and it can be relentless.
Something that I expected and yet was unexpected was said again by a member of the team that reaccredited the Law School last year. In the exit interview these folks were sitting in my office, and one, a former law school dean who's now a college president, said, "Everybody knows about the University of Chicago Law School and its intellectual profile. It has the clearest profile, the strongest brand, of any law school in America. Maybe Yale has a stronger brand but it's a very different brand. Everybody knows about Chicago—and the wonderful thing is when you come here, you see that it's really true."
That's what I've said from my earliest days here. If there was any surprise at all, it was that this view of the University of Chicago, which is widely shared all over the country—the wonderful thing is that it's true. There are a lot of smart and able people at other universities, and other universities try to recruit our faculty all the time, but what makes this place special is the way they interact with one another and carry on this kind of debate and intense conversation. It's been wonderful to be part of that.
What will you miss most about being president of the University?
DMR: The thing that I'll miss the most is this large collection of extraordinary people. Another thing I will miss is that going to the Mellon Foundation, which is focused on things that have been central to my personal career, means losing touch a little bit with the world of science. Because of the size of those enterprises, my engagement with the sciences and medicine here has been probably even deeper than my engagement with the humanities and the arts. The work with the Argonne Laboratory and the biological sciences has meant a huge amount to me. I'll be joining the board of Rockefeller University, so that will give me a way to stay in touch with the realm of science.
You've called the Mellon Foundation "the least bureaucratic" of the major foundations. Will its lack of bureaucracy allow you to resume research?
DMR: The scholarship I have been able to do here has been very modest. I did see out the door the fourth edition of The Harvard Dictionary of Music—but whereas I knew every comma and semicolon of its predecessor volume and had typed many of those words myself, much of the work for this one was done by my editor at Harvard and other people I recruited for the purpose. I did intervene in a number of things, but it hardly counts as new, pathbreaking scholarship. I look forward very much to having a scholarly life again at the foundation. The foundation's trustees are of the view that it's a good thing that the president have a scholarly life since what we do is support scholars, and I have a number of projects, some of which I've made somewhat tentative explorations of, in mind.
It's often charged that American university presidents are almost uniformly silent on the great issues of the day. Where, those critics ask, is today's Robert Maynard Hutchins? How would you respond?
DMR: The interesting thing about the claim that nobody looks up to university presidents anymore is that the same charge is true of practically anybody in public life. There's no Edward R. Murrow today. You can't name any single journalist who fills the place of a Walter Cronkite or a James Reston. Similarly, there's no corporate leader who is thought of in the way that we had thought of some corporate leaders in the past. The city's own Bob Galvin [Robert W. Galvin, Motorola's chairman emeritus] is a good example—he contributed seriously to the framing of science and technology policy. It's also easy to overstate the degree to which university presidents ever were opinion leaders.
I don't hesitate to say what I think. People who've read my columns in the Magazine know what I think about quite a lot of topics, and I expect to continue to express my views. There are areas the Mellon Foundation has done research on and been a public supporter of. I expect advocacy like that will continue, and I won't hesitate to make my views public when they are relevant or useful.
When you look back over your presidency, what remains on your to-do or to-finish list?
DMR: It's really the case that no one president should get the credit for anything big an institution does, because it gets started or finished by somebody else. Big things do take time, and I regret the degree to which things are cited as part of my administration, many of which got started before I came. Similarly, things I started will not be finished. I was pleased to have energized—although it is still some distance away—a project for better facilities for the performing and creative arts. I care about that project and will do everything I can to see it through, but it will be finished long after I depart. In fund-raising, I want to see us make much better headway than we have in securing additional funds for student financial aid, both undergraduate and graduate. That is a key priority—and we are gaining on it—and it is crucial to the success of our campaign. And we need to win the Argonne competition.
When did you first utter the phrase, "Chicago is the greatest university in this or any neighboring galaxy"?
DMR: I don't remember the first time, but it was probably in the very early days. When students recall their professors, even their favorite ones, they often can't remember much precisely of what they were told, and so I have tried to say a few things enough that they will be cemented in people's minds. I hope Chicago students will remember this is the greatest university, and I also hope they will remember the Spanish proverb I'm fond of repeating: "If a book strikes you in the head, and it makes a hollow sound, it is not always the fault of the book."