On Thursday afternoons between 4 and 5:20 p.m., the Ida Noyes ballroom is usually full of ballroom dancers. But today they've been relegated to the basement, while the Cloister Club is packed instead with row upon row of luggage. Hundreds of prospective undergraduates on an overnight trip mill around the building's foyer, looking excited, curious, or lost.
Downstairs the dance studio is quiet, except for the drone of an enormous fan. The room has no windows, only mirrors, smudged and stained with age. Along the west wall stand metal and wooden barres, plastic steps for aerobics, and a few punching bags. Built-in wooden benches line the north and south walls; above them are pipes and, farther up, radiators. The room has a dismal yet romantic feel, like a rundown gym where the next heavyweight champ is training.
Vincent Samar, PhD'86, begins today's Intermediate Social Dance class by taking attendance, ticking off each student's name on index cards. In a physical-education course where attendance is a major determinant of a student's grade, it's an important ritual. On the bench behind him Samar has lined up eight LPs; they have names like Just for Dancing with the Al Conte Orchestra and Monsieur Danse Vol. IV avec l'orchestre de Roger Pilon. The music plays on a Califone Model 1155C classroom stereo phonograph.
Samar began teaching social dance at Chicago in 1979, while doing graduate work in philosophy. (He had learned ballroom dancing as a teenager in the late 1960s; his teacher was a cousin, F. Walter Medicis, who founded the ballroom dancing program at Syracuse University.) A PhD would be an unusual enough qualification for a ballroom-dancing teacher. But Samar has four other degrees too, including a JD from Syracuse University (he is licensed to practice law in New York and Illinois) and a master's of law from Harvard, earned during a 2005 sabbatical. His publications include Justifying Judgment: Practicing Law and Philosophy (1998), The Right to Privacy: Gays, Lesbians, and the Constitution (1991), and (as editor) The Gay Rights Movement (2001). An adjunct professor of philosophy at Loyola and of law at Kent College of Law, he ran for 46th Ward alderman in 1991.
Partly because of his academic work on gender and sexuality, Samar's teaching does not allow for "men's" and "women's" roles. Instead there are "leaders" and "followers." "I don't want any baggage along the lines of sex stereotypes—who dominates and who doesn't," Samar says. His approach also has a pedagogical point: "It makes a person a far better dancer if they understand both functions well." Still, at the beginning of today's class all six men have chosen to learn the leader's part, and all 13 women have chosen to learn the follower's—typical choices, Samar says, for most of his students.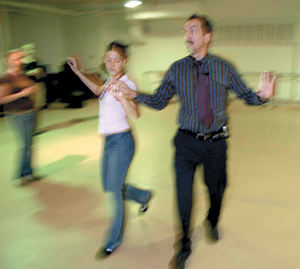 Samar and star pupil Theano Stavrinos, '09, demonstrate the cha-cha.
Today's dance is the cha-cha, which originated in Cuba in the 1950s. Samar reviews the basic step: "One, two, cha-cha-cha, step and cha-cha-cha." The students imitate his steps, holding their hands up as softly as ballet dancers, imagining an invisible partner.
Then it's on to the butterfly, a variation in which the leader steps to one diagonal and the follower to the other, making a pattern that resembles a butterfly's spread wings. "May I borrow you?" Samar asks a young woman in the front row. She nods demurely, and together they demonstrate the step. Her outfit—pink knit top, boot-cut jeans, black Adidas sneakers—is standard-issue undergraduate (except for a professor and his wife who have taken the course every spring for five years, most of the students are undergrads.) But something about her—perhaps her hair, which is center-parted and pulled into a low, loose chignon, or maybe the ease she brings to the dance—has an uncanny authenticity.
At ten past four, the rest of the class is ready to try. Six of the women find male partners; the remaining women pair up with each other. Samar's demonstration partner, the 13th girl, ends up sitting out.
Samar turns on the music, then flicks on his headset microphone and paces around the room chanting, "One, two, cha-cha-cha, step and cha-cha-cha, and butterflyyyyy, and butterflyyyyy." One pair of women stumbles through the dance, both doing the follower's part—yet somehow it seems to work.
Almost as soon as it starts, a few minutes perhaps, the song is over. "Lines," Samar orders. The couples separate, the leaders returning to the north side of the studio, the followers to the south. One follower, a tall young woman in black ballet slippers, defects to the leaders' side.
The next step is the front cross. It's a quick, complicated series of movements including a kick and an "arch," a pose with the knee bent and heel off the floor, familiar to cheerleaders nationwide. The class attempts to dance it in pairs—"Cross and take-both-hands, kick, side, arch, hold, side-together-side"—and mostly fails. As the song ends, a wave of hopeless laughter rises from the group.
"Change partners," Samar commands. Another of his pedagogical strategies is to have his students dance with different partners so they can adapt to other styles of leading and following; otherwise, he says, "you get locked into a certain communication with one person." The leaders rotate counterclockwise, Samar puts on another song, and everyone tries again. A woman in a black tank top, dancing with another woman in a pink tank top, stares at her feet as she tries to keep up, mouthing "cha-cha-cha" as she goes. Samar circles the class, correcting footwork.
"Lines," Samar says. By 4:25 it's time for "escort with low kick." The group learns the step, then pairs up again. A guy with a long, lunging style—each step he takes is at least two feet long—dances with a woman in floor-dragging flared jeans, her bare toes in flip-flops looking desperately vulnerable. But when her partner lunges, she lunges effortlessly along, and by the end of the dance has not even come close to being trodden upon. "Give yourselves a nice hand," Samar says afterward. "Leaders, thank your partner, then move counterclockwise to your next partner."
The girl in the pink shirt and dark chignon continues to dance beautifully, no matter which partner she's paired with. When her leader stumbles, she leads herself. Just before 5 p.m. she finally finds someone who can almost keep up with her—a young man with a shaggy, Beatles-era haircut and a hole in his jeans pocket. They even attempt the cross step with its arch, though they can't quite make it work. When the song ends, she stops and fans herself with one hand. He fans himself with both.
The final lesson is "triple turn." Samar pulls forward his star student for one last demonstration. "Let me show you what this looks like," he says. "That's a nice pattern, going up and down the line with three circles. Physicists will love this."
It's time to try. A young man in a blue athletic shirt gets behind the count and, to catch up, does a jumping spin, rising in the air like the basketball player he probably is. Meanwhile the girl in the pink knit shirt, bumped once again, dances the steps perfectly on her own.
Samar's ultra-spare syllabus, a list of dances and the dates they're taught, is only half a page long. The nine-week course includes, in chronological order, the fox trot (two class sessions), cha-cha, swing, waltz, rumba, tango, and (in the final session) merengue, salsa, and mambo. Elementary Social Dance, also taught by Samar, is a prerequisite. To pass, students must attend all but one class and "show reasonable competency in dancing," he says. "The first requirement is the department's, the second is mine."
The syllabus for the elementary course provides more background, including suggested readings (among them the Bible, Exodus 15: 20-21 and 1 Samuel 18: 6-7; America Learns to Dance by Joseph E. Marks III (1957); The Phenomenology of Dance by Maxine Sheets-Johnstone (1966); and A History of Dancing by Reginald St. Johnson (1906). The elementary syllabus also includes Samar's brief essay "Social Dance as an Art": "The motions of the planets are in harmony with the stars; the motions of the stars are in harmony with the galaxy; and so it is that all the universe is in harmony with itself," he writes. "Thus dance is man's effort to be a part of the greater harmony of the universe."