Julius Rosenwald: The Man Who Built Sears, Roebuck, and Advanced the Cause of Black Education in the American South (Indiana University Press, 2006)
By Peter M. Ascoli, AB'64.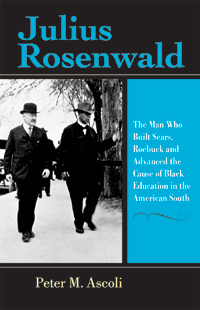 "The building at the University was named for me contrary to my wishes," wrote Julius (JR) Rosenwald to a friend 15 years after donating $250,000 to Chicago for a new department of geology and geography. But the Sears, Roebuck & Co. magnate—a University trustee who gave away more than $60 million during his lifetime—let the name stand. Today Rosenwald Hall, Chicago's Museum of Science and Industry, and more than 5,000 primarily African American schools in the southern United States are some of the testaments to his philanthropy. Using family records, letters, and interviews, grandson Ascoli highlights Rosenwald's commitment to education and civil rights. Believing each generation should be responsible for its own giving, he stipulated that all funds from his charitable foundation be spent within 25 years of his 1932 death. Despite his many accomplishments, Rosenwald remained conscious of his lack of college education and refused to accept any honorary degrees.
Excerpted from Julius Rosenwald:
By 1911, moves were afoot to appoint Julius Rosenwald to the University of Chicago's board of trustees. The active player was Judge Mack, who wrote JR in May, fearful that his friend was also being wooed by Northwestern University. . . . As JR recounted the story to [his wife] Gussie: 'He [trustee Judge Jesse A. Baldwin] told me he was a trustee of the University of Chicago, and for some time they have been endeavoring to fix things so they could elect me a trustee, and wanted to be sure I'd accept. I told him I didn't like to pose as an educated individual—never having gone through high school. He said, 'That's a reflection on me, for I never went to high school at all.' He spoke in such a charming manner, it was most gratifying. I told him I'd ask my wife.' Gussie evidently said yes, because a year later JR was duly elected a member of the board of trustees, a position he held until his death.