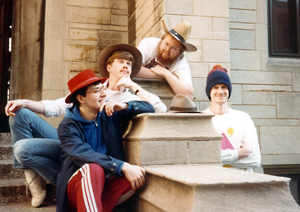 In 1989, while noshing on nachos at the Burton-Judson Pit Stop snack bar, Doug Anderson, AB'89, JD'92, Ernie Barreto, AB'90, Jon Trowbridge, AB'91, SM'92, and Bert Vaux, AB'90, debated the "onomastic randomness" of band names. The conversation led to the Redundant Steaks: Ribeye (Doug), Cubesteak (Ernie) Buttersteak (Jon), and Buttsteak (Bert). "Bert had a four-track cassette recorder, guitars, and a Casio keyboard. Ernie played bass and had a flute. Doug had a Radio Shack microphone. Jon had inflatable dinosaurs. The rest is musical history," boasts the group's Web site. Fellow alumni might best remember the cameo guitar stylings of Bobo the Clown and "the frenzied clash of inflatable titans during live performances of Petrified Vomit." The Steaks' final gig took place at the C-Shop during the 1990 Festival of the Arts.
Today, as Anderson wrote in an e-mail, "The Redundant Steaks remains one of the most accomplished bands in the world. Just not musically."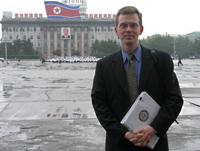 Got a campus group you keep in touch with? E-mail uchicago-magazine@uchicago.edu and tell us where you are now.
Ribeye:
Singer Anderson is legal counsel to the House of Representatives Committee on International Relations and its Subcommittee on Asia and the Pacific, where he works on Asia regional issues for Rep. Henry J. Hyde (R-IL) and subcomittee chair James A. Leach (R-IA). Anderson was the key legislative strategist behind the North Korean Human Rights Act. Earlier he spent five years as counsel to the House Subcommittee on International Operations and Human Rights.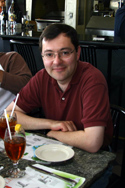 He worked as a litigator in Phoenix before "contriving his (so far) successful escape from private legal practice." Anderson and wife Rebecca live in Alexandria, VA, with their four children. He continues to compose and record at home in his (limited) spare time.
Cubesteak:
Bass, flute, and mouth-harp player Barreto moved to the University of Maryland at College Park, where he studied chaos theory and nonlinear dynamics. He also toured Europe with the University of Maryland Chorus and participated in several international Handel festivals. Barreto focuses on theoretical neuroscience as an associate professor of physics at George Mason University in Fairfax, VA, and sings with the Grammy Award–winning Washington Chorus.
He also whistles while he works, winning third place at the International Whistlers Convention in 2002 and 2003, and appearing in the 2005 documentary Pucker Up: The Fine Art of Whistling. Last January he and wife Terri welcomed son Simon.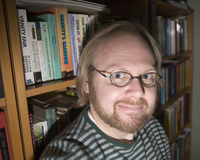 Buttersteak:
Lyricist Jon Trowbridge studied mathematics at the U of C as an undergraduate and a graduate student. Dropping out of the PhD program ("the smartest thing I ever did"), he spent six years crunching numbers for futures traders before joining a friend's Linux-oriented start-up. After five years split between the scrappy start-up and the corporation that acquired it, he now works at Google as a software engineer.
Trowbridge is the cocreator (along with U of C graduate student Eric Elshtain) of Gnoetry, a computer poetry-generation system inspired by the constrained writing techniques of the French Oulipo school. Check it out at www.beardofbees.com. He lives in Chicago's Ukrainian Village.
Buttsteak: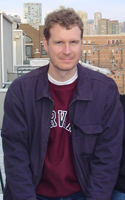 Guitarist Vaux starts as a professor of linguistics at the University of Cambridge, England, this July after 13 years at Harvard and three at Wisconsin. His research focuses on endangered languages of the Caucasus, especially Armenian and Abkhaz, although he also works on English dialects.
His 2003 Harvard Survey of North American Dialects collected data on more than 120 dialect traits from 50,000 speakers of American English, and was featured in the New York Times, USA Today, and Science. Vaux also discovered a 16th-century manuscript in Oxford's Oriental Library—the only known example of the now-dead Ankara dialect of Armenian was billed in the library's catalog as "corrupt Armenian."