Neubauer Family Foundation gift establishes program that will support 20 tenure-track assistant professors when fully established.
On September 24, the first day of fall-quarter classes, President Robert J. Zimmer welcomed University students and faculty back to campus with an e-mail announcing a $25 million gift to create the Neubauer Family Fellows Program, a gift that also propelled Chicago past its $2 billion capital-campaign goal.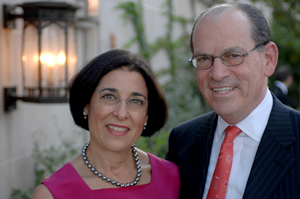 A gift by Joseph and Jeanette Lerman Neubauer aims to help young faculty.
The Neubauer program, funded by the Neubauer Family Foundation—led by Joseph Neubauer, MBA'65, and Jeanette Lerman Neubauer—will support promising researchers early in their careers. It will do so by enabling Chicago to appoint four newly hired junior faculty to five-year positions. The Neubauer Family Fellows will receive research support to use in any way they choose, as well as guaranteed leave time to pursue their scholarly work. When fully established, the program will fund 20 Neubauer Family Assistant Professors throughout the University.
Provost Thomas Rosenbaum will select the fellowship recipients following deans' nominations of accomplished scholars who have recently received their PhDs. The nomination process aims to spur a competitive environment between the schools and divisions, which is the "true Chicago spirit: everyone competes with everyone else," says Neubauer, a University trustee. "It's not random that the provost makes the decision rather than the individual deans. The provost and the president really have a broad view of the University."
The program will help Chicago compete to recruit and retain junior faculty members, says Neubauer. "If we can attract the most outstanding junior faculty and shepherd them through the tenure process," he continues, "that would be a significant advantage to the University."
The Neubauer gift pushes the Chicago Initiative past its $2 billion goal more than nine months before the capital campaign, publicly launched in May 2002, closes on June 30, 2008. The timing of the gift is fitting, Zimmer wrote in his e-mail to the U of C community. "As the faculty of the University are at the core of our distinctive intellectual community, and are both stewards of our intellectual legacy and creators of our intellectual future, it is most appropriate that the creation of the Neubauer Family Fellows Program enables us to mark this milestone."
The Neubauer Family Foundation's establishment of the Family Fellows Program brings the family's campaign support to $36 million—all of which Neubauer, chief executive officer of the Aramark Corporation, says is "for people." In 2002 the Neubauer Family's $5 million gift funded a new faculty fellowship program to bolster the Graduate School of Business. At that time, the Neubauers—including son Lawrence Neubauer, MBA'95, JD'95, and daughter Melissa Anderson—gave $5 million to fund a graduate fellowship program to help attract promising scholars to the humanities division. In 2000 the family also provided a gift to endow the Neubauer Family professorship of entrepreneurship and finance at the Graduate School of Business, a position now held by Steven Kaplan. "We really believe that it's the people who make a difference in this world," says Neubauer. "They will find a way to make things happen."